È ricominciata la nuova stagione telefilmica e sono tornate quindi le nostre Serie Tv preferite. Il 24 settembre è stato trasmesso il primo episodio dell'ultima stagione di The Big Bang Theory (leggi qui la nostra recensione) e nello stesso giorno la rete ci ha anche permesso di fare un viaggio nell'infanzia di Sheldon Cooper. Abbiamo infatti potuto vedere un nuovo episodio di Young Sheldon, lo spin-off che l'anno scorso ha avuto tanto successo.
Se è vero che tutti i riflettori sono puntati sugli ultimi episodi della Serie Tv madre, che speriamo ci regali un'ottima ultima stagione, non bisogna sottovalutare tuttavia il potenziale di questa comedy.
I creatori di Young Sheldon infatti sanno intrattenerci senza troppi artifici e l'hanno dimostrato nuovamente con il primo episodio della seconda stagione.
Nella nuova puntata A High-Pitched Buzz and Training Wheels, gli autori ci hanno mostrato uno Sheldon più vulnerabile e imperfetto. Il ragazzino ha esordito dicendo che è sempre stato fin troppo sensibile e che ha avuto dei sensi talmente sviluppati da avergli causato diversi problemi. Per esempio, quando il frigo della cucina ha cominciato a fare un flebile ma irritante rumore non è riuscito a ignorarlo a differenza dei suoi familiari. Dato che quel fastidio non gli permetteva né di mangiare né di dormire, ha deciso quindi di rimediare.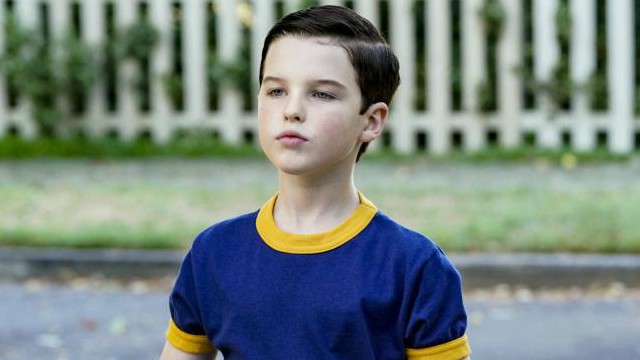 Ha consultato quindi un libro per capire come riparare da sé il guasto e ha smontato il frigorifero pezzo per pezzo. Dopo però ha avuto qualche difficoltà a rimettere insieme i pezzi, costringendo quindi i suoi genitori a pagare un tecnico per riparare il frigo. George si è veramente infuriato con suo figlio minore e dopo averlo strigliato per bene, lo ha avvertito che avrebbe dovuto restituirgli i soldi che avevano speso a causa sua. Questo ha colpito molto il piccolo scienziato e abbiamo visto quindi per la prima volta Sheldon piangere, ma ci siamo anche inteneriti di fronte all'abbraccio tra i gemelli Cooper.
Il piccolo però ha sempre mantenuto la parola data e si è quindi subito messo alla ricerca di un lavoro per procurarsi il denaro. Ha deciso perciò di diventare il nuovo ragazzino addetto alla consegna dei giornali nel quartiere. Superate le paure e le ansie di Mary che non voleva assolutamente che il suo piccolo bambino corresse dei pericoli, Sheldon ha cominciato il suo nuovo lavoro.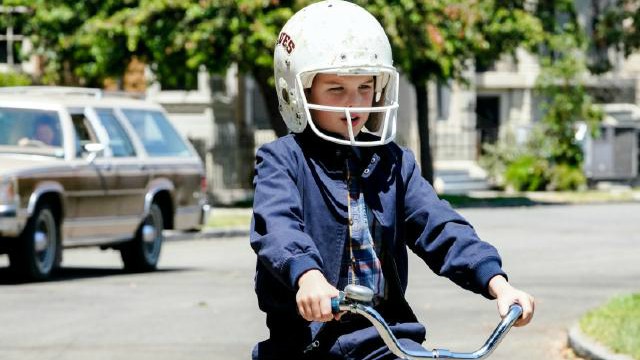 Il fratello maggiore George, che aveva già svolto precedentemente quella professione, gli ha spiegato tutto quello che doveva fare e Sheldon si è imbarcato in questa nuova avventura.
Tuttavia ben presto Sheldon si è accorto di quanto fosse difficile lavorare per pochi spiccioli e dover contemporaneamente arrivare a scuola in orario. Per questo, dopo aver lavorato per qualche settimana, essendo esausto, Sheldon se l'è presa con la sua famiglia a cena. Il padre allora l'ha raggiunto in camera e gli ha spiegato che anche lui aveva avuto una giornata difficile eppure non aveva scaricato il suo nervosismo su nessuno. Le parole di George hanno fatto capire al bambino quanto il suo atteggiamento fosse sbagliato e lo ha spinto a chiedere scusa a tutti. Quel giorno lui ha imparato un'importante lezione.
La saggezza di mio padre mi colpì profondamente. Ed è per questo che, ancora oggi, a prescindere da cosa mi sia accaduto, non sono mai seccato e non me la prendo mai con i miei amici o con le persone a cui voglio bene. Potete chiederglielo, ve lo diranno.
Il ragazzino dopo diversi mesi è riuscito a ripagare il proprio debito, ma è riuscito a trovare una soluzione che non gli facesse sporcare le mani. Ha infatti sfruttato il suo ingenuo vicino Billy affinché facesse il lavoro al suo posto. C'è una ragione se lo ritengo un genio, no?
Dobbiamo ammettere che il pilot di questa nuova stagione non sia stato all'altezza di quello dell'anno scorso.
Questa non è assolutamente una recensione negativa, ma mi ha un po' deluso che la comedy non abbia fatto il tanto atteso salto di qualità (scopri qui quali sono le altre Serie Tv che dovrebbero farlo). La prima puntata dell'anno scorso di Young Sheldon ci aveva fatto quasi commuovere e aveva ottenuto molte recensioni positive. Questo è stato invece un episodio po' piatto che ci ha mostrato un momento totalmente ordinario della vita del giovane Sheldon. La sitcom ci riserverà qualche sorpresa più in là? Lo speriamo vivamente.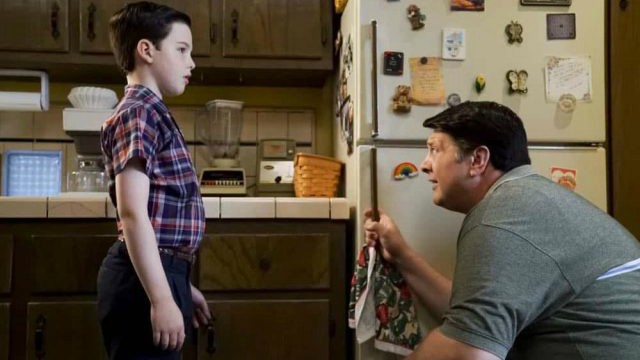 La bravura e la comicità degli attori comunque non si discute e ci ha per l'ennesima volta impressionato. È stato molto interessante che questa volta i riflettori siano stati puntati sul rapporto del piccolo ragazzino con il padre George, un legame di cui non si è mai veramente parlato in The Big Bang Theory. È sempre bello scoprire che George è molto più del barbone fedifrago di cui ha parlato tante volte Mary Cooper. Le gag divertenti non sono mancate e ho molto apprezzato che abbiano dato spazio a tutti i personaggi.
Concludendo, questo è stato un buon inizio, ma ci aspettiamo molto di più da una comedy che ha tutte le carte in regola per fare di più!