Attenzione: evitate la lettura se non volete imbattervi in spoiler sulla 1×07 e la 1×08 di The Young Pope.
Pio XIII è morto. L'ha annunciato il cardinale Voiello preso per mano con suor Mary. I due, visibilmente scossi, non hanno specificato la natura del decesso. I rumors della prima ora danno Michael Spencer come favorito assoluto per la successione. L'ingresso di Donald Trump alla Casa Bianca e l'Inghilterra fuori dall'Europa, tuttavia, dimostrano che di questi tempi è difficile fare previsioni. Infatti Spencer non diventerà mai un Papa, e Pio XIII verrà sostituito da Lenny Belardo. La 1×07 e la 1×08 di The Young Pope l'hanno dimostrato.
La svolta definitiva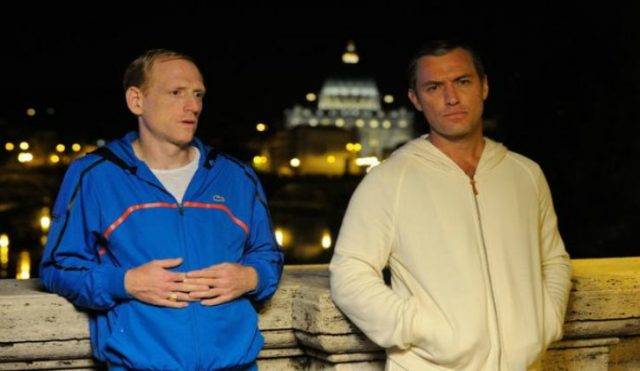 Prima di prendere per pazzo l'autore di queste recensioni, pensateci un attimo: la 1×07 ha rappresentato la chiusura di un cerchio aperto con il pilot. L'ascesa al soglio di Pietro di Pio XIII aveva sconvolto la Chiesa Cattolica, inerme di fronte ad un pontefice anticonvenzionale e fastidiosamente medievalista. Solo noi avevamo guardato negli occhi Lenny Belardo. Noi e pochi eletti l'avevamo sentito realmente vicino. La distanza che separa amore e odio non era mai stata così sottile. Ma il resto del mondo non poteva sapere. Perché Pio XIII è un mostro con le mani sporche di sangue, Lenny è un santo. Lui, contraddizione vivente, ha danzato per sei episodi su un filo pericoloso, portando con sé un miliardo di cattolici. Doveva cadere, prima o poi. Ed è successo.
La morte del suo migliore amico, Andrew Dussolier, unita al suicidio di Angelo Sanchez, un ragazzino ucciso dalla totale inadeguatezza della nuova Chiesa, l'hanno sbloccato, quasi fosse uscito da un loop. Pio XIII, arrivato ad un passo dalle dimissioni, è rinato sotto una nuova forma. Lenny, invece, non è mai morto. Ha capito di aver sbagliato tutto e di dover iniziare da capo, ancora una volta. Ha preso atto che l'unico antipapa capace di contrastare Pio XIII è lui stesso.
La morte, come in buona parte parte delle opere di Paolo Sorrentino, è il segno di una nuova nascita. Quella di Andrew e Angelo, si diceva. Quella dei genitori, aggiungiamo. Sono sempre loro le figure più evocative. Dopo averli inseguiti per una vita, l'ennesima illusione vana di poterli riabbracciarli sembra averlo destato facendogli prendere atto della loro morte, vera o presunta che sia. Lenny, orfano per natura, ha perso tutte le persone che ama e ha deciso di abbracciare il mondo. Una pipa l'ha fatto Papa, stavolta.
Lenny Belardo, il santo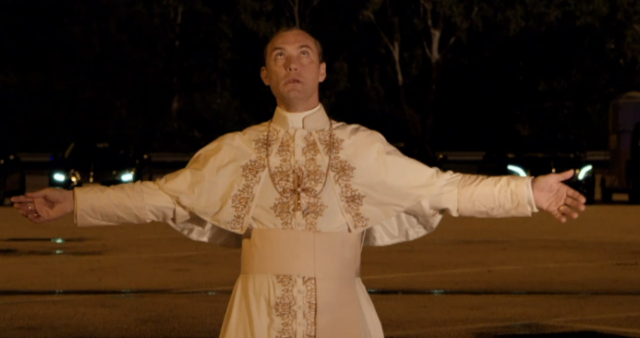 Ora inizia una nuova storia, coerente con quella che abbiamo vissuto finora. Lenny, spogliato dalle sue contraddizioni, ha mostrato un nuovo volto, a metà strada tra Dio e gli uomini. Un Dio che parla al suo orecchio fin dall'inizio e lo sostiene con ogni mezzo, spesso miracolosi (la strana elezione a Papa, il concepimento del figlio di Esther e Peter, la guarigione della mamma del guardiano in giovane età). Lenny, a detta di suor Mary, una Madonna sui generis, è un santo. Finora, nonostante non fossero mancati i segnali in quel senso, era risultato difficile crederci, ma le ultime sequenze della 1×08, incredibilmente evocative, ci hanno convinto.
Lenny, forse, ha capito di essere l'unico ponte tra Dio e gli uomini. Un portatore d'amore, e non certo per una questione d'impatto mediatico della nuova Chiesa. Un leader carismatico che guida un mondo aprendo il cuore, senza mostrare il proprio volto. Un Papa più vicino al Pio XIII che abbiamo visto nel primo sogno di Lenny, a prescindere dalla strategia politica che adotterà. Chiunque avesse tramato alle sue spalle per sostituirlo dovrà ricredersi: Pio XIII non era ancora nato. Il suo papato, quello vero, sta per iniziare. E Lenny, forse, non sarà più un uomo solo. Anche se ha perso buona parte delle persone che amava, anche se ha paura d'amare. Perché sa parlare col cuore in mano: "Lo dico sempre ai bambini che mi scrivono da ogni parte del mondo: "Pensate a tutte le cose che vi piacciono: quello è Dio". Ai bambini piacciono un sacco di cose diverse, ma nessuno di loro mi ha mai scritto che gli piace la guerra. Ora guardate colui che è al vostro fianco, guardatelo con gli occhi della gioia e ricordatevi di quando Sant'Agostino ha detto: "Se vuoi vedere Dio, hai a disposizione l'idea giusta". E scusate se è poco. 
Antonio Casu