The movie is a love poem about love and a love poem about cinema.
Lo scorso settembre alla 74ª Mostra internazionale d'arte cinematografica di Venezia, il regista Guillermo del Toro ha vinto l'ambita statuetta come miglior film in gara con The Shape of Water, e noi di Hall of Series abbiamo avuto l'onore di vederlo in anteprima qualche giorno fa.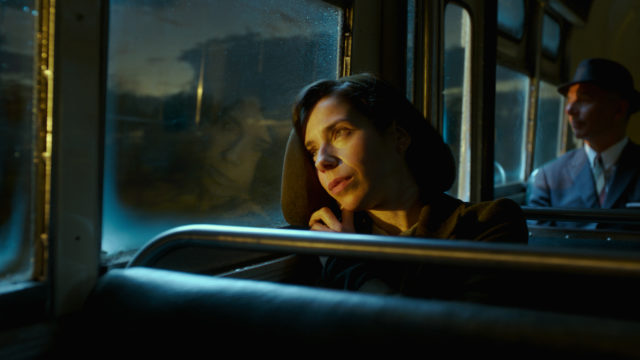 Anni '60, Stati Uniti d'America, più precisamente a Baltimora, inizia la narrazione di questa favola sensuale, cupa, ma allo stesso tempo romantica e delicata.
Eliza (Sally Hawkins) è una donna muta che lavora come donna delle pulizie in un laboratorio governativo. Ogni mattina si sveglia puntuale e compie sempre gli stessi piccoli gesti quotidiani prima di andare a lavoro: si masturba nella vasca da bagno, mette a bollire le uova, si veste ed esce sorridente con la stessa beatitudine di Amélie Poulain. A volte si prende anche cura del suo vicino di casa, nonché suo amico, Giles (Richard Jenkins), un artista di locandine pubblicitarie.
A lavoro vi è la sua simpatica amica Zelda (Octavia Spencer), con cui compie sempre la solita routine di pulizie mentre lei chiacchiera del suo matrimonio e del suo pigro uomo. Un giorno, nel laboratorio, viene introdotta una strana creatura marina, catturata in un fiume del Sud america e portata negli Stati Uniti per essere studiata. Apparentemente, i suoi organi possono condurre a fruttuosi studi per future apparecchiature per missioni spaziali.
Tra Eliza e la creatura si stabilisce da subito un contatto, un'empatia misteriosa che avvicina due esseri attraverso le loro diversità. Eliza è infatti incapace di parlare per le misteriose ferite che reca sul collo, mentre la creatura viene da tutti vista come un orrendo mostro, un abominio agli occhi di Dio secondo il capo della sicurezza Strickland e per questo torturata.
Lentamente, il sentimento che si instaura tra la ragazza e l'anfibio umanoide diventa sempre più forte, stravolgendo alcuni concetti logici e muovendo forme e confini, come un fiume che raccoglie nel suo letto l'abbondante acqua piovana di una tempesta, fino a esondare. E il punto critico si raggiunge proprio quando la vita dell'anfibio è messa in pericolo, tanto da indurre Eliza ad architettare un piano per farlo scappare.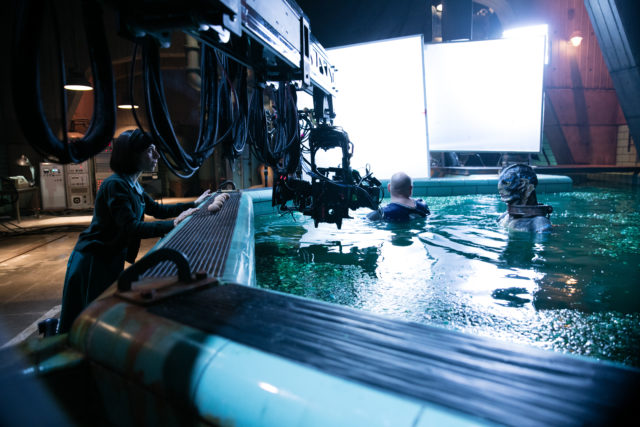 The Shape of Water (tradotto, La forma dell'acqua) è una favola romanticamente dark, con protagonista una bellissima ma alquanto bizzarra storia d'amore. Eppure non si può riassumere in questa semplice categoria: l'intero film attraversa vari confini di genere (genre-bender), mescolando elementi orrorifici a fascinazioni prettamente sci-fi, fino a toccare anche il tema della sensualità.
"One thing about love is that it is so incredibly powerful, it doesn't require words." Guillermo Del Toro.
Definirla favola è un pizzico inesatto: l'aria romantica e sognatrice della protagonista la fanno rientrare in questa categoria, che non risparmia però particolarità legate prettamente alla sfera adulta, con i momenti di spensieratezza nella vasca da bagno prima citati. Una sorta di Bella e la Bestia in versione matura e ambientata in tempi più recenti. Non mancano infatti riferimenti assai palesi a vecchi film, primo fra tutti Il Mostro della Laguna Nera, da cui prende ispirazione l'Anfibio antropomorfo. Ciò che Del Toro riesce a dare al film è la miglior giustapposizione tra il fantastico e il reale, lo straordinario con l'ordinario, perfettamente calato nel personaggio dell'Anfibio introdotto in un ambiente casalingo.
Quest'opera è molto distante dai toni oscuri a cui eravamo abituati con Il Labirinto del Fauno e Crimson Peak, eppure non molto lontano dal solito fantasy surrealista di Del Toro. The Shape of Water è molto più ancorato alla realtà, molto più leggero e divertente, senza però fare a meno di quegli sprazzi di violenza sanguinaria (tra dita mozzate e gattini massacrati) che fungono proprio da àncora ai protagonisti. Sono elementi che riportano alla crudeltà della vita, senza così far scadere l'opera in una zuccherosa fiaba disneyana. 
"What propels Elisa into the unknown is the power of love." -Sally Hawkins
Magistrale è l'interpretazione del villain di Michael Shannon, che riesce a dare una forte personalità al personaggio, rendendo il self-made man dell'epoca spregevole, sadico, ma umano. Se c'è una cosa che The Shape of Water è riuscito a veicolare, è il messaggio di comprensione dell'altro. L'intera trama utilizza il romanticismo per raccontare come non bisogna aver paura di ciò che non si conosce, dell'altro, bensì accoglierlo. Usare l'amore non per trasformare l'altro, ma per comprenderlo. Proprio quest'ultima particolarità, la comprensione, è alla base di tutte le singolari storyline che sono intrecciate in quest'opera: il regista ci da modo di comprendere il perché Strickland si comporti in quel modo crudele e mascolino; o il perché il vicino Giles è così disilluso dalla vita e perché abbia annegato i suoi pensieri nell'alcol; ci da anche modo di comprendere il motivo per cui Zelda è sempre arrabbiata con il marito.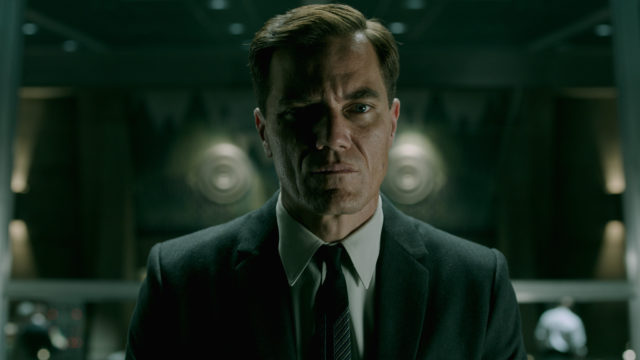 Durante tutto il film, una caratteristica che ha attirato da subito la mia attenzione è stata la palette di colori utilizzati. Se si presta anche una minima attenzione, si capisce subito che il colore predominante in The Shape of Water è il verde: lo troviamo ovunque, in ogni sua minima sfaccettatura e in ogni possibile oggetto o anche nella stessa fotografia a volte appannata da questa sfocatura di un verde leggero.
Ogni colore a livello di percezione e influenza del comportamento in psicologia ha sempre un'accezione bifronte: una positiva e una negativa, e si identificano sempre come l'uno il corrispettivo opposto dell'altro. Il verde, generalmente, è inteso come stasi (in accezione negativa) e prosperità (positiva). Il film gioca con queste due ambivalenze e lo fa attraverso gli oggetti più distintivi dei personaggi: l'uniforme di Eliza, la Cadillac di Strickland, la gelatina del disegno fatto da Giles (oltre che alle torte al lime), il colore delle scaglie dell'Anfibio.
Del Toro utilizza il verde come colore guida dell'intera trama. Il verde è stasi e poi deterioramento nella storyline di Strickland. È prosperità e immaturità, vista con l'accezione della trasformazione del puro in istrionico, nel personaggio di Eliza (predominante nella parte finale, nel piccolo litigio tra Giles e la protagonista). Il colore del manto della creatura, che racchiude in sé l'elemento essenziale del verde: la natura, la resilienza, il forte rimando alla vita. Il colore che divide il climax, che pone l'antefatto per darne poi la conseguenza: il verde come mutevolezza della trama, come sviluppo e crescita, non solo dell'apice del crescendo della trama, ma come elemento chiave di tutta la storia.
Il verde dell'acqua, che ci immerge nella favola sin dai primi minuti e che si insinua in ogni angolo della trama. L'armonia che si crea nelle profondità marine tra la creatura vista come un emarginato con cui empatizzare ed Eliza che può ben comprenderlo. Due solitudini silenziose che si connettono, che si scoprono e che danzano sotto le note dolci e suggestive della colonna sonora di Alexandre Desplat, che riesce a catturare perfettamente l'aria sognante e nostalgica del film, accentuata dai vecchi musical che la protagonista vede in televisione (Una notte a Rio, i balletti di Shirley Temple etc).
Questo miscuglio di generi dona ricchezza e spessore al film: riesce a regalare un'esperienza emotiva limpida, piena di sentimento, veicolata da un linguaggio figurato e da un simbolismo vivido che permeano in ogni scena. Una performance recitativa spettacolare, una fotografia perfetta, una regia a mio parere sublime e una sceneggiatura splendida a completare il pacchetto.
The Shape of Water è uno dei migliori film di Guillermo Del Toro, grazie soprattutto all'armonia che è riuscito a dare a tutti i diversi elementi che compongono l'opera.
"Unable to perceive the shape of You, I find You all around me. Your presence fills my eyes with Your love, It humbles my heart, For You are everywhere."