The Punisher, 1×12 – 1×13, Home – Memento Mori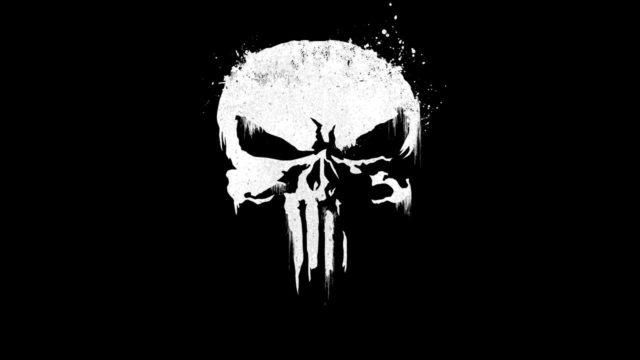 Con gli episodi 12 e 13 si aggiungono gli ultimi tasselli del puzzle, a completare una figura ciclopicamente truce, cruda, ma candida e spontanea allo stesso tempo. Un inno al Punitore.
Home ha rappresentato il picco più alto dello show. Il montaggio e la regia di Jet Wilkinson esasperano il peso specifico di un episodio che fotografa l'intero titolo.
Un The Punisher che si conferma a più velocità. Lieberman e Madani chiudono come pubblico di quello spettacolo umano di nome Frank Castle: personaggi ben congegnati nel ruolo e nella personalità, decisivi nel fare la loro parte inseguendo i rispettivi obiettivi, le cui storyline tuttavia non riescono mai del tutto a tenere il passo con la rapidità di pensiero e (soprattutto) di esecuzione di Punisher.
Se credevamo di conoscere il lato più oscuro di questa Serie Tv, ecco la smentita. In un calderone di adrenalina, violenza e devianza si consuma un triangolo di sangue con protagonisti Frank Castle, William Rawlins e Billy Russo.
Legato a una sedia, vediamo emergere la grandezza del protagonista in tutta la sua maestosità.


Umano, stravolto, conteso tra risentimento e rimorso. Un antieroe profondo e versatile. Non un semplice vigilante alienato, bensì una creatura disillusa che rifugge dal dolore attingendo a un atavico istinto. La sua non è vita, ma sopravvivenza.
Definire Frank Castle un sadico sarebbe riduttivo. Il tormento di chi ha perso i propri cari, la rassegnazione di chi desidera morire ogni mattina, l'onore del Marine, la fede nel proprio codice di vendetta. Quello che ammiriamo è un costrutto complesso, privo di qualsivoglia equilibrio. Lo percepiamo quando lo spettro di Maria viene a fargli visita e la sua mente vacilla, tanto da poter ammirare un volto rilassato, contemplativo di una realtà dissipata, ma ancora vivida; ne abbiamo la prova quando quel viso viene a sporcarsi non del sangue, ma delle lacrime di un pianto che scivola via tra le crepe di una maschera ormai logora.
A partire dal minuto 24, Home apre a una nuova dimensione seriale.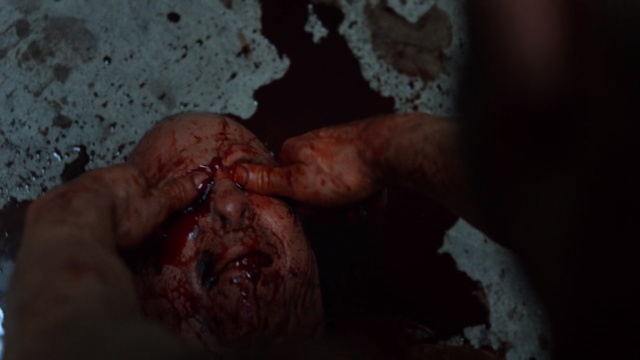 The Punisher ha palesato pregi e difetti. A volte farraginosa. Talvolta fin troppo meditabonda. Non è lo show perfetto, ma gli va riconosciuto un merito: l'aver riscritto il canone di violenza nel mondo Marvel Netflix. Non che questa fosse sconosciuta a certe latitudini, ma mai tanto gratuita, bellamente fine a se stessa, senza misure né regole, abbondante e onnipresente. Con i suoi protagonisti la violenza si fa corpo in The Punisher, quasi a volersi elevare ad arte, forma espressiva, consegnando questa Serie Tv allo status di eccellenza.
Labbra esplose. Denti saltati. Sangue a fiotti. Costole rotte. I colpi di Rawlins alternati alle note di You Do Something to Me di Paul Weller.
Già, William Rawlins. Una figura angosciante. Esagitata. Quando le sue dita spingono nella ferita sul cranio di Castle pare inebriarsi di quel dolore. Al contrario Billy Russo comprende la condizione del vecchio amico, seppure la rifiuti. Le sue parole sono emblematiche
La missione è finita, questa è la parte che tu sembri non capire.

Sei uno spettro, che vaga in giro inconsapevole di essere già morto.

Arrenditi Frank.
In Frank Castle piacere e sofferenza si mescolano. Due sono le opzioni: lasciarsi andare o continuare a combattere. La guerra non è ancora terminata e l'anima buia di Punisher non è doma. Il disaccordo tra gli avversari fa il resto. Così prima eccolo sbranare l'uomo della CIA come un cane rabbioso, per poi dare libero sfogo a quella furia incontrollata che lo ha plasmato, in un'orgia d'intensa e mostruosa brutalità.
Il corpo di Rawlins è a terra. La gola recisa. La faccia fracassata. In un'immagine di Dorniana memoria i pollici di Frank sfondano le orbite del nemico. Poi  un urlo, muori. Il buio. Lieberman e Madani sono lì. Frank apre gli occhi, ma il sangue in gola sembra soffocarlo. Un sussurro, Maria, come a scusarsi per non essersi arreso una volta per tutte. Poi un'altra parola, casa, perché ci sarà tempo per ritirarsi. C'è ancora una missione da portare a termine. Bentornato Frank.
Ricordati che devi morire.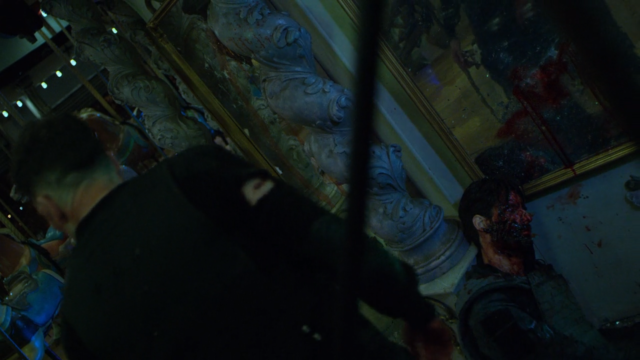 Se questo è il retaggio di Home, Memento Mori sublima tutto ciò che The Punisher ha costruito nel corso della prima stagione. Frank è di nuovo in piedi, può scegliere tra andarsene o terminare il lavoro.
La resa dei conti. Billy Vs Frank. La sfida tra i due vecchi migliori amici è finalmente arrivata e non sarà altro che un'ennesima prova di consapevolezza per il protagonista.
L'evocativo e palpitante duello di mezzanotte, lì dove tutto è iniziato, su quella giostra dove morirono Maria e i bambini, è una centrifuga di emozioni. Da un lato un uomo che ha tutto da perdere, dall'altro chi non ha più niente per cui vivere. Il Bello contro il brutto. Il peccato d'avidità contro quello dell'ira.
Lo aveva detto Frank
Io ti ucciderò Billy. Ti guarderò morire.
Il faccia a faccia racconta l'evoluzione del protagonista dalla sua comparsa in Daredevil fino a qui. Una crescita libera, fisiologica, senza snaturare. Quando Russo minaccia di uccidere i due ragazzi presi in ostaggio, Castle esce allo scoperto. In una sequenza altamente cinematografica, viene colpito ripetutamemente al giubbotto antiproiettile. Il corpo a corpo con l'avversario è duro, incalzante, ma alla fine riesce ad avere la meglio. Qui la svolta. Per la prima volta Punisher decide di non uccidere un suo nemico. Grattugia quel bellissimo viso contro uno specchio in frantumi, più e più volte, tanto da rendere Billy Russo irriconoscibile.
Frank ha fatto la sua scelta. È cambiato nel modo di operare, ma non nella sostanza. Non decide di risparmiarlo per misericordia, anzi, lo condanna a vivere l'incubo peggiore, a restare in quello stato, perché morire è facile.
Non siamo brave persone Frank! Mai state! — Billy Russo
Due parole su Billy Il Bello. Un personaggio a suo modo superficiale, che ha sacrificato gli affetti per la consacrazione. Una figura che trova la propria essenza nel volto che vede ogni mattina allo specchio, paradosso del Dorian Gray interpretato anni fa dallo stesso Ben Barnes. Quando un proiettile gli deturpa il viso, capiamo che non può finire bene per lui. Un ruolo, al pari degli altri, necessario a far sbocciare Frank Castle come uomo ed eroe, ma che potrebbe riproporsi con ben altro spessore, ora che lo scontro con Punisher ha portato alla genesi di Jigsaw (Mosaico), autentica nemesi del Punitore.
La prima stagione di The Punisher termina con Madani su un letto di ospedale, Russo in coma, Lieberman riunito finalmente alla sua famiglia, Frank Castle (o meglio, Pit Castiglione) libero. Giustizia per tutti, come avevamo profetizzato sin dal principio.
È la prima volta che non ho una guerra da combattere e adesso, se devo essere sincero, beh ho paura. — Frank Castle/Punisher
Con la tenera confessione del vigilante si chiude una stagione che ha dato tanto, forse più di quanto sperato.
John Bernthal ha incarnato Punisher come meglio non si poteva.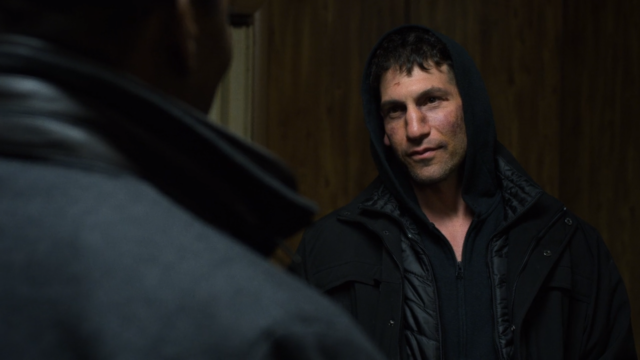 Polivalente, vero, è riuscito a far vivere la creazione di Gerry Conway, Ross Andru e John Romita Sr.. Diverso nelle origini, nei dettagli che eravamo abituati a conoscere, ma non nello spirito originale dell'antieroe. Per dimensione e resa uno dei migliori personaggi nell'intero MCU.
A differenza dei Defenders il personaggio di Castle si regge da solo. Il suo show è uno standalone puro, con un protagonista centrato e in continua crescita. Un uomo che tenta di ritrovare se stesso dopo la guerra e la strage dei suoi cari. Ha votato la propria esistenza alla vendetta, uccide chiunque non meriti pietà, ma è ancora capace di scherzare, commuoversi, scegliere. Una figura slegata dallo stereotipo eroico Marveliano cui siamo abituati o dai fili di un qualsiasi deus ex machina.
Vero è che pure il Diavolo di Hell's Kitchen ha una personalità tormentata e vivida, ma questo Punisher sembra in grado di mettersi in discussione, capace anche di fare passi indietro, in una libertà di azione e di scelta che nessun altro, tra DPTS, valori cattolici, il ricordo di K'un-Lun o una Harlem da proteggere, è riuscito sin qui a dimostrare.
Rispetto al Marvel Cinematic Universe, The Punisher esce a testa alta e petto tronfio.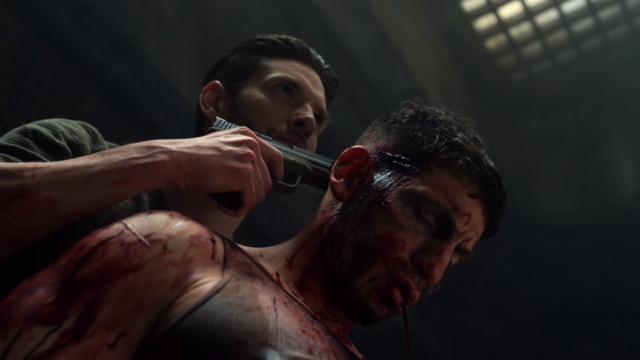 Il tono è quello caratteristico degli show Marvel Netflix, ma moltiplicato all'ennesima. Serio, concreto e con un (ab)uso della violenza mai visto. Una storia matura nei contenuti e nella forma, attraversata da temi affrontati con visceralità, vissuti direttamente dal protagonista. Una scrittura che riesce a essere originale senza insultare il fandom; una regia solida e ben orchestrata in tutti i suoi interpreti. Insieme a Daredevil, complessivamente parlando, il miglior prodotto Marvel Television tra quelli facenti parte del MCU.
L'essere il prototipo perfetto del personaggio down to Earth, capace di esaltarsi in pieno sul piano urban-dark, è stata la vera forza di questa Serie Tv. Un titolo snello, con personaggi funzionali e un ritmo dettato dall'agire del protagonista, innovativo, che ci ha convinto nel bene e nel male, portando sullo schermo una figura che si presta a essere tra le più amate e meglio riuscite a firma de La Casa delle Idee. La speranza è che il buono di questo The Punisher non vada disperso, ma che ne venga fatto tesoro e veicolato in altri progetti, magari del tutto nuovi (noi ancora speriamo in Moon Knight), ma anche già confermati: c'è una terza stagione di Daredevil che già ci sta facendo crogiolare nell'hype.