Giunti alla metà e oltre dell'opera di Sorrentino – parte seconda – The New Pope ci introduce in maniera sempre più dirompente nella zona più ermetica e oscura della sua parabola. Ad avviare il percorso di "aggiornamento della Bibbia" ci pensa il meraviglioso volto di Sharon Stone. Dopo Marilyn Manson assistiamo dunque al secondo cameo importante della serie. L'attrice di Basic Instinct nei panni di se stessa è al cospetto di Giovanni Paolo III per chiedere che uno degli immortali tabù della religione venga abbattuto: il matrimonio tra persone dello stesso stesso.
Questo colloquio ci fa capire una cosa importante. E non è solo il british humour del Papa. Ma è la sua scaltra tendenza a utilizzare la sua posizione per conoscere personaggi che non solo ha sempre ammirato, ma che possano dargli una visione "da fuori". Il consiglio di chi non teme la perdizione eterna nell'affrontare il Papa di petto con richieste inusuali, come invece sarebbe per un fedele al cospetto del Santo Padre. E lo fa col chiaro intento di riavvicinare la gente alla Chiesa in un modo che la stessa non è più riuscita a fare nelle ere moderne.
The New Pope rappresenta in un certo qual modo l'antitesi di The Young Pope. Questa esplorava attraverso la figura di Lenny Belardo il mistero della fede, della Santità e della parte più criptica e conservatrice della religione. The New Pope invece si avvicina di più all'uomo, alla sofferenza, all'amore in tutte le sue distorsioni. E lo fa mostrando le sue mani, sporche del peccato che non risparmia neanche la Santità.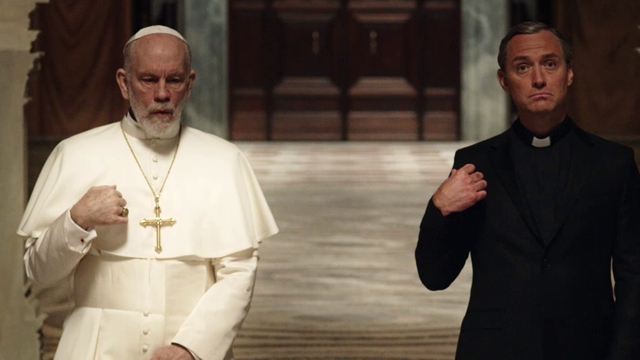 Lenny Belardo era un uomo coraggioso, risoluto e rivoluzionario. Della stessa tipologia proposta da Giovanni Paolo III quando descrive come sarebbe colui in grado di "aggiornare" la Bibbia. In grado di colmare l'abisso presente tra sacro e profano. Ma lui è solo l'uomo delle "mezze misure", e come tale necessita un percorso complesso di personale compromesso con ciò che va fatto per salvare la Chiesa. E di compromessi il papa se ne trova a far tanti in questi due episodi di The New Pope.
Il compromesso di accettare le deplorevoli azioni di Spalletta e Guicciardini per salvare il Vaticano dal tracollo finanziario. Il compromesso di accettare quell'aggiornamento di cui la Chiesa ha bisogno per evitare che le "distorsioni dell'amore" continuino a trasformarsi in aberrante violenza. E non di meno il compromesso di ridurre a un NO il discorso da riservare ai terroristi islamici che hanno mietuto dieci vittime a Lourdes.
La sequenza dei quattordici NO pronunciati in tono di crescente rabbia e vigore alle rive delle acque di Lourdes è la prima di una serie di scene emotivamente molto intense cui assistiamo in questi due episodi di The New Pope.
Al muro di adorazione e idolatria che ancora protegge la figura di Pio XIII, il nuovo papa ha imposto la fermezza della sua spiritualità, ermetica quanto efficace. I media ne sono entusiasti. L'entourage del Vaticano altrettanto. E in piazza il suo sguardo non si scontra più con i sostenitori del suo pre-predecessore, bensì con la devozione di chi si è unito al coro nel suo NO. Il personale contributo di John Brannox a combattere quella verità detta da Nietzsche che lui stesso cita.
"La visione dell'uomo di un mondo brutto e cattivo ha finito per rendere davvero il mondo un posto brutto e cattivo."
E così, mentre la parola di Voiello cade nel dimenticatoio e nella minoranza, il rapporto tra il papa e Sofia si intensifica. Si fa più intimo. La donna che un tempo vedeva Lenny Belardo come un lontano enigma fonte di ispirazione e saggezza, sembra ora vulnerabile. Sensibile al fascino di un uomo che prima della fede sembra saper leggere la sofferenza più recondita di ogni essere umano.
È singolare che, prima di chiamare l'appartamento privato di Sua Santità, Sofia stesse leggendo Delitto e Castigo. Un libro che parla del conseguimento della salvezza attraverso la sofferenza. Qualcosa che sembra mettere una distanza tra lei e suo marito, un uomo votato molto meno a certe riflessioni. Inizia proprio qui, la sequenza di immagini messe insieme da Sorrentino mentre il telefono del Papa squilla per infiniti secondi.
Il rifiuto di Esther verso Fabiano. Le sorelle che poggiano la mano sul ventre di Suor Caterina, incinta di Faisal, proteggendola. La Madre Superiora che continua a crucciarsi toccandosi il petto dolorante. Gutierrez ancora in balia di lussuria e altri peccati che poco dovrebbero competere alla sua persona. E Pio XIII che esala un respiro.
Tutti sembrano attraversare quel dolore e quella sofferenza che tuttavia non sanno se li condurrà mai alla salvezza.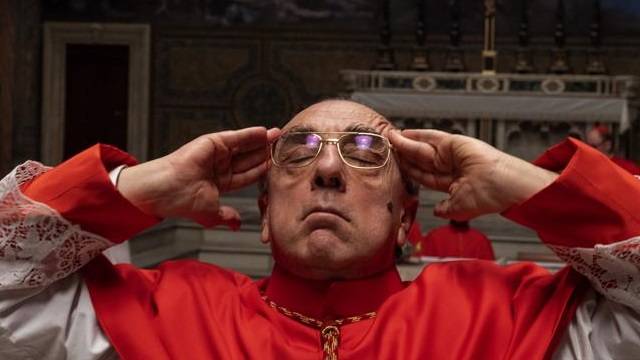 L'incontro tra Sofia e il Papa nelle catacombe sembra darci il più sorprendente degli snodi di trama di The New Pope, con un'altra serie di massime sull'amore regalateci da un impeccabile John Malkovich. Ma quando sembra che Giovanni Paolo III stia per sganciare la bomba che lo consegnerà eternamente alla storia del Vaticano, accade l'incredibile.
414 respiri e un sospiro. Altri 414 respiri e un sospiro. Si aspettano ora 413 respiri. Quelli di Lenny Belardo. Inspiegabili per i medici, miracolosi per chi si riversa in piazza urlando al ritorno di Pio XIII. Lo sguardo della donna in rosso che prega per lui davanti all'ospedale di Venezia si fonde con le finestre che proteggono il corpo di Lenny. Si passa alle casse e agli altoparlanti delle radio che trasmettono l'intenso respiro di Lenny. Sorrentino inquadra così un crocifisso, una suora che ascolta quel respiro adorante, Voiello che ci regala un'espressione per la quale ringrazieremo Silvio Orlando per la vita.
E il camminare lento e silenzioso di John Brannox. Turbato e devoto al tempo stesso a quel respiro intenso, che si impone nel mondo come fu la presenza in vita di Pio XIII. Per cinque lunghi minuti Sorrentino ci coinvolge in un'esperienza sensoriale di cui solo lui poteva essere capace. Intensa, debordante nella semplicità di quel silenzio, di quel respiro, di quel sospiro che ispira devozione persino in noi.
In qualche modo ancora sconosciuto, Lenny Belardo è tornato. Lo sanno i fedeli, lo sa Sofia, che incoraggia il Papa a ristabilire l'attenzione su di sé allontanando questo moto di idolatria. E lo sa lui, Giovanni Paolo III.
Lui, che ancora una volta sembra trovarsi al cospetto di Dio a rivestire senza volerlo i panni di chi non c'è più. Come fu ai tempi, al cospetto dei suoi genitori quando suo fratello Adam morì. Sorrentino crea quest'analogia tra Pio XIII e Adam utilizzando quel lombrico uscito dalla sua scatola come fil rouge che lega i due. Ma soprattutto che lega i destini analoghi riservati a John Brannox, fratello, e Giovanni Paolo III, papa. Ancora una volta Brannox si ritrova all'ombra di un passaggio di testimone forse troppo pesante da sostenere per chi come lui convive con cicatrici profonde.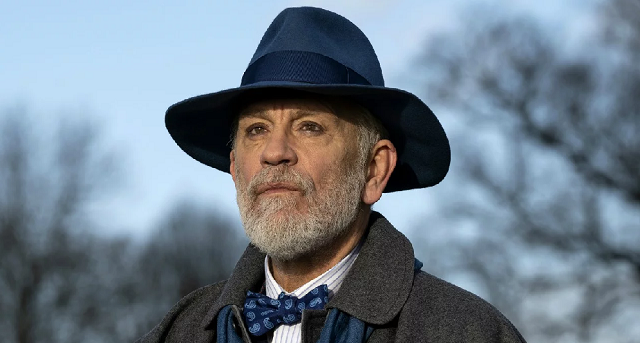 La sua sicurezza vacilla e con essa forse anche il suo potere decisionale. Forse è proprio così che volgerà al termine il servizio di Angelo Voiello, portato cautamente alla destituzione dal Papa stesso. È incredibile pensare che il più longevo Segretario di Stato del Vaticano possa arrendersi così alle dinamiche del potere. Facendosi abbattere da Spalletta e dalle sue macchinazioni a base di droga e sesso con minorenni per salvare la Chiesa dal tracollo finanziario e da una politica che si fa corrompere fin troppo facilmente.
Sembra assurdo che sia davvero arrivato il momento per Sua Eminenza di non essere triste solo perchè il Napoli ha perso, ma perchè qualcuno ha saputo "giocare a scacchi" meglio di lui. Meglio anche di Sofia, sempre meno squalo e sempre più in balia di inquietanti intimidazioni. Tutto dopo aver scoperto il coinvolgimento di suo marito nelle porcherie di Spalletta e Guicciardini. Un contesto che rimanda sfacciatamente a fatti di cronaca tristemente veri della storia italiana e vaticana.
Ma se gli uomini tra le mura del Vaticano perdono in qualche modo la loro statura, al di fuori di questo, altri personaggi di The New Pope, col ritorno spirituale di Pio XIII, si rafforzano.
Esther sembra finalmente riprendere il controllo di se stessa e della sua vita sottraendosi al vile controllo di Fabiano e Don Mario. Acquisisce sicurezza e affronta la ricca madre di Attanasio perdendo l'ultima delle sue catene: il senso di colpa. Capisce così la differenza tra una prostituta e una santa: gli uomini. E sperimenta con estrema confidenza questa forma di amore del ragazzo e di chi come lui ha subito un torto dalla natura.
Ma l'adorazione di Attanasio finisce per corrompere la fiducia in sé che avrebbe solo dovuto lenire il suo senso di colpa. Così nei panni di una novella Maria Maddalena, divisa tra santità e prostituzione, rischia di commettere il più mortale dei peccati. Ma Pio XIII è ancora una volta pronto a salvarla. Lì, presente, la osserva giungere al peggio di sé per portarla poi sul sentiero che la conduce a pregare il più vicino possibile al suo capezzale.
E mentre la destituzione sembra addolcire il cuore di Voiello – che ci regala un'epica risoluzione con le suore del Santa Teresa – Giovanni Paolo III sembra perdere terreno.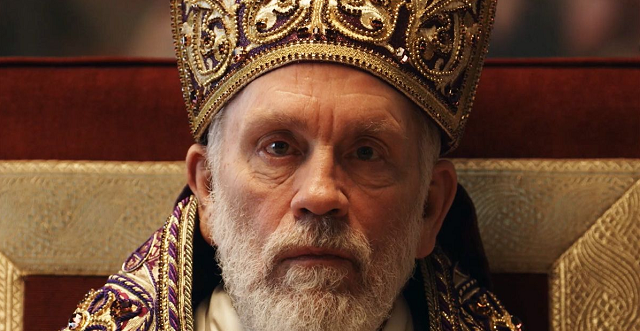 Decisosi finalmente a concedere l'intervista live e in diretta mondiale a Kitsworth, perde man mano presa con l'andare delle domande. Geniale la volontà di Sorrentino di incorniciare il suo primo piano con una ripresa instabile, tremolante. Simbolo del terremoto emotivo che lo assale di fronte alla necessità di manifestarsi al mondo, di scoprirsi. Lui che dopo la morte di Adam si era chiuso a tutto ciò, si era nascosto nella sua segreta devozione.
Ora invece si ritrova scoperto, nudo, vulnerabile agli occhi di un mondo che sta per vedere chi è davvero Sir John Brannox. Il Nuovo Papa.