The Gifted, 1×04, eXit strategy.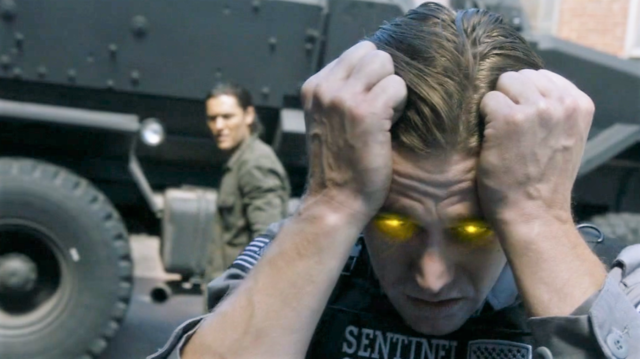 Altra puntata e altro flashback. eXit strategy si apre con Thunderbird, Eclipse e il loro amico Pulse intenti a entrare in un centro di trasferimento mutanti. Una situazione che degenera in fretta, costringendoli a fuggire, lasciando così indietro alcuni dei loro compagni.
Dall'incipit è chiaro sin da subito che eXit strategy è un episodio da battaglia.
Vivace. Pulsante. Dove "lotta" fa rima con "rischio" e "perdita", in un fil rouge che lega l'intera puntata.
Successivamente ecco Polaris e Reed Strucker di nuovo faccia a faccia. Questa volta entrambi sono in stato di detenzione. Un incontro plasmato da una distanza incolmabile figlia dei precedenti tra le parti. L'esame di coscienza di Reed, quale riflessione sulla natura umana e il suo ruolo di avvocato di Stato, non sembra sfiorare la compassione di Lorna. A nulla vale il tentativo di redenzione, l'ammissione di quanto fosse sbagliato credere che chiunque infranga la legge sia logicamente colpevole.
Una sequenza da cui emerge evidente come in The Gifted tutto può mutare in un batter d'occhio. Chi era in posizione di forza, può trovarsi spalle al muro. Chi aveva delle ferme convinzioni, può finire col ricredersi. Ciò che resta costante è il senso di contrapposizione tra esseri umani e mutanti, riassumibile in questo confronto improduttivo, se non improponibile a dir poco.
Nel frattempo, al quartier generale clandestino si discute sul piano per recuperare i due reclusi. Nelle parole dei protagonisti la paura di perdere definitivamente le persone amate si scontra con lo spettro dell'immobilismo.
Agire o non agire. Rischiare tutto in un pericoloso all-in per poi scoprire di aver fallito. Quale dilemma.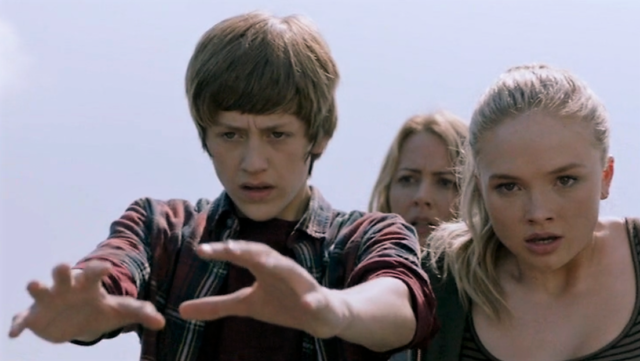 Tra poteri, muscoli ed emozioni contrastanti, ecco Caitlin Strucker dimostrarsi un'ottima aggiunta di fosforo al gruppo dei mutanti, consigliando (ancora una volta) una buona strategia d'azione.
Sull'onda delle grandi manovre, Lauren e Andy decidono di scendere in campo insieme agli altri. Il dialogo tra Caitlin e sua figlia segna in maniera netta l'istante in cui i due giovani Strucker si elevano a mutanti consapevoli con una dichiarazione d'intenti chiara e decisa:
Vogliamo lottare per questo.
Un'iniziativa necessaria, a conclusione di un percorso di emancipazione e responsabilizzazione intravisto sin dalle prime battute di The Gifted.
Ma la bellezza di eXit strategy va ricercata nei dettagli.
La novità più vistosa, curiosa e interessante è il personaggio di Marcos e il suo rapporto con il cartello. Ecco allora Eclipse fare capolino in un locale alla moda, dove incontra la sua ex fiamma, Carmen, ora a capo degli affari al posto del padre. L'obiettivo del protagonista è ottenere  informazioni sul dove e quando verranno spostati Reed e Polaris, ma per sapere ciò che desidera Marcos è costretto a sporcarsi le mani (nel vero senso della parola) per conto della donna, intenzionata a sfruttare il più possibile i suoi poteri.
Un figura di contorno affascinante e curata. Conferma di come The Gifted setacci ogni particolare, non tralasciando nulla al caso, esplorando e sfruttando — nel profondo di ogni aspetto — il background dei protagonisti.
Mentre uno scosso Eclipse fa ritorno tra i compagni, la mente di Blink è ancora annebbiata dal sogno lasciatole da Dreamer e Lauren cerca di spronare il fratello, ecco mettersi in moto la grande macchina che vede coinvolti tutti le parti dello show.
Il gruppo si prepara a colpire il convoglio diretto all'aeroporto. Durante l'attacco qualcosa interferisce con i poteri dei mutanti. Si tratta di Pulse, il migliore amico di John e che non vedeva da ormai due anni, dalla notte dell'attacco al centro di trasferimento mutanti. Nell'impossibilità di usare le proprie unicità, Caitlin interviene facendo scappare i suoi figli e Polaris e Reed cercano di fuggire dal bus in cui sono rinchiusi.
Tutto pare essere inutile, fin quando Thunderbird avrà la meglio sull'avversario, notandogli, una volta a terra, un particolare tatuaggio all'altezza del polso. Alla fine i due prigionieri collaborando riescono a riunirsi con gli altri, scatenando le ire dell'agente Turner.
Con eXit strategy, The Gifted raggiunge il suo climax.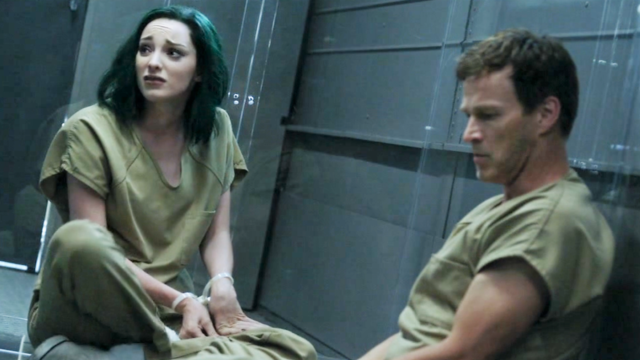 Un episodio ben diretto, una storia che si fa di volta in volta più frastagliata e ricca. Oltre a continui plot twist, questo navigare nel passato dei protagonisti per poi vederlo ritornare a incidere nelle loro vite, ci consente di conoscerli meglio, rendendoli più accessibili, in un'evoluzione che sa di formazione e dinamicità.
eXit Strategy è battaglia e paradosso allo stesso tempo.
Per scampare a una situazione difficile, a volte l'opzione migliore — per quanto appaia insensato — non è fuggire, ma lottare. Ognuno dei protagonisti ha pensato più volte di mollare, dovendo poi fare i conti con le proprie ragioni per restare. Perché quello che stanno facendo è importante, non soltanto per loro, ma per un'intera razza.
The Gifted continua a convincere, afferrandoci per la gola e correndo a ogni episodio, regalando con costanza nuovi spunti. Uno slancio che promette un epilogo incerto e che ci vuole (riuscendoci alla grande) attaccati allo schermo.