The Gifted, 1×03, eXodus.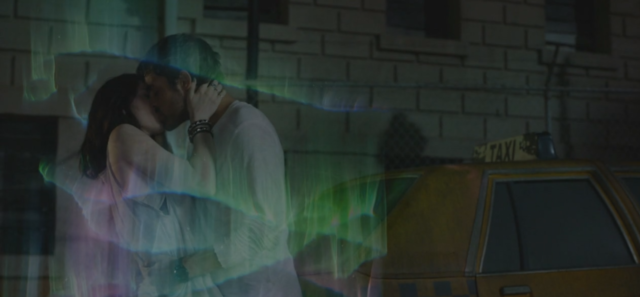 E così anche l'episodio numero tre di The Gifted, eXodus, si apre con un flaskback al pari del precedente. Uno spaccato romantico tra Polaris ed Eclipse, in cui si contrappongono da un lato l'orgoglio e la gioia di essere un mutante, dall'altro il dolore che si prova nel venire emarginati. Un momento d'intimità toccante, semplice, ma non necessario. A tratti persino stucchevole, quando si abbracciano e i loro poteri unendosi danno vita a una vera e propria aurora boreale. Ma tant'è, concediamo a The Gifted un minimo di autocompiacimento. D'altronde si tratta pur sempre di una relazione sentimentale centrale nello show, forse la più interessante come capacità di incidere nella sceneggiatura.
Eccoci poi di nuovo nel presente. Precisamente nel carcere giudiziario di Fulton. Qui Lorna e Jace Turner si affrontano in uno scontro dialettico dove la mutante conferma la sua situazione critica, mentre l'agente continua in quel percorso che pare condurlo verso una dimensione sempre più significativa: non un semplice villain, bensì elemento portante di The Gifted.
Nel frattempo al quartier generale clandestino si discute sull'evasione di Lorna. Questa situazione precaria permette di analizzare le diverse personalità dei personaggi, attraverso le loro risposte. Thunderbird medita attentamente sul da farsi. Il suo obiettivo primario è proteggere la comunità e nello svolgere il proprio ruolo ha il compito di addestrare Blink: la mette davanti ai suoi limiti, ponendole la sfida come qualcosa di positivo e dispensando preziosi consigli. Eclipse al contrario non vuole perdere tempo, interessato esclusivamente a salvare la sua donna dalla prigione. Caitlin dal canto suo spinge per arrivare a una soluzione che non significhi per forza combattere, ma allo stesso tempo è preoccupata per le sorti del marito.
Persone diverse. Visioni distanti. Ma qualcosa le accomuna.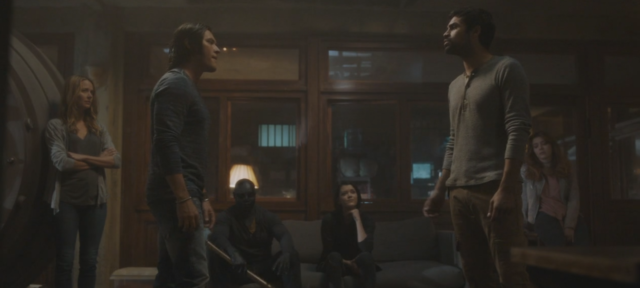 Se tra i mutanti notiamo due anime, una attendista e un'altra più impulsiva, c'è invece chi, come Caitlin, desidera portare lo scontro sul piano della legalità, ottenendo informazioni utili tramite le proprie conoscenze. L'ultimo barlume di speranza nel potersi fidare di un mondo che li sta cacciando indiscriminatamente e che non tiene conto del paradosso per cui il metodo legale, in realtà, è proprio quello più pericoloso. Dicevamo di visioni differenti, ma con qualcosa in comune: l'amore per i propri cari. Ognuno di questi individui infatti è concentrato su quello che ama di più. La comunità; Lorna; Reed.
Nel mentre, Andy e Lauren mostrano tutto il loro essere teenager, alternando momenti di serietà ad altri di piena indolenza. Specialmente il ragazzo sembra patire una certa insofferenza, alimentata da questa società che rigetta i mutanti a suon di pregiudizi.
L'arco narrativo con protagonista Reed Strucker, ancora in custodia dei Sentinel Services, si conferma dinamico e ricco di azione. Il nostro protagonista collabora con Turner, che ha quale obiettivo localizzare la base dove si nasconde la comunità mutante clandestina. Un Reed pronto a tutto pur di riabbracciare la sua famiglia. Eppure gli eventi lo porteranno a un cambio repentino: l'incontro con due mutanti in fuga, una madre e una piccola bambina, lo spingerà a riflettere sul valore delle proprie azioni, sacrificando l'unica opportunità a disposizione.
La puntata si chiude col botto! John, Marcus, Caitlin e i ragazzi devono fuggire da casa dello zio Danny, a cui avevano chiesto aiuto.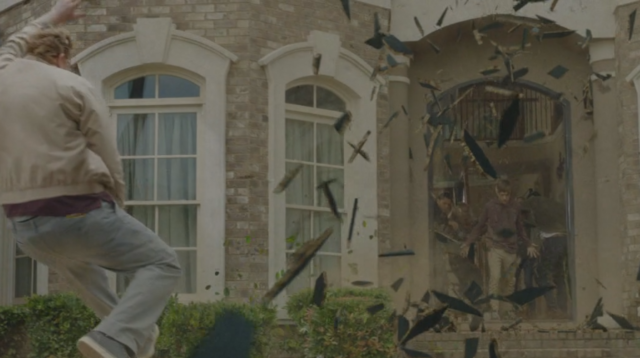 Il conflitto, che nasce per una leggerezza tipica dell'età di Andy, rischia di costare caro all'intero gruppo. Una sequenza accattivante quella dell'inseguimento in auto, ma esagerata. Perché d'accordo che siamo in una società spaventata dai mutanti, ma un gruppo di persone che si unisce spontaneamente con annessi pick-up e fucili a pompa profuma molto (troppo) di cinematografico.
Alla fine però si tratta di un espediente intelligente e soprattutto funzionale ad aggiungere un ulteriore elemento alla storia. Passata in secondo piano nei primi due episodi, ecco emergere con prepotenza Dreamer, una mutante con il potere di innestare ricordi modificando così la memoria. Innamorata di John, per spingere Clarice a creare un portale e salvarlo gli darà un un ricordo facendole credere di provare qualcosa proprio per Thunderbird.
Ricapitoliamo. Dal punto di vista tecnico questo show è già una certezza. Allora riflettiamo sulla scrittura.
Arrivati al terzo episodio, The Gifted non ha ancora spiccato il volo. Ci sono alcuni momenti prevedibili (e non rivedibili), ma pur sempre fisiologici in quella che è uno sviluppo graduale.
Seppur ancora introduttivo, eXodus scava in profondità nei personaggi. Viene abbandonata l'ottica collettiva di eXposed e rX, per passare a una più singolare. Si parla di priorità, di ciò a cui si tiene, di lottare per difendere i propri legami, la propria famiglia.
Quello che Eclipse dice a Caitlin una volta in salvo,
Va tutto bene. Hai fatto una cosa stupida per qualcuno che ami.
non è soltanto il messaggio di questa puntata, ma simboleggia in toto l'animo mutante in The Gifted. L'importanza di non arrendersi, che a volte può portare anche a commettere degli errori. Una lezione che servirà da crescita per Lauren e Andy, mentre sarà un duro banco di prova per gli adulti.
È il legame (familiare) a uscire esaltato da eXodus.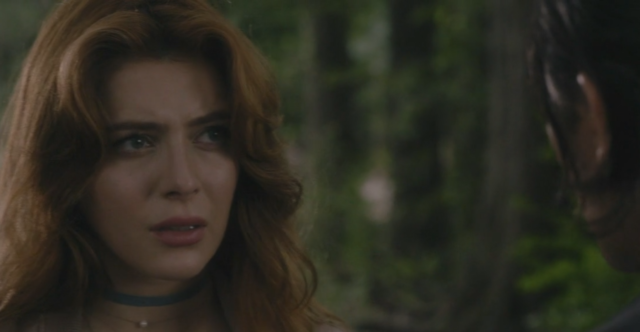 Polaris e Reed sembrano destinati a incontrarsi molto presto, mentre il quadro generale si arricchisce di nuove dinamiche: il triangolo tra Thunderbird, Dreamer, Blink e il palesarsi del Dottor Roderick Campbell, che prende contatto con i Servizi Sentinel proponendo di consegnargli i due Strucker.
Sì, The Gifted è sicuramente uno show di livello, convincente per trama e stile. Ora rimane solo che entri pienamente nel vivo, una volta che i tempi saranno maturi.