Ottobre è iniziato e ha portato con sé molte serie nuove (scoprite qui le più intriganti) ma altrettanti ritorni. Eccoci infatti a parlare e discutere insieme della sesta stagione di The Flash, più precisamente dell'episodio 6×01 andato in onda sul canale americano The CW la notte dell'8 ottobre. Prima di iniziare a buttarci a capofitto sulla nuova puntata, però, facciamo un mini resoconto di ciò che è successo nella scorsa stagione così da rinfrescarci tutti insieme le idee e partire col piede giusto.
Nella quinta stagione ci è stato introdotto il personaggio di Nora West-Allen, la figlia – proveniente dal futuro – di Barry e Iris che, attraverso le doti da velocista ereditate dal padre, viaggia e torna nel passato per conoscerlo, dato che, in seguito a una grande crisi nel 2024, Barry scompare.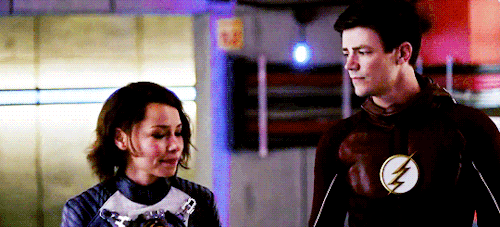 La stagione si sviluppa quindi sul rapporto conflittuale tra Nora e Iris e sulla costruzione del rapporto tra la ragazza e il padre mai conosciuto. Nora cercherà anche di aiutare il Team Flash a sconfiggere Cicada, il cattivo della stagione, che, secondo le fonti del futuro, sarà una delle cause che provocheranno la scomparsa di Flash, la quale nell'ultimo episodio cambia data, passando dal 2024 al 2019.
Ecco dove eravamo rimasti!
Questo pilot, se devo essere sincera, è stato molto "standard", una puntata che segue lo schema classico della serie. Iniziando infatti nel più semplice e conosciuto dei modi: ci vengono ripresentati tutti i personaggi a cui ormai siamo affezionati e ci viene riassunta brevemente la situazione attuale, gettando così le basi che si andranno a sviluppare nel corso della stagione.
Ritroviamo Iris e Barry addolorati per la perdita di Nora immersi nei loro rispettivi lavori per allontanare i cattivi pensieri, Cisco, che nella scorsa stagione aveva preso la cura per i metaumani, sta vivendo a pieno la sua ritrovata vita sociale, Caitlin sta avendo dei problemi con la sua controparte Killer Frost, e Ralph si comporta da Ralph.
Insomma, un Team Flash al meglio delle sue capacità.
La puntata continua su due linee narrative ben distinte: da un lato Caitlin che deve capire cosa c'è che non va con Killer Frost e che si ritrova ad affrontare un vecchio amico di studi: Ramsey Rosso. Dall'altra la squadra di Flash che deve affrontare la comparsa di un buco nero in città che minaccia la tranquillità dei cittadini.
Come ho detto anche prima, quest'episodio è partito e si è sviluppato molto linearmente, non ci sono stati molti colpi di scena, ma bisogna dire che la puntata ha seminato qua e là qualche indizio sui possibili avvenimenti della stagione. Infatti, c'è stato più di un momento in cui nella mia mente, e sicuramente anche in quella di molti altri spettatori, si sono venuti a creare degli interrogativi e delle aspettative che spero si concretizzeranno nei prossimi mesi.
Il primo quesito riguarda senza dubbio il velocista visto nei primi minuti di episodio. Si tratta di Godspeed, un criminale che abbiamo già incontrato precedentemente nella 5×18. Qui però, come ci dice anche Cisco e come possiamo benissimo vedere noi stessi, non si tratta del vero Godspeed, ma di una sorta di clone che non ha capacità cognitive e/o comunicative di alcun genere: una specie di robot umano.
Ci viene fatto sapere che si tratta del quarto esemplare catturato nell'ultimo periodo ma non ci vengono date altre informazioni. Sicuramente diventerà un problema nel corso dei prossimi episodi, forse una seconda storyline che porterà lo zampino di Eobard Thawne, scappato dai nostri eroi la scorsa stagione.
Spero vivamente si tratti di lui, non solo perché ritengo che in ogni stagione è assolutamente necessaria la presenza del bravissimo Tom Cavanagh, ma anche perché si tratta di uno dei migliori villain presenti nella serie e, dato l'andamento un po' in discesa negli ultimi anni di The Flash, il suo ritorno farà solo che bene alla serie e a noi fan.
La seconda cosa che, almeno in me, ha creato un po' di aspettative è il nuovo cattivo della stagione. Si tratta di Ramsey Rosso, ex compagno di studi di Caitlin. Nella puntata avvisa la donna di aver trovato una possibile cura alla malattia che ha recentemente ucciso la madre, la HLH, ma che prima ha bisogno dell'aiuto dell'amica e della materia oscura per metterla in pratica testandola sugli umani. La donna ovviamente rifiuta e Ramsey decide di fare lui stesso da cavia, iniettandosi la fiala nel braccio. Qualcosa andrà storto e l'uomo inizia piano piano a trasformarsi.
Indagando online, ho scoperto che il suo personaggio è stato introdotto nel mondo fumettistico di The Flash nel 2017 e che nella serie è stato cambiato in alcuni aspetti. Ciononostante è stato confermato che l'uomo andrà a ricoprire il ruolo di nemesi del Team Flash in questa stagione sotto il nome di Bloodwork. Spero sinceramente si tratti di un cattivo migliore di Cicada. Ammettiamolo, mancava di appeal e carisma, assolutamente un personaggio sprecato.
L'ultima parte che vorrei prendere in analisi con voi è sicuramente la fine.
Infatti, l'episodio si conclude con l'entrata in scena di uno straniero: l'individuo misterioso che avevamo già visto nella scorsa stagione negli episodi crossover tra le altre serie della CW. L'uomo avverte Barry e Iris che ci sarà una crisi disastrosa il 10 dicembre 2019 e che non ci sarà nulla che il Team Flash possa fare per cercare di sfuggire alla fine. La morte di Flash sarà inevitabile.
Questo dato è importante, non solo perché rende il tutto un po' più corposo e intrigante, ma perché ci annuncia ufficialmente la data di inizio del prossimo crossover il quale andrà in onda appunto il 10 dicembre. Questo evento è attesissimo dal pubblico poiché creerà un universo condiviso davvero geniale e di grande intrattenimento. Quest'anno poi si annuncia essere pazzesco, dato che è frutto dell'unione di ben 5 serie diverse: le classiche The Flash, Arrow e Supergirl verranno accompagnate a gran richiesta da Legends of Tomorrow, assente lo scorso anno, e dal nuovo prodotto di questo autunno Batwoman. Il tutto avrà una durata di ben 5 ore (leggi qui le varie informazioni che abbiamo raccolto).
Provando dunque a fare un punto della situazione, possiamo dire che la puntata è rimasta nella media, non è stata impostata in modo che si distinguesse dalle altre, ma sapendo comunque che stiamo parlando di una premiere di stagione e che quindi ha come penalità quella di dover gettare le nuove basi per gli episodi che dovranno venire. In ogni modo ci sono molti spunti e presupposti ottimi che speriamo possano essere presi tutti in considerazione e approfonditi nel corso della stagione.
Giunti dunque alla fine di questa prima recensione, vi do appuntamento per la prossima settimana, sempre qui, sempre con The Flash!