"Qui vedrete cose che…beh, avreste pensato impossibili. Eppure accadono". Con queste parole si presenta Tales from the Loop, la serie che ha debuttato su Amazon Prime Video il 3 aprile, e che ha destato parecchio interesse, anche per i paragoni fatti con Stranger Things prima ancora della messa in onda. Il titolo significa letteralmente "Racconti dal Loop" ed è ambientata in una piccola cittadina in Ohio, Mercer, sotto la quale si trova un laboratorio di fisica sperimentale. Questi "racconti dal Loop" narrano sì le storie degli abitanti di Mercer ma ciò che si intreccia con le vite dei personaggi non sono avventure o affari di cuore, anzi, alcuni di loro non si conoscono nemmeno. C'è qualcosa di molto più importante che li lega. Ed è il tempo. Le loro vite si sfiorano appena, ma ciò che conta è che si svolgono su piani temporali… inconsueti.
L'ispirazione dai quadri di Simon Stalenhag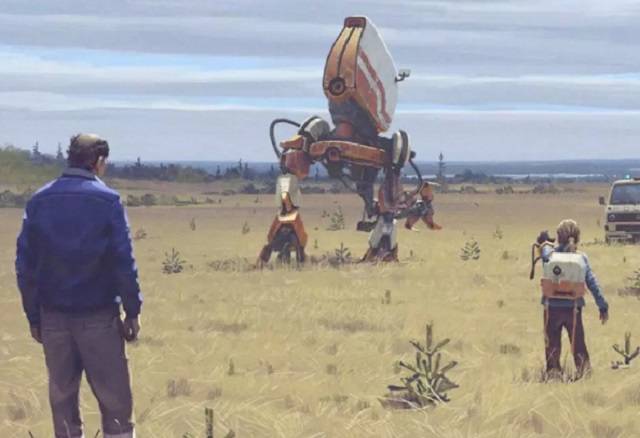 Facciamo un passo indietro, perché per capire a pieno la serie bisogna conoscerne i retroscena. L'idea di Tales from the Loop nasce dai quadri di un artista norvegese, Simon Stalenhag, creatore di immagini digitali dallo stile futuristico, da cui poi Nils Hinze ha tratto un gioco da tavolo di fantascienza, chiamandolo Tales from the Loop. Nel gioco è possibile ricoprire i ruoli di ragazzini che vivono delle avventure in una cittadina nel cui sottosuolo si nasconde qualcosa di scientifico e segreto.
L'idea originaria del gioco da tavolo è stata trasposta nella serie in modo un po' diverso: i personaggi non sono sempre gli stessi, anche se le vicende ruotano principalmente attorno alla famiglia Wallard. Russ Wallard, interpretato da Jonathan Pryce (noto principalmente per Game of Thrones e i film I due Papi e Pirati dei Caraibi) è un'anziano scienziato a capo del laboratorio di fisica sperimentale di Mercer, da tutti conosciuto come il Loop. La sua famiglia, composta dal figlio, dalla nuora e dai nipoti, è il caposaldo della serie. Le storie che però vediamo non sono solo quella degli Wallard, ma anche di altre persone comuni. Ad esempio vediamo il custode del Loop, Gaddis, alla ricerca di un compagno e che scopre come sarebbe stata la sua vita se avesse incontrato l'amore. Oppure Ed, un manutentore, che trova un modo molto particolare di proteggere la sua famiglia. Tales from the Loop si sviluppa in 8 puntate che possiamo definire in un certo modo "autoconclusive", nel senso che una puntata apre e chiude una parentesi di vita di un personaggio, che non necessariamente è legata alle altre. Di certo ha influito il fatto che ogni puntata è stata diretta da registi diversi (interessante sapere che la puntata conclusiva è stata diretta da Jodie Foster).
Le loro vite sono legate da un filo sottile, quasi trasparente, che li unisce in rapporti di parentela, d'amore o anche di semplice amicizia. Ma che cosa davvero li accomuna?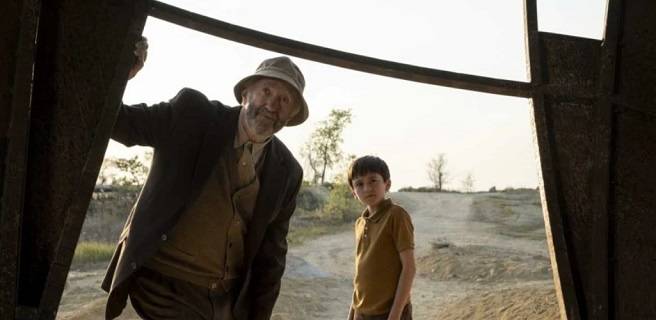 La loro esistenza scorre tranquilla a Mercer, cittadina piccola e apparentemente insignificante, e la serie ci fa entrare in punta di piedi nella vita dei protagonisti. Ma ad un certo punto, nella storia di tutti, accade qualcosa di molto bizzarro. Qualcosa di strettamente legato a come il tempo trascorre nella loro vita. Non immaginatevi scene stile Ritorno al Futuro: nessuno si infila in qualche macchinario iper-tecnologico per viaggiare allegramente nel tempo. In Tales from the Loop persone effettivamente ordinarie vivono qualcosa di straordinario. Sono in grado di fermare il tempo, accelerarlo, oppure di passarci accanto e riflettercisi come se fosse uno specchio. Questo non perché sono dotati di super-poteri, ma per qualcosa che risiede nel sottosuolo. Il rapporto che ogni personaggio ha rispetto al trascorrere del tempo è un tema costante nella serie, perché il tempo che scorre tra le mani è uno tra i temi che più fa riflettere.
I temi che Tales from the Loop affronta sono carichi di significato: l'importanza della famiglia, il lutto, l'amore.
L'atmosfera della serie è quasi onirica, sospesa tra paesaggi di campagna e boschi sterminati. E nel viaggio che compiamo guardando Tales from the Loop siamo sempre accompagnati dalla fotografia e dalla colonna sonora della serie. La fotografia è caratterizzata da inquadrature geometriche e colori in contrasto: certe inquadrature sono talmente surreali da far pensare a tratti che l'intera puntata possa essere solo un sogno del suo personaggio. La colonna sonora è musica classica, spesso pianoforte, che culla questo viaggio e che da molto risalto ai momenti più belli o drammatici. È una presenza quasi ingombrante nella serie, sia perché musicalmente è imponente sia perché accompagna in ogni scena.
Sogno lucido
Insomma, l'avete capito: in Tales from the Loop non vedrete scene d'azione o complotti mondiali. Questa serie è un viaggio attraverso la vita di persone comuni, ma la loro vita diventa straordinaria per quello che vivono. Per come riescono a modificare il concetto di tempo nella loro vita e per come il tempo modifichi il loro modo di vivere. Per certi versi ho notato alcune caratteristiche in comune con Black Mirror, principalmente per l'atmosfera costante di vivere un "sogno lucido" in ogni puntata. Mentre invece molti l'hanno accomunata a Stranger Things, le somiglianze non sono poi così tante. In Stranger Things l'atmosfera avventurosa è onnipresente, mentre in Tales from the Loop tutto si svolge con una calma rassicurante ma allo stesso modo inquietante. L'elemento che possono avere in comune è il cast composto da giovanissimi, ma rimangono pur sempre molto diverse.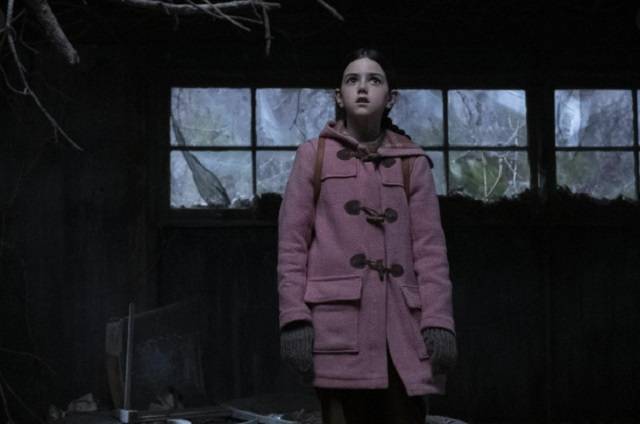 Tales from the Loop è da vedere perché è un vero e proprio viaggio. Un viaggio in cui ci si può spesso fermare a riflettere. Qual'è il significato del tempo trascorso? Come alcune scelte condizionano la vita? La mia esistenza sarebbe stata migliore se…? Queste e molte altre sono le domande che ci poniamo guardando questa serie. Tales from the Loop non pretende di dare la risposta, e forse nemmeno risponde ad alcune domanda che da sola pone nel raccontare le vicende degli abitanti di Mercer. Ma una cosa è certa: il punto di vista che da su un argomento come il passare del tempo è particolarissima. E per questo va guardata.