Una sola parola: wow. Un finale di stagione eccezionale che ha saputo farci entrare davvero nell'anima e nello spirito di Poldark. Una puntata che racchiude non solamente un'intera stagione, ma anche la serie. La 4×08 segna la fine di un pezzo di storia, di una vita fatta di amori giovanili e passione.Tutti i personaggi sembrano aver raggiunto il loro obiettivo, il traguardo di un percorso che nel bene e nel male era destinato a loro e a loro soltanto.
Andiamo a dare un'occhiata al finale di stagione
Ovviamente il fulcro e tema centrale è la morte di Elizabeth. Con questa puntata salutiamo uno dei personaggi portanti dell'intera serie, l'essenza stessa di Poldark. Le sue decisioni nel corso delle stagioni e negli anni hanno influenzato pesantemente gli eventi. Il suo è un personaggio che non solamente racchiude in sé il modello di donna richiesto a fine 800, ma che tra feste, buone maniere e apparenze ha saputo dimostrare una forza incredibile.
Ammettiamolo: Elizabeth era un vero e proprio squalo dell'alta società.
Una delle grandi bellezze di Poldark è stata quella di aver presentato in tutte le salse diversi modelli femminili, che nelle varie situazioni e con i loro caratteri hanno saputo dimostrare una determinazione impressionante. Da Demelza, a Caroline, Verity e infine Elizabeth. Una madre che ha sempre sacrificato tutto per il bene dei suoi figli, un amore così grande da portarla alla morte. Attenzione però: una morte che non cancella comunque tutto il male che, volontariamente o involontariamente, ha fatto nel corso della sua vita.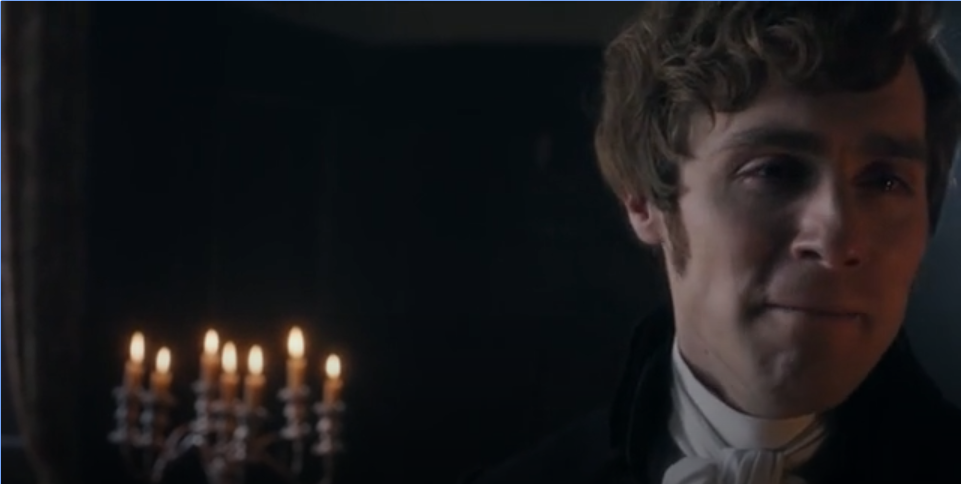 Una scelta disperata? Necessaria?
See what we've brought her to.
Uno degli aspetti più toccanti della puntata è stato sicuramente il ricordo iniziale di Ross. Dove sempre in quella casa il destino dei quattro aveva già solamente iniziato a incrociarsi: uno scorcio, una piccola vista su ciò che la vita successivamente avrebbe distrutto in tutta la sua violenza.
Come nel finale della scorsa stagione, rimarcabile è la performance attoriale di Jack Farthing, che ha saputo nuovamente dare volto e sostanza a un villain meraviglioso. Per George, Elizabeth è stata davvero l'unica persona che conta, e l'ha dimostrato.
Una scena che ha saputo far emozionare, credibile che arriva dritta al cuore.
I parallelismi
A) Zia Agatha ed Elizabeth
In questa puntata ce ne sono moltissimi ed è un tratto riuscito per rendere ancora più evidente il passaggio del tempo.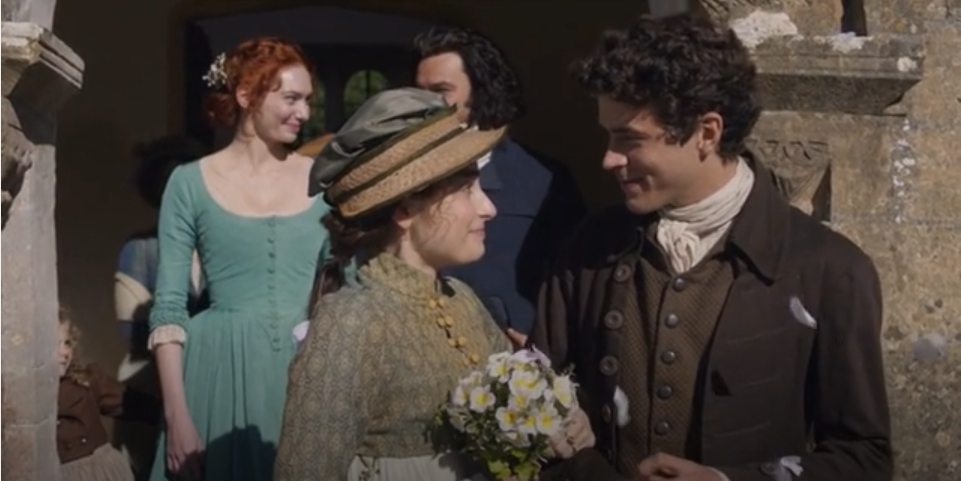 Primo fra tutti quello tra la prima puntata e l'ultima. La stagione era iniziata con la riunione di tutti i personaggi davanti alla tomba di Zia Agatha. Nell'ultima, invece, per il tanto atteso e travagliato matrimonio fra Morwenna e Drake. Un contrasto incredibile che mette in risalto i due piani su cui la puntata ha giocato per tutti i 59 minuti: la vita e la morte. Un filo sottilissimo che in Poldark sembra essere sempre instabile, almeno per la maggior parte dei personaggi.
L'immagine profondamente triste di George e Valentine davanti alla tomba di Elizabeth è ciò che chiude la puntata e tutta la stagione.
B) Ross e Demelza

Passiamo alla scena sulla scogliera. Il ricordo di Elizabeth, di un giovane amore perso e mai dimenticato. Sottolineiamo che il ricordo riguarda un Elizabeth fanciulla, immortalata dalla mente di un Ross fanciullo che non conosceva amore se non per lei. Dall'altra Demelza, l'amore maturo, scelto e difficile, ma soprattutto reale. Ross e Demelza richiamano il finale della seconda e della terza Stagione, dove entrambi uniti e più forti che mai si trovano sulla scogliera. Un momento delicato ed apprezzatissimo.
Walk with me
E il dialogo finale  viene ambientato nuovamente nel loro salotto come nelle puntate precedenti. Nonostante tutti i problemi che i due hanno affrontato per tutte le distese immense della Cornovaglia – senza risparmiare Londra – sono sempre stati in grado di aprire i loro cuori a vicenda solamente lì, di rivelare i più dolorosi pensieri solamente tra le mura di casa loro.
C) Drake e Morwenna
Oltre ai parallelismi tra le diverse puntate, anche all'interno dello stesso finale di stagione.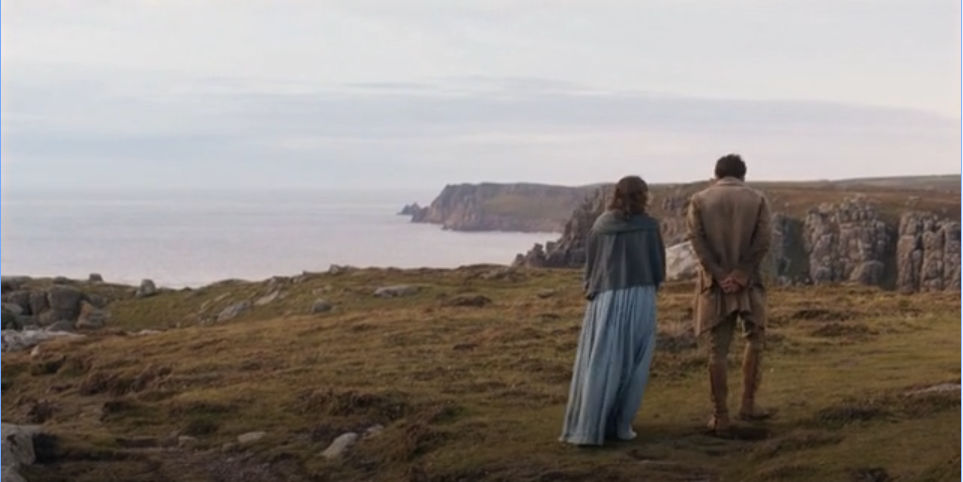 Il primo con i "Romeo e Giuletta" della Cornovaglia: Drake, completamente folle per amore, decide di rischiare tutto pur di avere Morwenna con sé. Persino accettare quel poco che lei ha da offrirle, massacrata da anni di violenze domestiche. Ma il piccolo Carne è pronto a raccogliere la sfida, è una scommessa ma lui ci crede. Non chiede nulla a Morwenna, solamente di camminare con lui, come Ross a Demelza. Nient'altro di più.
D) Ross, Demelza ed Elizabeth
Nel momento più teso, più difficile. Il continuo passaggio tra Mr. e Mrs Poldark ed Elizabeth, tutti e tre sdraiati sul letto nella camera. Un modo per tenere legate le vicende e rendere ancora più dissolubile ed evidente il forte legame, anche se involontario, che ha sempre unito questi tre personaggi nel corso delle diverse stagioni.
Da una parte la sofferenza, la dinamicità e la brutalità di un parto. Dall'altra la dolcezza e la delicatezza di una coppia che cerca di ricostruire sulle macerie di ciò che è stato.
È solo un arrivederci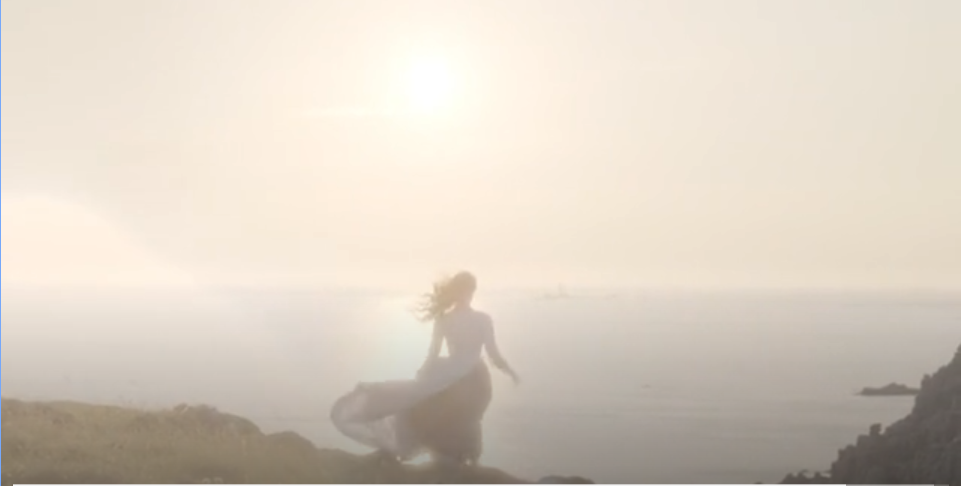 Con questo splendido finale di stagione, Poldark per quest'anno ci saluta. La quarta stagione è stata tra alti e bassi piacevole e piena di sorprese. Specialmente ricca di chicche davvero incredibili che ci hanno fatto ricordare perché amiamo così tanto questa meravigliosa serie. Con questa stagione – e con l'addio della bellissima Heida Reed – si chiude una parte importante nella storia dei personaggi. Un addio difficile, drammatico e da un lato impossibile.
It's the memory of that love that makes me sick at heart today. For the loss of all that she was.
Non ci siamo mai sentiti così tanto vicino a Ross, al suo essere eroe, alla sua fragilità, alla sua Cornovaglia.
Uno dei finali migliori di sempre sicuramente!
Al prossimo anno!
Perché il Capitano Ross Poldark will return.