Bentrovati con la recensione del sesto episodio della sesta stagione di Orange Is the New Black. Dopo la scorsa puntata, in cui ci sembra che Maria Ruiz venga annegata nel water del carcere, di lei sono si sa più nulla. Non le viene dedicato nemmeno un secondo. Il che mi porta a pensare che forse non è morta, altrimenti, la notizia avrebbe fatto il giro del carcere, allarmando il resto delle detenute, ma soprattutto trasmettendo un grande senso di colpa in Gloria e Blanca.
Ma andiamo a commentare questo sesto episodio di Orange Is the New Black. Innanzitutto voglio una standing ovation per Red. L'ho amata dal primo all'ultimo secondo. Ricapitolando velocemente, la povera Galina è stata scelta come capro espiatorio ed è stata mandata al rogo dalla sua stessa famiglia. Tutte le sue figlie, da Frieda a Nicky, l'hanno indicata come colei che ha tenuto in ostaggio e torturato il secondino Piscatella. Le cose, ovviamente, non si sono messe bene per la donna, la quale è stata anche accusata di aver ucciso il malcapitato.
In questo episodio la vediamo combattere contro questa terribile accusa. Il suo avvocato d'ufficio non prova nemmeno ad ascoltarla. Ciò che vuole è che Red firmi il patteggiamento. Certo, firmarlo avrebbe aiutato molto a ridurre i danni. Ma non meritava di pagare per qualcosa di cui non è colpevole, come ha giustamente fatto presente all'avvocato la stessa Reznikov. Ho adorato il momento in cui ha firmato. Non perché fossi d'accordo, ma per la sua reazione. La delusione di essere stata tradita la stava logorando e glielo si poteva tranquillamente leggere in faccia. Quell'espressione arresa e sconfitta ha fatto in modo che quella scena diventasse una delle più belle nella storia di Orange Is the New Black accanto a quella di Pennsatucky che predica mentre il crocifisso cade.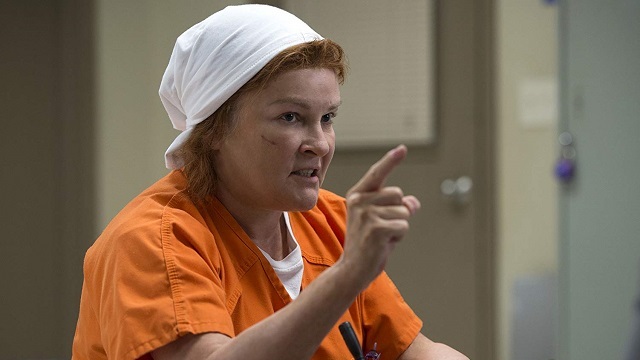 Ho amato Red anche per il momento del confronto con Alex e Piper. Mi chiedo con quale coraggio quelle due cretine siano andate a parlare con lei. E come abbiano potuto, soprattutto Piper, continuare a difendere le proprie azioni. Vi ricordo che quella demente della Chapman non ci ha pensato due volte ad addossare tutta la colpa su Red. E solo perché aveva deciso che Alex fosse morta. Non puoi buttare merda sulla gente e giocare con il loro futuro e la loro fedina penale solo perché sei una stronza egoista (perdonate il francesismo, ma quando ci vuole ci vuole). Quando davanti a Red continuava a cercare di difendersi, fossi stata nella Reznikov, le avrei sputato in faccia disgustata. Spero solo che non la perdoni. Può perdonare Alex perché alla fine non è colpa sua se ha una fidanzata che è una stronza egoista, ma non Piper. Piper è semplicemente odiosa.
Mi si è spezzato il cuore durante la chiamata che Red fa a suo figlio. In quel momento, ha raggiunto il massimo della solitudine. Ha sentito il bisogno di circondarsi e di sentire la sua vera famiglia. Apre gli occhi e capisce di non potersi più fidare della sua famiglia in carcere, di quelle persone che l'hanno solo pugnalata alle spalle. Se fossimo nell'antica Roma, probabilmente lei sarebbe Giulio Cesare, tutte le infami che l'hanno buttata sotto il treno sono i senatori  e Nicky è Bruto. Anche se Nicky è l'unica ad averle parlato prima, quindi Piper è Bruto. Ad ogni modo, spero che Red riesca a recuperare il rapporto con Nicky e a trovare qualcuno che l'aiuti dall'esterno con la sua causa.
Torniamo un attimo a Piper e a quanto sia egoista. Che lei e Alex abbiano intenzione di sposarsi era chiaro a tutti. E il fatto che ci ricordi che tra un anno si toglie dalle palle, mi fa un sacco piacere. Però, quello che non mi va giù è: perché non riesce nemmeno a rispettare la volontà della sua stessa fidanzata? Alex le dice chiaramente di non voler celebrare un matrimonio in prigione. Ma no, Piper deve per forza farlo, perché a lei non interessa l'opinione di Alex. Alla fine è il suo matrimonio e chi se ne frega se per sposarsi bisogna essere in due, no? La povera Vause non le ha mica detto che ha cambiato idea, vuole semplicemente compiere il grande passo da donna libera. Perché Piper non riesce ad accontentarla? Indovinate un po': perché è un'egoista.
Ed ora passiamo alla storia che ha fatto da contorno a questo episodio: Daddy. Questo personaggio, ho letto, piace a parecchia gente. Solo che non riesco a capire perché. Forse perché si è dimostrata gentile e anche un po' molesta nei confronti di Daya? Ma a parte questo, che cosa fa 'sta tipa? Spaccia droga per conto di Susan, la sorella pazza n°2 e si fa mezza prigione. Nella sua vita fuori dal carcere gestiva un giro di droga, di donne e ha coperto un omicidio. Però fa meno schifo delle altre perché le dispiace e perché in fondo ha il cuore d'oro *insert sarcasm here*. Che personaggio interessante!
Ce ne sono tantissimi in Orange Is the New Black che meriterebbero più spazio, perché sprechiamo tempo con questa gente? Datemi più storie sulle sorelle psicopatiche, Carol e Susan, datemi un bell'approfondimento sulla storia della figlicida. Sono queste le storie che voglio sentire.
E dopo questo brevissimo sfogo. Voglio parlare del dinamico duo che si è formato proprio in questo episodio: Black Cindy e Flaca. Chi l'avrebbe mai detto! Certo, la mancanza di Maritza in coppia con Flaca, si sente. Ma, non vedo l'ora di vederle all'opera! Sicuramente ne combineranno di cotte e di crude. Sono entrambe molto simpatiche e hanno un grande feeling comico. Il loro show sarà un successo. Chissà, magari Netflix potrebbe creare un finto podcast in cui i le due attrici, nei panni dei rispettivi personaggi, possano effettivamente dare vita a questo show. Sarebbe straordinario!
Giro di applausi per quella guardia che si è rifiutata di partecipare al Fanta-Detenute e che ha puntualizzato quanto sia disgustoso ciò che i suoi colleghi stanno facendo. Ce ne fossero di più di persone così, probabilmente Daya non avrebbe il corpo completamente ricoperto da lividi. E chissà, magari Maria non verrebbe attaccata senza motivo né da secondini con il disturbo post traumatico da stress, né da altre detenute che pensano solo a se stesse e ai propri denti.
Per concludere parliamo di Taystee. Sono felicissima che abbia dei sostenitori. Speriamo davvero che venga fatta luce sulla questione di Piscatella e che la povera Tasha possa essere prosciolta da tutte le accuse. Ho sempre pensato che lei fosse un po' un pesce fuor d'acqua in carcere. E probabilmente è quello che anche Caputo avrà pensato dopo averla scelta come segretaria. Taystee è una di quelle che può davvero cambiare vita una volta fuori. In questo episodio è emersa una questione molto importante, quella del movimento Black Lives Matter.
Ed è proprio grazie agli attivisti di questo movimento che la storia di Taystee riceverà attenzione. Altrimenti l'avrebbero lasciata a marcire in una cella di semi-isolamento per qualcosa che non ha commesso. Ho adorato la scena in cui, una volta trasferita nelle celle comuni, Taystee viene accolta calorosamente da tutte le altre carcerate. Speriamo solo che tutta questa faccenda trovi presto una conclusione senza arrecare ulteriori danni a questa fantastica ragazza.
Per questo episodio è tutto.
Alla prossima
Halleloo!
P.S. Sophia Burset è tornata!