Shonda colpisce ancora. E lo fa con una puntata di How to Get Away with Murder che può tranquillamente classificarsi tra le migliori delle ultime due stagioni.
E non è solo per i colpi di scena che con Shonda – e con How to Get Away with Murder  in particolare – non mancano mai, ma anche per la costruzione dell'episodio, a dir poco magistrale. O, forse, sono solo gasata per l'annunciato crossover tra How to Get Away with Murder e Scandal, che aspetto con ansia nel prossimo episodio.
Cioè, Annalise Keating e Olivia Pope insieme. La cosa si può descrivere solo come un sogno che si avvera.
Perché, giustamente, solo Olivia Pope può competere con Annalise Keating e adesso che si alleano… si salvi chi può!
Ma a questo ci arriveremo. Perché è solo l'ultimo frammento della 4×12 a iniziare a raccontarci questa storia, ma non è assolutamente la protagonista della puntata. Puntata che, invece, si sviluppa attorno al personaggio di Isaac Roa, il terapista di Annalise.
Avevamo visto nella 4×11 che l'uomo era stato accusato di aver ucciso la figlia e aver fatto passare il tutto per un suicidio. Adesso la cosa è stata approfondita, facendoci conoscere meglio la situazione. Scopriamo così che Isaac non ha cominciato a drogarsi dopo la morte della figlia, ma si drogava già all'università. Dopo varie vicissitudini, è stato l'incontro con la moglie a fargli decidere di cambiare. E, per un po', sembra esserci davvero riuscito. Si è rimesso in sesto, si è costruito una vita, ha lottato contro la sua dipendenza.
Ma. Perché sì, c'è un ma. Ma la cosa non è durata molto perché ci è ricaduto. Non era eroina questa volta, ma oppiacei, gli stessi con cui si è uccisa la figlia.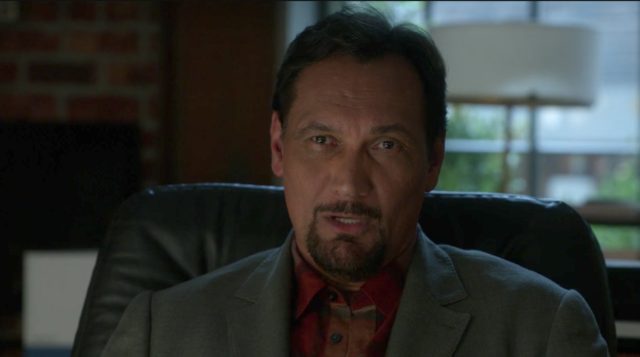 Isaac ha capito che non era riuscito a nasconderli bene, che la figlia li ha trovati, ma non sa perché li abbia presi. Ha però cercato di nascondere le prove a suo carico e ha mandato alla moglie un messaggio di addio dal cellulare della figlia. Nonostante questo, è innocente. Non ha mai toccato sua figlia, non le ha mai fatto del male.
E la droga ha ripreso a prenderla proprio dopo l'accusa. Annalise ha cercato di aiutarlo e i due si sono avvicinati ancora di più, ma Isaac l'ha accusata di essere la causa della sua ricaduta: se non l'avesse conosciuta, starebbe molto meglio. Avrà ragione? Di sicuro adesso non si ritroverebbe accusato. Anche perché Bonnie, nel tentativo di aiutare Annalise, ha solo peggiorato la situazione: l'assistente del procuratore distrettuale si è insospettito per l'aiuto offertogli dalla donna e ha deciso di incriminare l'uomo non per omicidio (non ci sono abbastanza prove), ma per istigazione al suicidio.
Bonnie però è riuscita a ricattare Denver per convincerlo a lasciar cadere le accuse. Tuttavia adesso ha paura che Denver possa farla uccidere. E, francamente, anch'io temo per lei. Non c'è ancora stata una morte importante in questa stagione…
L'altra storyline portante di questa puntata di How to Get Away with Murder, importantissima per il crossover, è quella riguardante la class action. I ragazzi lavorano sodo al discorso di apertura, tuttavia il caso viene rimandato alla Corte Suprema, che deve decidere se accettarlo o meno. Inutile dire che il caso viene rigettato.
È Michaela a non gettare la spugna e a convincere Annalise a chiedere aiuto. A chi? A nientemeno che a Olivia Pope.
Il resto sarà – molto presto! – storia, di How To Get Away With Murder e delle Serie Tv.