Il cast di Scandal ha dato il benvenuto alla stampa TCA. Durante una pausa dalle riprese della Serie Tv giunta all'ultima stagione, sono state molte le domande riguardo il finale, ma soprattutto l'attenzione è stata attirata settimane fa con l'ufficialità di un crossover tra le due Serie Tv di Shonda Rhimes: How To Get Away With Murder e Scandal. L'ufficialità è arrivata tramite delle foto sui social ma nessuno si è sbilanciato più di tanto. Jeff Perry, che interpreta Cyrus in Scandal, ha dichiarato che il crossover vedrà Annalise Keating (interpretata da Viola Davis) e Olivia Pope (interpretata da Kerry Washington) condividere "divertimento e battaglie".
Invece, quando è stato chiesto direttamente qualche indiscrezione sul crossover, la Washington non ha risposto per paura che avrebbe rivelato troppo, dicendo:
È difficile parlarne senza rovinare nulla. Tutto ciò che riguarda il lavoro a Shondaland è così straordinario proprio per la presenza di donne forti. Tutte le donne sono al potere. Al centro della narrazione. E per estenderlo a Shondaland è eccitante, storico e esplosivo.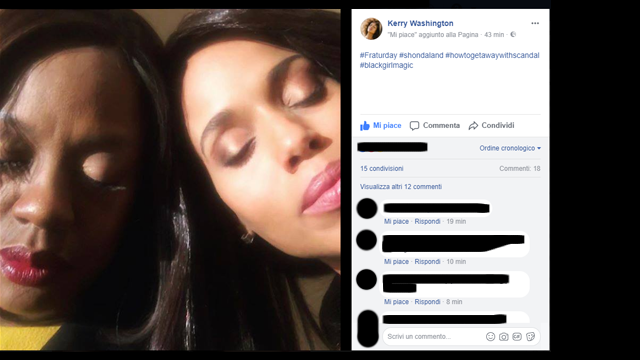 Olivia Pope grazie alla grande interpretazione di Kerry Washington è diventato uno dei personaggi femminili più forti della Serie Tv. L'attrice ha sottolineato che quando ha iniziato a lavorare in Scandal, le domande che ha ricevuto sono state incentrate sul fatto che non c'era stata una donna nera come protagonista in una Serie Tv. Sempre durante l'intervista ha continuato dicendo:
Adesso questo non è certamente il caso. Sarebbe difficile trovare uno spettacolo che non abbia una donna di colore come protagonista.
Ha successivamente aggiunto che l'aumento delle donne di colore nei ruoli centrali non è dovuto a Olivia Pope, ma perché il pubblico negli Stati Uniti e in tutto il mondo è impaziente di vedere storie diverse da diversi tipi di persone. Con "protagonisti che non si adattano a un "tipo di identità".
L'appuntamento con Scandal è fissato per il 18 gennaio!