La nuova creatura di Kit Harington, Gunpowder, è un'atto di coraggio prima ancora che una mini-serie. Il nostro Jon Snow infatti ha deciso di raccontarci, (oltre che attore è anche produttore della miniserie) le vicende del suo antenato "Robert Catesby" anima inquieta che ha ordito nel 1605 la "Congiura delle polveri". Tentativo, fallito, di assassinare il re protestante Giacomo I facendo esplodere l'intera Camera dei Comuni con la famiglia reale all'interno, da parte di un gruppo di cospiratori cattolici.
"Remember, remember the fifth of november"
"Ricorda per sempre il 5 novembre"
Vicenda storica resa universalmente celebre dal film fantastico "V per Vendetta" tratto dall'ucronica e omonima graphic novel di Alan Moore dove il protagonista portava appunto una maschera di Guy Fawkes, il più famoso dei cospiratori. Anche la Storia ha dimenticato l'avo di Harington "Robert Caresby" per concentrarsi invece proprio su Guy Fawkes. Ancora oggi il 5 novembre, giorno della congiura, in tutta l'Inghilterra vengano fatti falò e feste per ricordare e festeggiare il fallito attentato e la morte di Fawkes.
L'accoglienza inglese a questo nuovo lavoro è stata contrastante. Le critiche principali che sono state mosse, soprattutto in questo primo episodio, sono rivolte all'eccessiva crudezza delle scene iniziali. Eppure è proprio questo aspetto, insieme alla recitazione superba di alcuni personaggi, che permette a questa miniserie di emergere tra le tante d'ambientazione storica. Dopo i primi minuti introduttivi l'ambientazione e il contesto storico, ci troviamo di fronte a una sequenza che da sola merita l'intera visione della Serie. L'anziana Lady Dibdale (Sian Webber) viene condannata a morte per aver nascosto in casa propria un prete gesuita. In una piazza gremita su un rozzo palco in legno viene spogliata. Per salvare l'onore e l'eredità di Anne Vaux (Liv Tayler) non abiura la sua fede cattolica e si prepara a subire la condanna.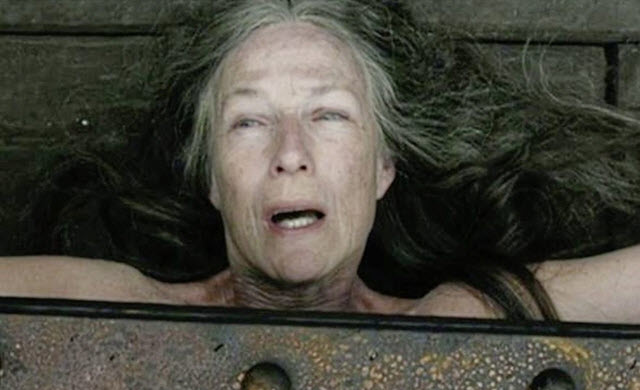 Una piccola pietra grande come un pugno viene posizionata a terra sul palco. Lady Dibdale viene distesa supina con la pietra a premere sulla colonna vertebrale. La donna, spogliata completamente, viene legata mani e piedi e una pesante lastra di metallo viene calata sopra di lei. L'inquadratura dapprima stretta a indugiare sul suo volto si allarga mostrando come la donna con le braccia legate larghe a terra, i piedi uniti e distesi e il volto reclinato assomigli alla figura del Cristo in croce. Una sorta di contrappasso per la sua fede.
Sull'anziana donna, lentamente, vengono messi dei pesi metallici a premere la lastra. Dapprima un peso. Poi un secondo. Un terzo. Fino all'ultimo che prima di uccidere la donna per schiacciamento fa nettamente sentire il suono della schiena che si spezza sul sasso.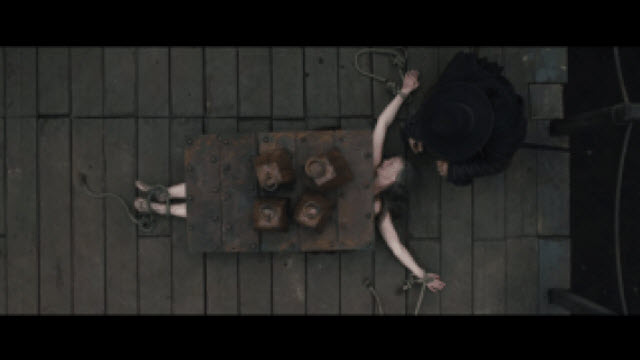 Non è la prima volta che una Serie Tv mostra una condanna a morte. Basti pensare alla innumerevoli scene che abbiamo potuto vedere su Game of Thrones o Vikings, giusto per citarne solo due. Molte meno sono quelle in cui viene perpetuata su donne. Pochissime quelle che lo fanno con una accuratezza storica e una visione quasi didascalica di ciò che sta avvenendo. Forse è proprio questo che colpisce di queste immagini. Siamo molto spesso in grado di accettare la visione della violenza quando questa avviene in un ambientazione fantastica (Game of Thrones) o così lontana nel tempo (Vikings) da risultare comunque quasi mitologica.
Quando però la vediamo perpetuata su una donna, senza il consueto cliché da "strega sul rogo" e in un contesto che, pur lontano nel tempo, è reale, ci sentiamo a disagio. A tutto questo si aggiunge che lo scenario in cui si svolgono gli eventi, come ci hanno mostrato sapientemente Alan Moore e David Lloyd con la loro "V per Vendetta", è di una attualità disarmante. Guerre di religione, oppressione del diverso, lotta al potere costituito, ingerenza extra-nazionale portano a una personalizzazione molto più sentita che non in altre scene analoghe.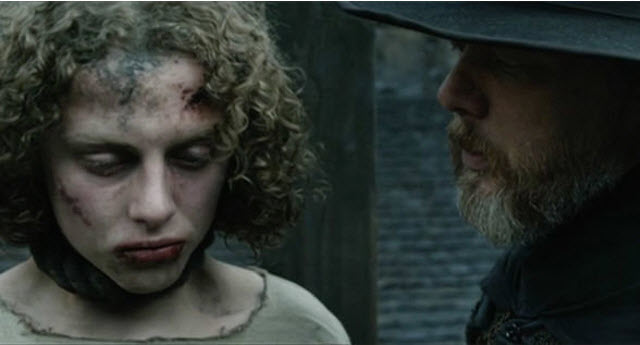 La visione continua con la morte, altrettanto cruda e violenta del prete gesuita Daniel Smith. Subisce un soffocamento seguito da uno squartamento delle viscere e infine fatto a pezzi. Il tutto senza che la telecamera nasconda troppo quello che avviene. Anche in questo caso l'accuratezza storica è rispettata. Poco lasciato all'immaginazione ma, e questo rende il tutto ancora più "forte", senza spettacolarizzazione. L'episodio procede tra alti e bassi drammaturgici e narrativi, ma tutto sommato in modo fluido e piacevole con ancora alcune scene di torture ma senza la forza visiva di quelle precedentemente mostrate.
Forse sono stati gli anni di scene girate in Game of Thrones, ma questa volta il nostro buon Kit Harington, ha colto nel segno. Ha mostrato un coraggio degno del miglior Jon Snow a mettere in scena un pezzo, non certamente secondario, della storia inglese. E l'ha fatto senza sconti al buonismo che vuole ovattare ed edulcorare la violenza che, purtroppo, fa parte in modo spietato della nostra Storia.
Ci ha mostrato quanto in basso possa cadere l'animo umano e l'ha fatto senza spettacolarizzazione ma mantenendo l'attinenza storica che, forse, è la cosa più importante.