Attenzione: evitate la lettura se non volete imbattervi in spoiler sulla 7×06 di Game of Thrones
Conoscere fino in fondo il nemico è l'unico presupposto possibile per vincere una battaglia. Ti permette di svelare la sua anima, la spoglia in uno schema definito e lo rende vulnerabile, probabilmente sconfitto. Il dialogo, anche se finalizzato ad uno scontro, è un'opportunità: una tattica, il primo tassello per costruire un trionfo. Quando c'è una guerra di mezzo, non esiste niente di più pericoloso al mondo del silenzio. Ti stritola con un urlo muto, senza voce. Ti allontana dal nemico, fino a smarrire te stesso. Questo, in fondo, è il peggior ostacolo che gli eroi di Game of Thrones dovranno affrontare per sopravvivere alla Lunga Notte, appena accennata in un episodio, il sesto di una settima stagione dai dialoghi vorticosi, dalle emozioni contrastanti.
Se da un lato abbiamo vissuto con un trasporto estremo la forza brutale degli Estranei, capaci di mettere in ginocchio con apparente semplicità un enorme drago e un manipolo di eroi valorosi impegnati in una battaglia per molti versi insensata, dall'altra c'è la speranza per una sopravvivenza finale sembrata fin qui irrealizzabile, seppure probabile. Persino loro, guerrieri senza anima, hanno dei punti deboli finalmente palesati, ma non parlano. Comunicano senza comunicare, vivono senza vivere.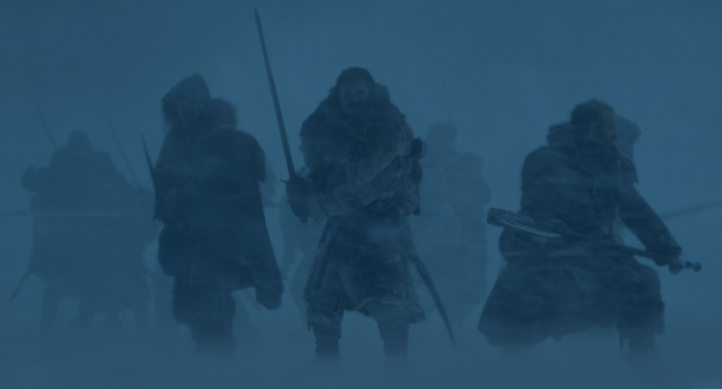 Le primissime sequenze hanno chiarito da subito che episodio avremmo vissuto: gli ultimi rantoli del Gioco dei Troni, sintetizzati alla perfezione dallo scacchiere tattico di Dragonstone col focolare sullo sfondo, stonano brutalmente con gli echi sempre più decisi di un Inverno che mostra ora il suo vero volto. Un'immagine iconica, come le tante che abbiamo ammirato nell'ora successiva: un orso dal significato ignoto, il passato, il presente e il futuro uniti in un unico coro, una spada infuocata a guidare lo scontro, la sofferenza dei martiri che combatteranno sempre contro un nemico, la morte, vincente per natura e, più di tutto, il dolore di una madre e la fusione finale del ghiaccio col fuoco: più importante di ogni cosa, anche dell'orgoglio che porta con sé l'autodistruzione.
Allo stesso tempo, quel braciere brucia ancora nonostante non abbia più ossigeno. I pochi che hanno visto in faccia l'artiglio incombente dello spauracchio leggendario devono fronteggiare le ultime insidie nascoste in una Westeros che si riconosce sempre uguale a se stessa. Succederà a Jon, un Re del Nord al quale il Nord potrebbe voltare le spalle, intrappolato in una morsa caotica in cui Sansa e Arya si muovono quasi fossero le ragazzine di sette anni fa. Non succederà più a Daenerys, madre ferita che dovrà rivedere le proprie priorità e riportare sulla retta via un Tyrion sempre più irriconoscibile, troppo lungimirante e convinto delle proprie intuizioni per affrontare il presente con la lucidità necessaria. La Targaryen, uscita devastante dalla battaglia di Eastwatch, ha ora l'occasione unica e irripetibile per diventare grande, mettere da parte il proprio Dna e fare di se stessa lo strumento imprescindibile di un destino universale più importante della sua persona.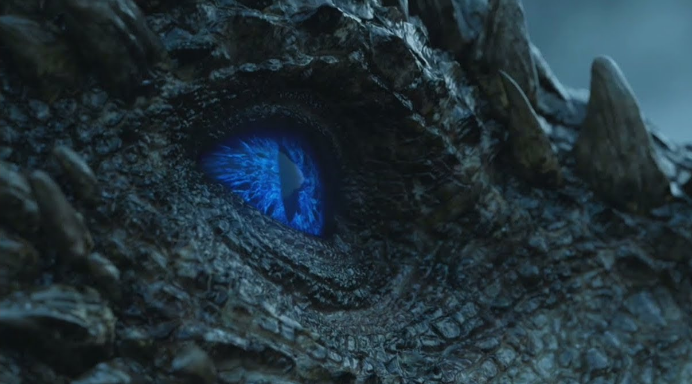 In un quadro del genere, il termine "speranza" sembra esser fuori posto, ma la realtà è un'altra: l'incrocio diretto con gli Estranei, infatti, ha permesso ai nostri eroi di cogliere un punto debole fin qui solo accennato. La non-esistenza dei non-morti dipende unicamente dal destino del Walker che li ha trasformati. Questo elemento arginerà in parte il problema insormontabile della sterminata inferiorità numerica e darà modo di elaborare una strategia futura maggiormente efficace. Se si aggiungono le ultime scoperte sul vetro di drago (Gendry è rientrato in gioco anche per questo motivo) e l'acquisizione definitiva di consapevolezza della crisi da parte di Daenerys, si intravede una piccola luce in fondo al tunnel. La fiammella, però, è resa più flebile dal ricordo di un drago, Viserion,  che da questo momento in poi sputerà ghiaccio e non più fuoco, e dall'inquietudine di un silenzio, quello degli Estranei, che cela una minaccia non ancora esplosa in tutta la sua dirompenza.
Per tutti questi motivi, e non solo, Beyond the Wall è un rituale necessario. Meraviglioso e fautore di terrore, ma nel quale hanno trovato spazio tanti, troppi passaggi a vuoto (il deus ex machina salvifico, se reiterato, non è parte della narrazione a cui ci ha abituato Game of Thrones), macchiati alla base da una missione illogica (perché cercare a tutti i costi il sostegno di una regina isolata e senza un esercito, fino ad affrontare una spedizione suicida?) e negli sviluppi da alcune scelte più che discutibili (la corsa di Gendry, il teletrasporto dei corvi, l'intervento di Benjen). Game of Thrones è un elefante mastodontico chiuso in una scatola che non riesce più a contenerlo ma questo, ora, non conta: l'intelaiatura è tale da permettergli di godere di un credito che giustifica le carenze crescenti nella scrittura in nome di un impatto emotivo dirompente riassunto in alcuni, singoli momenti. Quelli che hanno fatto grande una serie tv ormai immortale, e portano l'hype alle stelle in attesa di un season finale che si preannuncia, ancora una volta, pirotecnico.
Antonio Casu