Attenzione! Se non avete ancora visto la 11×02 di Doctor Who, troverete degli spoiler!
Episodio 2, spazio profondo: nel tentativo di rintracciare il Tardis, il Dottore finisce a fluttuare letteralmente in mezzo al nulla con i suoi companion. Vengono salvati da navi spaziali rivali, i cui proprietari si stanno affrontando in una gara di sopravvivenza.
Il premio: un pianeta sicuro per il vincitore e il rispettivo clan. Il traguardo: The Ghost Monument, il Monumento Fantasma. Misterioso manufatto che appare e scompare periodicamente su un pianeta deserto, inospitale e devastato. La sorpresa per il Dottore? Il Monumento Fantasma altro non è che il suo Tardis!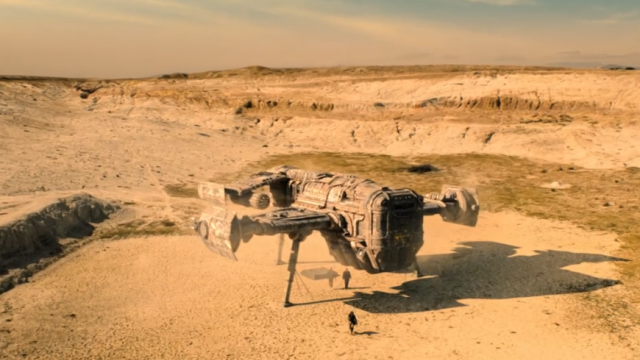 Lo scorso episodio, come tutti quelli che introducono un nuovo Dottore, è stato un po' particolare. Le novità erano tante, e presentarle tutte insieme non era impresa facile. Questa puntata, d'altro canto, è stata nel più puro stile Doctor Who! Navi spaziali e pianeta alieno? Presenti. Robot assassini e mostri terrificanti? Presenti anche loro. Gente che segue regole crudeli e irragionevoli per via di condizioni di vita orribili? Presente.
I nostri eroi si trovano su un pianeta sconosciuto, reso ostile da un evento catastrofico del passato, e vengono coinvolti in una ricerca che li porta ad affrontare mille pericoli. Elementi classici di Doctor Who, come anche l'odio del Dottore per le armi, a cui preferisce sempre l'intelligenza e il suo fidatissimo – e diciamolo, quello che ha ora è anche fighissimo – sonic screwdriver.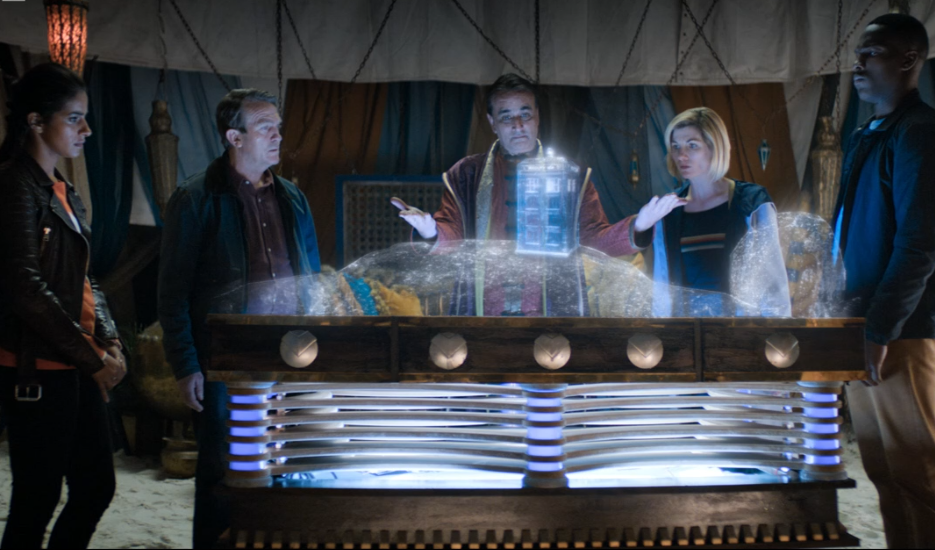 In questa seconda puntata riusciamo a scoprire un po' della personalità del nuovo Dottore.
Nello scorso episodio, abbiamo avuto solo alcuni momenti in cui mostrava una personalità tutta sua. Era ancora nelle ultime fasi della rigenerazione e c'erano molti rimandi ai suoi predecessori. Questa volta invece il suo carattere ha iniziato a manifestarsi. È gentile, sì, questa prima idea che ci aveva dato la volta scorsa è stata riconfermata. Ma è saltato fuori che è anche decisamente sarcastica, sa farsi valere – a parole o a colpi di Venusian Aikido, se necessario – e non si fa problemi a dire quel che pensa in faccia al diretto interessato. Si pone domande continuamente e cominciamo a pensare che abbia una fissa per le tasche.
Qualcosina in più siamo riusciti a vedere anche di Graham e Ryan. Il primo sta ancora cercando di creare un legame con il ragazzo, che continua a rifiutarlo. I due non si sono fatti molti problemi ad affrontare gli alieni che si sono trovati di fronte, Graham a colpi di indignazione e Ryan, forte del suo allenamento a Call of Duty, a fucile laser spianato nel tentativo – ovviamente inutile – di sconfiggere i robot killer. Yas purtroppo è rimasta ancora un po' in ombra. Speriamo di vedere maggiori sviluppi in questo senso nel corso dei prossimi episodi.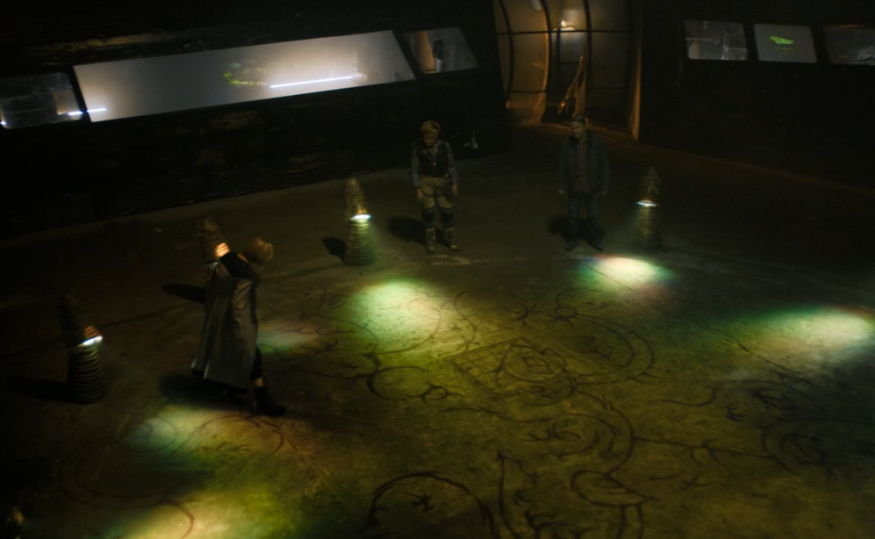 In definitiva, abbiamo avuto modo di approfondire un po' la conoscenza con i personaggi presentati la scorsa settimana, Dottore incluso. E abbiamo avuto la rassicurazione che, anche se le cose cambieranno con un nuovo showrunner, l'essenza di Doctor Who rimane invariata: ci saranno novità ma la serie non verrà stravolta.
E a proposito di novità, anche stavolta ne sono state introdotte un paio.
Cercando di scoprire cosa è successo sul pianeta in cui si trovano, il Dottore ha scoperto delle scritte in una stanza che narravano gli ultimi eventi del popolo che lo abitava. A portare morte e distruzione su questa civiltà sono stati gli Stenza. Torna dunque in campo la razza aliena a cui appartiene Tim Shaw, nemico del primo episodio. A quanto pare con loro non abbiamo ancora chiuso: potrebbero essere i nemici con cui il Dottore avrà a che fare in questa stagione.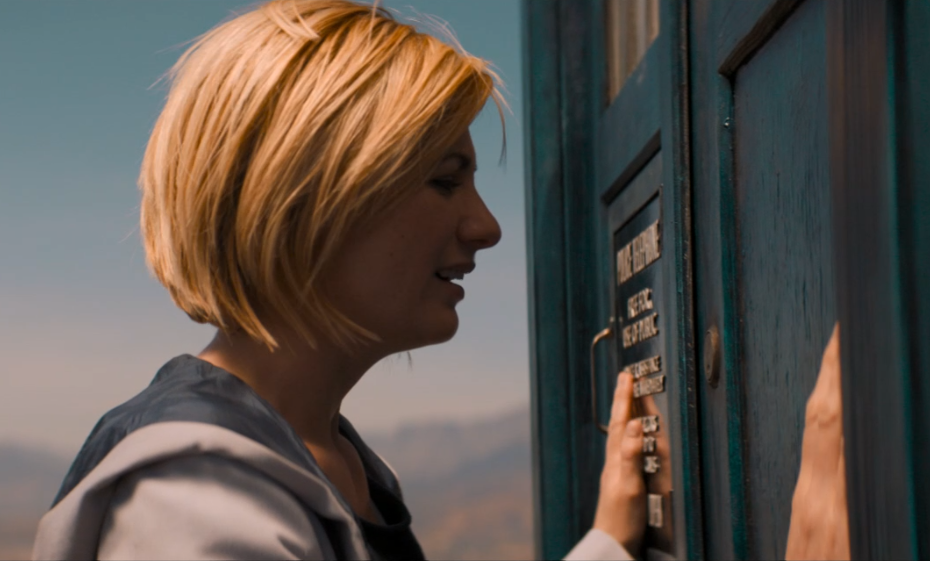 Se degli Stenza avevamo già sentito parlare almeno una volta, ci viene accennato anche qualcosa di completamente nuovo. Le strane creature che il Dottore e i suoi compagni affrontano a fine episodio sembrano leggere nell'animo del Dottore, nel suo passato e in ciò che nasconde persino a se stessa. Menzionano un Timeless Child, e dopo un momento di confusione il Dottore reagisce intimando quasi aggressivamente di restare fuori dalla sua testa. Oltre a un possibile nuovo nemico ci viene quindi presentata anche una possibile nuova ricerca per il Dottore. Di che cosa si tratterà?
Infine rimaneva una sola cosa che in questa stagione di Doctor Who non ci avessero ancora fatto vedere: il Tardis! A nemici sconfitti e gara di sopravvivenza finita, il Dottore è in preda allo sconforto perché lei e i suoi companion sono rimasti soli sul pianeta e della sua cabina blu non c'è traccia. Ma è questione di attimi, e poi il suo vecchio amico ricompare, sfoggiando il tipico restyling post-rigenerazione.
La scena è toccante, poco da dire, ma una cosa è mancata: LA gag. It's bigger on the inside! Cari Graham, Ryan e Yas, davanti al Tardis avevate un lavoro e uno solo, e lo avete ignobilmente trascurato. Shame.
Gag classica a parte, i momenti divertenti non sono mancati, proprio come ogni altro elemento chiave di Doctor Who. Ora che Tardis e Dottore si sono ricongiunti la gang è finalmente al completo, e tra Stenza e il misterioso Timeless Child possiamo immaginare che avranno parecchia carne al fuoco per i prossimi episodi. Ne vedremo delle belle!