Praxeus aveva un compito gravoso da affrontare: essere l'episodio che va in onda dopo una puntata a dir poco sensazionale. Un po' come successe con Orphan 55 (qui la recensione della disastrosa puntata). E non è l'unica cosa che accomuna i due episodi di Doctor Who. Entrambi infatti hanno tanti personaggi al loro interno e un esplicito messaggio sociale legato all'inquinamento. Ma il terzo episodio della dodicesima stagione di Doctor Who non aveva fatto un buon lavoro. Il Dottore che si ferma a parlare direttamente allo spettatore chiedendogli di cambiare, di fare qualcosa per salvare il pianeta, per non finire come i mostri di quella puntata, non è il metodo giusto per trasmettere questo tipo di messaggio attraverso una storia. Un discorso che rimane un po' fine a sé stesso, con una chiusura che avrebbe dovuto sconvolgere, mentre fa solo ridere.
In Praxeus invece viene aggiustato il tiro e il messaggio sull'inquinamento passa in maniera corretta.
Non è necessario fermare lo scorrere degli avvenimenti per far proferire al Dottore discorsi moralisti da rifilare al pubblico. L'elemento ambientalista è perfettamente integrato nella trama dell'episodio. Infatti il nemico è un agente patogeno che trova nella plastica il terreno fertile in cui riprodursi e attaccare. Così prolifera nelle isole di plastica nell'Oceano Indiano, entra negli uccelli che scambiano la plastica per cibo e la trasportano ovunque nel mondo, si diffonde tra gli umani grazie alle microplastiche presenti nell'aria, nell'acqua e nel cibo.
"Ehi ma io non ho plastica dentro di me"
Protesta Graham. È questa l'occasione in cui il Dottore ammonisce gli esseri umani dicendo che sono pieni di plastica e nemmeno lo sanno. Così si crea un messaggio impattante, un avvertimento forte, che fa riflettere, perché coinvolge lo spettatore in prima persona.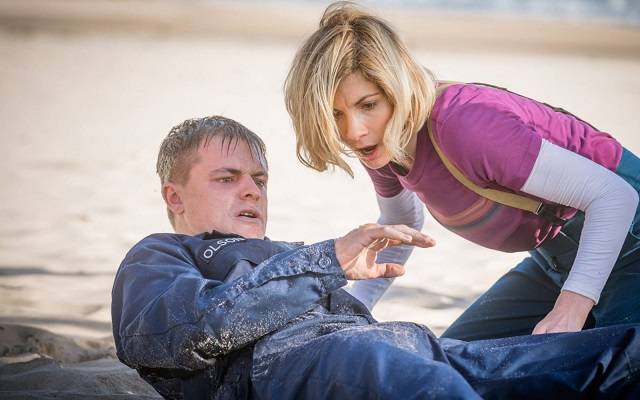 Questo strano agente patogeno trova il suo habitat perfetto nell'Oceano Indiano ma non è l'unico posto in cui lo ritroviamo in questa puntata di Doctor Who.
In Perù, Madagascar e Hong Kong si verificano fenomeni apparentemente scollegati ma che si riveleranno tutti connessi. Questi spostamenti da un posto all'altro permettono di ritrovare un protagonista poco presente nelle precedenti puntate: il TARDIS (ecco qui 30 motivi per rubare l'astronave del Dottore). Finora lo avevamo visto solo a inizio e fine puntata. In Fugitive of the Judoon era stato complice di un colpo di scena pazzesco: quello della scoperta dell'esistenza di un altro Dottore. Niente di quello che succede in Praxeus sarebbe potuto avvenire senza l'intervento dell'iconica macchina del tempo blu. Né i cambi rapidi di ambientazione, né il salvataggio finale di Jake che, come Rose in The Parting of the Ways, viene recuperato facendogli comparire attorno il TARDIS.
Sarebbe stato un vero colpo basso se Jake fosse morto. Un po' per il solito, banale cliché di far morire il personaggio LGBT di turno, sia per il possibile buco di trama.
Proprio i personaggi sono il punto di forza di questo episodio di Doctor Who. È stato fatto un buon lavoro di scrittura per rendere tridimensionali e ben costruite le tante figure presenti in questi 50 minuti. Già con Tesla ed Edison avevamo avuto due personaggi delineati perfettamente e d'impatto, molto di più dei companion del Dottore. Ed è anche in questo che si vede la differenza tra Orphan 55 e Praxeus. Nel primo i personaggi secondari erano privi di profondità, spesso irritanti e, data anche l'eccessiva rapidità degli eventi, difficili da capire. Nel secondo tutti quei difetti sono stati corretti, almeno in buona parte.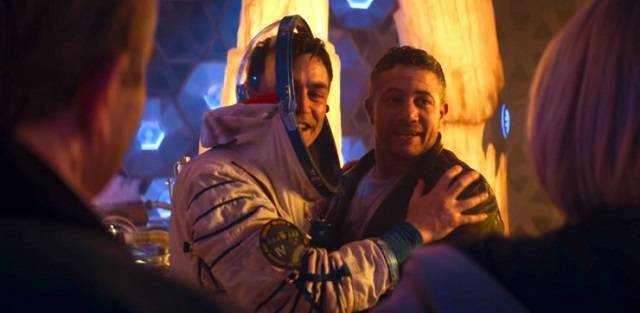 Ancora una volta, però, ci viene mostrato che i companion del Dottore hanno più forza quando non sono insieme. Quando non restano in disparte a fare domande a Thirteen ma agiscono. E non è una buona cosa.
Stanno acquistando solidità e profondità ma solamente quando sono ognuno per conto loro. Praxeus infatti si apre con il quartetto sparso in tutto il mondo mentre investiga su vari e strani fenomeni che poi si ricollegano al virus patogeno della plastica. Per Ryan e Yaz è una ventata di aria fresca perché la lontananza dalla Fam permette loro di mostrare una certa indipendenza. Soprattutto Yaz. Puntata dopo puntata la ragazza viene messa costantemente in disparte. Stavolta ha l'opportunità di emergere, mostrandosi intrepida e coraggiosa quando decide di teletrasportarsi non si sa dove per risolvere il mistero nonostante i possibili pericoli. Mostra così la sua ingegnosità, ma si legge in questo tentativo una disperazione tale da dimostrare a sé stessa che è disposta a correre rischi spericolati. Sarebbe una buona idea se nelle prossime puntate di Doctor Who venisse esplorato questo lato della sua personalità, utile soprattutto per la crescita del personaggio.
La strada però è ancora lunga. Sebbene si stiano facendo dei passi in avanti, i companion del Dottore sono ancora definiti dalla loro identità di squadra e non da quella individuale. Per il momento sono intercambiabili: se uno di loro sparisse, non ci sarebbe nessuna modifica significativa.
Chi invece sta trovando una sua identità è proprio il Dottore. Una caratteristica che emerge di Thirteen in Praxeus è la fiducia incondizionata verso la sua Fam. Tanto che manda Ryan in Perù perché sa che può assolvere al compito assegnatogli e Yaz, insieme a Graham, a Hong Kong riponendo fede nelle sue abilità. Il Dottore si è sempre fidato dei suoi companion ma, in questa dodicesima stagione, lo fa in maniera molto più assidua ed esplicita.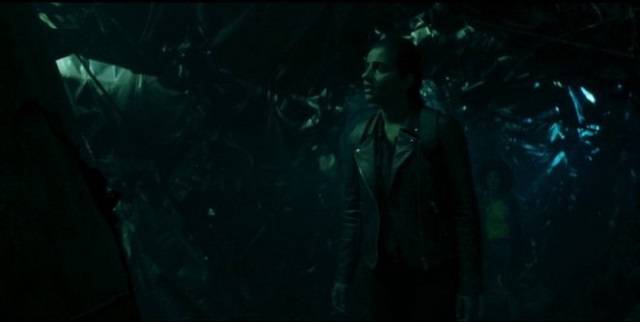 In generale si può dire che Doctor Who è tornato alla normalità dopo lo scoppiettante Fugitive of the Judoon. Praxeus poteva essere un disastro come Orphan 55, invece si è rivelato un episodio con una trama originale e piacevole da seguire. La storia non si ferma mai, regalandoci un episodio adrenalinico e dinamico che ritrova nel TARDIS uno dei suoi protagonisti principali. Il messaggio sociale è ben integrato nella trama, senza forzature di nessun tipo o la trasformazione del Dottore in un predicatore moralista. In fondo, a scatenare tutto è la plastica, il motivo per cui questo episodio esiste.
Certo, c'è ancora da migliorare perché, ad esempio, agli alieni presenti nella puntata non è stato dato spazio a sufficienza. Anche se questo è dovuto al fatto che l'episodio era concentrato soprattutto sul debellare questo virus alieno. In più uno dei ragazzi in Madagascar è stato dimenticato lì senza che nessuno se lo ricordasse.
Non abbiamo avuto tempo di elaborare quello che è successo in Fugitive of the Judoon. Tuttavia ci siamo goduti un episodio divertente. In attesa della ripresa delle trame orizzontali.