Chi non si è mai chiesto cosa farebbe se avesse una macchina del tempo? Fermerebbe Hitler? Salverebbe un proprio caro dalla morte? Scoprirebbe in che modo finirà la propria vita? Ma se questa macchina è un TARDIS, "Time And Relative Dimension In Space", cambiare la storia non è permesso ai comuni mortali con un cuore solo.
In compenso un, o meglio IL, TARDIS non è una semplice macchina del tempo, è un'astronave in grado di viaggiare nello spaziotempo, il ché espande non di poco le possibilità, basti pensare a quanto Doctor Who è in grado di stupirci ancora dopo oltre 50 anni. Bloccato nella forma mimetica di cabina blu della polizia, oggetto molto comunque quando la serie è stata creata, il TARDIS è ormai entrato nei nostri cuori ed è il simbolo di questa serie, tanto che è la prima immagine che viene in mente anche per chi conosce poco questo prodotto della BBC.
Il TARDIS è talmente speciale che chiunque vorrebbe farci almeno un giro, entrare e dire "It's bigger on the inside!" e lasciarsi tentare da tutte le possibilità che ci offre, magari sentire il desiderio di scappare dalla nostra guerra personale, o ancora rubarlo, tanto si può tornare nello stesso posto un secondo dopo essersene andati.. non se ne accorgerebbe nessuno. Così, su due piedi, ci sono almeno 30 motivi per "prenderlo in prestito"…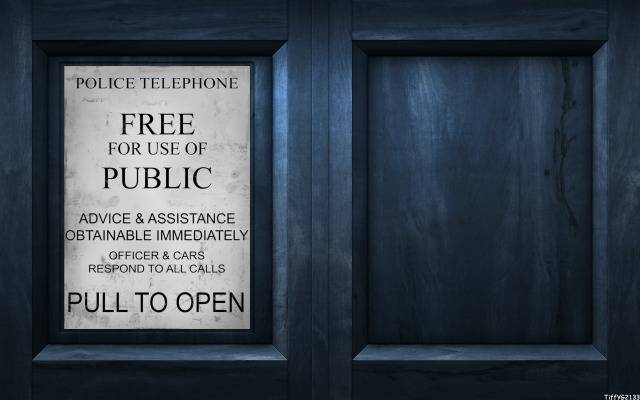 1) Partiamo dall'inizio: vedere il Big Bang! Che spettacolo deve essere? Essendo molto rischioso è meglio chiedere al TARDIS se in suoi scudi sono in grado di sopportare una tale gravità e un'esplosione così inimmaginabile.. ma potendo come si può perderselo? Se siete dei creazionisti, comunque contemplare l'origine dell'universo non può essere escluso a priori!
2) I Dinosauri! Come non andare a vedere dal vivo quelle gigantesche creature? Magari a distanza, Jurassic Park insegna.
3) Vedere l'Antica Roma è d'obbligo, bisogna riscoprire le proprie origini o comunque la storia di un impero enorme come quello, con la sua cultura così particolare.
4) Vedere se Gesù è esistito, e se è risorto, ed allo stesso modo esplorare i fondamenti delle altre religioni.. potendo, perché no?
5) E a questo punto anche l'Antica Grecia con i suoi studi e se sue assemblee…
6) Ovviamente l'Antico Egitto per sapere come hanno fatto a costruire le piramidi
7) E il Giappone con i suoi samurai e lo studio perfetto di ogni movimento, ogni rituale..