"Impiccate quel benedetto DJ
Perché la musica che loro mettono in continuazione
Non mi dice niente riguardo la mia vita
Impiccate quel benedetto DJ"
Chi sono i DJ del mondo? Chi è che ci spinge a intraprendere relazioni in cui non crediamo davvero? Che ci guida nei rapporti, che ci indirizza nelle scelte della nostra vita? Perché decidiamo di vivere la monotonia di una situazione ormai compromessa? Black Mirror prova a rispondere e come sempre lo fa a modo suo. Le immagini sempre splendenti di un mondo praticamente perfetto, di prati inglesi e case di lusso accompagnano questo Hang the DJ in ogni istante. Non ci lasciano mai. Per chi se lo fosse chiesto l'episodio è girato nello splendido scenario di Painshill Park, nella contea di Surrey del Regno Unito. Un ameno luogo dedicato a sposalizi e celebrazioni sentimentali (cogliete l'ironia?).
Il sole splende sempre, il cielo è limpido. Eppure, la "musica non mi dice niente riguardo la mia vita". C'è un senso violento e disturbante di fittizio. Tutto sembra troppo perfetto, troppo impeccabile. Asettico. La musica è sempre la stessa. "Il paradiso è un luogo sulla Terra, un luogo in cui non accade mai nulla", cantavano i Talking Heads. Il luogo in cui veniamo catapultati in questo episodio di Black Mirror è un po' questo: un paradiso di cui cogliamo tutta la dissonanza e la perversione. Avete mai visto come sarebbero i volti umani se perfettamente simmetrici, se perfetti? Sarebbero orribili.
Tutto diventa ripetitivo, automatico, vuoto. Relazione dopo relazione finiamo sempre più per cogliere quanto quella vita così dettagliatamente descritta sia una "Life in plastic", come recitava un'ironica canzone degli Aqua. Il sesso diventa atto meccanico privo di sentimento. Quella mano stretta, quel sentimento autentico tutto condensato in un semplice, innocente gesto non trova più spazio.
Amy e Joe sono drammaticamente distanti. Separati dal muro di una socialità imposta.

Il loro non è l'amore dei film, non è la perfetta chimica di due individui che finiscono per "trovarsi" in uno sguardo fugace, in un profondissimo attimo da colpo di fulmine. No, in loro c'è il disorientamento di due estranei che si incontrano. L'imbarazzo del primo appuntamento. Il dolce, realissimo sguardo di chi non sa cosa aspettarsi. Ma a questo segue anche la risata, lo scambio di battute, il tenero stuzzicarsi. In quelle mani strette c'è la purezza di un sentimento che sta per nascere. Ma tutto è interrotto. Non c'è più spazio per la tenerezza. Niente più ansia né eccitazione. Una forza esterna impone la separazione. Non c'è possibilità di replica. Non c'è discussione. Sic et sempliciter, Amy e Joe sottostanno alle regole. Si salutano. Ma chi sono i DJ? Chi è che decide la musica?
In questo episodio di Black Mirror sembra essere un programma statistico-relazionale chiamato Coach. Ogni scelta è gestita dal sistema ed è inappellabile. C'è uno slancio fideistico in tutti i personaggi nell'affidarsi a Coach. Tutti si mettono nelle sue mani. Eppure, qualcosa sembra farsi largo. Il dubbio di fede, il dubbio che sembra provenire dall'amore, dal sentimento di chi si ribella all'autoritarismo della società. Come avviene nel celeberrimo romanzo distopico di Orwell dal titolo 1984, in questo Hang the DJ è l'emozione autentica a incrinare il sistema di fatto. O almeno così pare.
Coach non diviene altro che la materializzazione tecnologica di qualcosa.
Qualcosa che già esiste, che è già nel nostro mondo. Il Coach e i DJ non sono altro che quelle istanze sociali che vorrebbero indurci a scelte programmate. Sono le implicite imposizioni parentelari che ci fanno sentire a disagio se non siamo fidanzati. Se non puntiamo a costruire un canonico nucleo familiare. Se non ci tuffiamo in un succedersi di relazione dopo relazione. Sono espressioni di una società che ci impone il suo modo d'essere e non ne accetta uno diverso. Che ti tormentano fino all'estremo (pensiamo solo alle ricorrenti domande di genitori e parenti sui nostri stati sentimentali). "E a quel punto sei così stremato, così esausto che finisci per sistemarti. L'accetti. E poi devi vivere il resto della vita a convincere te stesso che non sia così".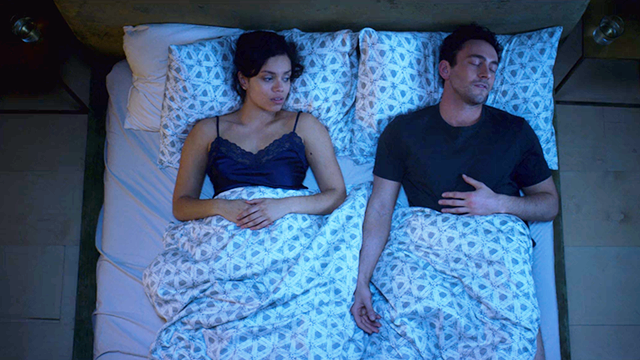 Le parole di Amy con una traslazione di significato fortemente ricercata assumono così il senso della critica a un'intera società. La nostra. Perché in fondo è questa la forza di Black Mirror, di una Serie che parla del nostro tempo materializzando (e quindi rendendo più evidenti) le perversioni e le ipocrisie dell'attualità attraverso il mezzo tecnologico.
La tecnologia diventa il simbolo materiale (Coach) di una questione sociale immateriale (la convenzione sociale imposta).
Il senso di Panic dei The Smiths che chiude e dà il titolo a questo episodio di Black Mirror è tutto qui. I DJ diventano esemplificazione di chi mette la musica. Di chi induce (e quasi costringe) a ballare, in un eterno susseguirsi. Rappresentano l'autorità. Stabiliscono la musica, non la producono. Una musica che è come il sesso in Hang the DJ: priva di significato. Così le relazioni "Non significano niente per me. Le vivo in modo distaccato come se non fossi neanche lì".
Lo stesso, già citato, capolavoro dei Talking Heads con dieci anni di anticipo faceva leva sulla questione. "La band in Paradiso suona la mia canzone preferita. La suona ancora una volta. La suona tutta la notte […]. Quando questo bacio è finito, ricomincia di nuovo, non sarà in alcun modo differente, sarà esattamente lo stesso". Questo eterno ritorno, questo paradiso in cui non succede mai nulla di nuovo, in cui le canzoni non hanno alcun significato è il nostro mondo. O almeno una parte della nostra realtà. È la convenzione sociale, l'idea di una perfezione canonica. La pace che tutti sembriamo desiderare così ardentemente.
Black Mirror ci ricorda che la vita è lotta. È ribellione, è libertà. Ma lo fa a modo suo. Lo fa senza sentimentalismo, senza soluzioni facili. L'amore non è vincitore in 1984 di Orwell. Non riesce a trionfare. Non lo fa neanche in San Junipero ("La sigaretta non sa di niente") dove i post-crediti ci restituiscono l'angosciosa visione di una meccanicità finta. E non lo è neanche in Hang the DJ.
La critica si sposta, lo straniamento e il senso di disagio che costantemente ci ha accompagnato in questo episodio cambia di tono.
Charlie Brooker gioca sadicamente con i nostri sentimenti. Con la nostra buonafede. Lo fa per indurre un'ulteriore critica, per non addolcirci nel sonno della coscienza, nel finale melenso che forse (intimamente) avremmo voluto. Ci risveglia e ci ricorda che "il sistema" è più grande di noi. È più grande di Amy e Joe.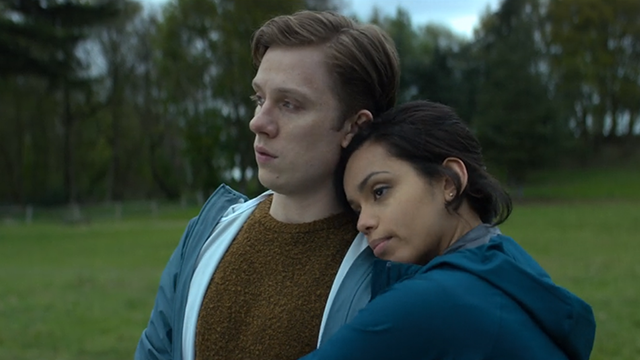 Il disturbante epilogo ci toglie certezze. Fa naufragare il forte coinvolgimento emotivo verso i due protagonisti. Ci spiazza e ci costringe a scoprire quanto il nostro attaccamento verso i due protagonisti e verso il loro sentimento fosse strumentalizzato. Quanto Coach riesca a manipolare perfino i sentimenti. A riprodurne un riflesso del tutto credibile. E così come in Vota Waldo la ribellione diventa mezzo a uso e consumo del "potere". Anzi, in Hang the DJ lo è sempre stato.
Non conosciamo i veri Amy e Joe. Non abbiamo nulla da condividere con loro. E non possiamo in alcun modo assecondare il loro incontro. Per quanto pure vorremmo rivedere nei due ragazzi le persone che ci hanno accompagnato per tutta la durata di questo episodio di Black Mirror, non possiamo farlo. Non sarebbe giusto farlo. Non erano loro a condividere quelle emozioni, quei patimenti, quell'atto di ribellione. Era tutto falso. Anche l'amore.
In un mondo di scatole cinesi un'autorità nascosta sembra relegarci in una simulazione. Sembra eternamente manipolarci. Scopriamo a questo punto che quella mano invisibile altri non è che noi stessi. Siamo noi a imprigionarci in un mondo di convenzione e relazioni stabilite in chiavi statistiche, siamo noi a imprigionarci in una realtà in cui anche i sentimenti possono essere simulati. Siamo noi i DJ di noi stessi.
Passate anche dagli amici di Black Mirror Italia