La quarta stagione di Black Mirror è ormai vicinissima al suo ritorno (il prossimo 29 dicembre) su Netflix, piattaforma che già da un anno si è appropriata del prodotto consacrandolo al grande pubblico con la terza stagione. Critica e fan dell'ultima ora si sono mostrati estremamente soddisfatti del rendimento dei sei episodi proposti nello scorso autunno. Il passaggio al colosso dello streaming, insomma, sembra non aver fatto altro che accrescere l'apprezzamento e favorire la fruizione globale di Black Mirror.
Eppure… C'è un eppure. Potrebbe non esserci alcun 'ma' e sicuramente per molti non ha ragione d'esistere. Chi però, come il sottoscritto, s'è esaltato e ha incensato di lodi le prime due stagioni, non può trascurare un elemento importante, anzi fondamentale, nella valutazione finale della Serie. Per comprendere di cosa si tratti bisogna procedere a un breve excursus su quello che Black Mirror rappresenta (meglio: ha rappresentato) nel panorama seriale contemporaneo.
Black Mirror è (stata) quella che a tutti gli effetti può essere considerata un'opera distopica.
Un genere, questo, che ha goduto di larghissimo successo nella letteratura. Illustri iniziatori possono essere considerati romanzi come il capolavoro orwelliano 1984 e Il mondo nuovo di Aldous Huxley. Gli eccellenti risultati ottenuti da Serie come The Handmaid's Tale e The Man in the High Castle (tra le altre) hanno dimostrato l'apprezzamento che il genere ha ottenuto anche sul piccolo schermo.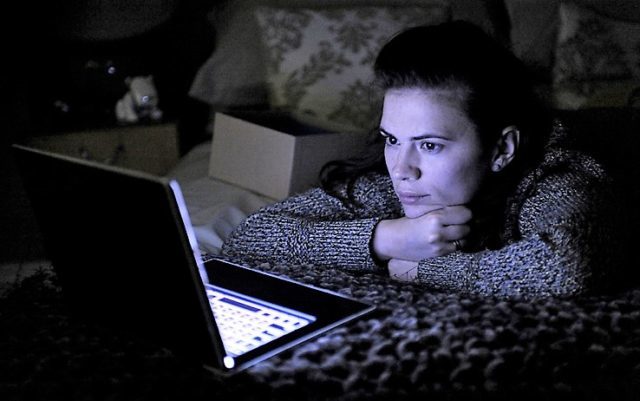 Alla base non c'è tanto l'interesse per la descrizione di un mondo futuristico e fantastico. In questo la distopia si differenzia dal genere sci-fi concentrandosi piuttosto sugli aspetti sociali della rappresentazione del reale in un mondo non necessariamente iper-sviluppato. Molto spesso il futuro è prossimo e incombente, iper-realistico seppur esasperato (volutamente) in negativo. L'aspetto tecnologico può occupare più o meno spazio ma è sempre funzionale alla critica sociale alla base dell'opera. La distopia si alimenta di questo aspetto strutturandosi e facendosi carico di rintuzzare le ferite aperte della società. Non si proietta in un mondo immaginario per solo gusto fantastico ma distorce la realtà attuale esacerbandone i problemi.
L'iperbole all'interno del racconto, il carattere volutamente esagerato, diventa motivo di parodia e satira su tematiche del presente, espediente per portare enfaticamente all'estremo le dissonanze dell'attualità.
Le prime due stagioni di Black Mirror hanno recepito questo messaggio dando particolare risalto non tanto ai rischi della tecnologia quanto ai pericoli dell'uso che se ne fa. Un uso che nella società contemporanea diventa sempre più smodato, prevaricante e lesivo dei diritti della persona. È l'uomo al centro del racconto. L'uomo e la sua incapacità di comunicare, trovare la propria umanità e scoprirsi in relazione con l'altro. L'incontro diventa scontro, perversione; la comunicazione si fa ingombrante e la tecnologia diventa il mezzo (e il fine) di ogni offesa all'umanesimo.
Il futuro si scopre così modellato sulle incertezze del presente, sull'ingigantirsi delle irrisolte ipocrisie dell'oggi; sui dibattiti mancati nelle urgenti questioni etiche. E da ultimo sull'uomo e sul suo Cuore di Tenebra. Su quell'orrore primordiale che pare ineludibile nella natura umana (come appare nella distopia goldinghiana de Il signore delle mosche). Non c'è risposta. Risposta non ci può essere. Per questo non sorprende l'angosciante finale che sempre accompagna(va) ogni episodio di Black Mirror. L'obiettivo è presentare il problema, costringere lo spettatore a farsi carico della contraddittorietà della rappresentazione per maturare un suo pensiero. Una sua risposta.
Black Mirror nelle prime due stagioni ha rivestito egregiamente questo compito.
Ci ha costretto a confrontarci con i pericoli di un mondo dominato da una crescente deriva tecnologica (Ricordi pericolosi; Torna da me); il reflusso dei populismi (Vota Waldo!); il potere dell'opinione pubblica (Messaggio al Primo Ministro); la morbosa ricerca di celebrità (15 milioni di celebrità). E lo ha fatto attraverso interpreti sempre credibili e una scenografia impeccabile in cui ad ambienti spersonalizzanti si aggiungevano atmosfere noir e disturbanti. Una scenografia fatta di non-luoghi che resiste senza cedimenti pure nella terza stagione.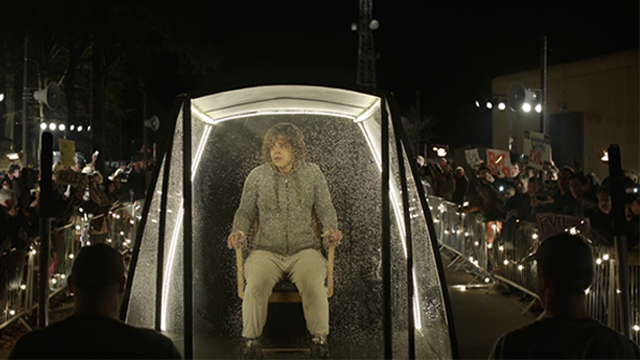 Tuttavia, Black Mirror nel passaggio a Netflix si è snaturato. Quello specchio incrinato, capace di distorcere il riflesso dell'uomo, è risultato nella terza stagione, all'improvviso, pericolosamente ricomposto. Perfino imbellettato di luci colorate "acchiappa-pubblico". C'è stata una deliberata scelta, foraggiata da Netflix, di conferire a ogni episodio un taglio particolare. Ci si è rifatti ora al genere Survival Horror (3×02, Giochi pericolosi), ora al Kitchen-Sink Thriller (3×03, Zitto e balla), ora ai Gialli scandinavi (3×06, Odio universale) e ai film anni '80 (San Junipero). Il che ha reso la Serie sicuramente più fruibile e apprezzabile al vasto pubblico; ma nello stesso tempo l'ha trasforma in un mero prodotto di intrattenimento annullando la profondità di un j'accuse che l'aveva resa grande fino ad allora.
Non è rimasto così che un generico e stanco attacco alla tecnologia (3×01, Caduta libera) in cui l'elemento distopico e la critica sociale sono ormai soltanto un ricordo.
In Giochi pericolosi, ad esempio, qual è il messaggio di fondo? Perfino il più acclamato episodio della terza stagione, quel toccante San Junipero, cosa restituisce del fulcro ideologico dell'opera di Charlie Brooker? Il finale si presenta addirittura come un commovente lieto fine (o almeno così sembrerebbe). E tornano temi (sentimentalismo, diritti civili, omosessualità) cari a Netflix come dimostrano Serie quali Grace and Frankie, You Me Her, RuPaul's drag race. Argomenti di facile presa soprattutto per il canonico pubblico di abbonati al quale si indirizzano (giovani tra i 15 e i 35 anni).
È utile chiarire a questo punto che dal punto di vista registico Black Mirror ha mantenuto livelli notevoli, consoni al budget messo a disposizione dalla nuova produzione. Le trame sono ben strutturate, le riprese fanno uso di effetti tecnicamente impeccabili e il prodotto risulta gradevole. Ecco, gradevole: questa è la parola chiave per la comprensione della distanza che separa la terza stagione dalle precedenti.
Tutto risulta attutito, studiato a misura del pubblico, semplificato e reso essenziale nei tratti. Il fascino diventa esteriore: Black Mirror si fa bello con i costumi anni '80, col piacere di una storia d'amore che vince la morte e la suspense di un thriller dal finale sorprendente. Era inevitabile, forse, che questo avvenisse. Per sprovincializzarsi, per adattarsi al target di utenza di Netflix l'aspetto concettuale doveva far largo a quello emotivo. Black Mirror doveva imparare a premere le corde del cuore con un trasporto fatto ora di romanticismo, ora di tensione, ora di colpi di scena.
C'è la delusione però per quello che poteva essere e non è stato.
Per un'opera che ci aveva regalato per due stagioni le più approfondite critiche sociali che potessimo aspettarci dal ristretto orizzonte di uno schermo televisivo; che aveva trasmesso angoscia e disorientamento in ogni immagine, in ogni inquadratura; che era stato megafono delle nostre più recondite debolezze. E che ora ha lasciato il posto all'ennesimo prodotto di intrattenimento.
Guardiamo ancora una volta, nostalgici, "Vota Waldo", terzo episodio della seconda stagione e scopriamo di riconoscerci in quella visione. In quell'immagine di un'antipolitica nata per rabbia e finita per essere strumentalizzata. Vorremmo guardare Charlie Brooker negli occhi, fissarlo un po'. Tentare di scorgere un rimorso nel suo sguardo. Provare a capire se si è reso conto che, in fondo, il suo "Waldo", ormai non è più suo. Un buon ritorno a Black Mirror che saprà ancora intrattenerci e deliziarci. Ma, forse, non saprà farci riflettere. Non più.