# #
Dopo la breve pausa natalizia ritorniamo nello spazio – e nel futuro – con Agents of S.H.I.E.L.D! 
# #
L'episodio di questa settimana presenta una struttura bipartita, legata ai diversi livelli del Faro. Nel piano riservato ai Kree troviamo dunque Fitz (Iain De Caestecker) ed Enoch (Joel Stoffer) impegnati a infiltrarsi all'asta di Inumani indetta da Kasius (Dominic Rains). Il giovane scienziato si presenta come Boshtok, bandito spaziale particolarmente danaroso, interessato all'acquisto di Daisy (Chloe Bennet), vero e proprio fiore all'occhiello tra la "merce" in vendita.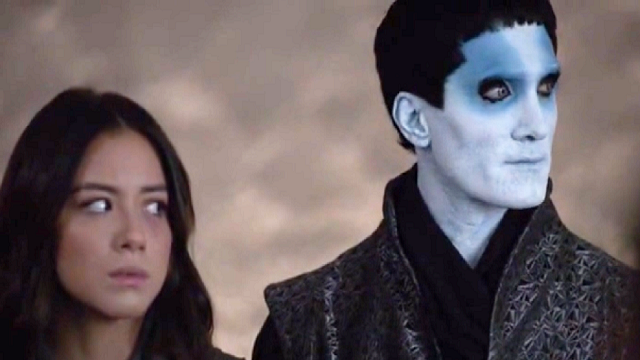 # #
Invece al livello più basso, Coulson (Clark Gregg) e il resto del team si ritrovano invischiati nelle vicende del giovane Flint (Coy Stewart): diciottenne selezionato dai Kree per essere sottoposto alla terrigenesi e poi rivenduto. Con l'aiuto di Tess gli agenti dello S.H.I.E.L.D tentano di sottrarre il ragazzo al suo destino.
Sulla base di queste due linee narrative, dunque, si sviluppa una trama settimanale ricca di azione, rivelazioni e colpi di scena.
"The Universe can't stop us, because we have crossed galaxies, we have travelled through time… A love like that, is stronger than any curse"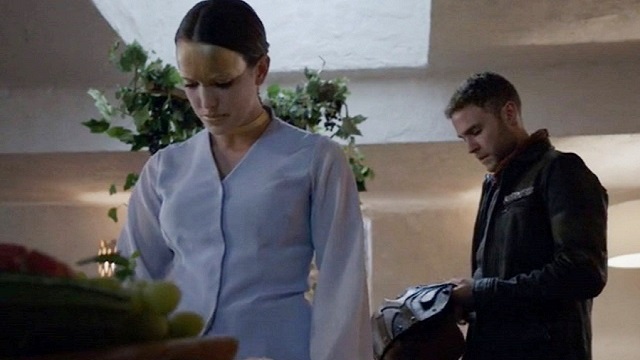 Nel mare di avvenimenti che ci vengono presentati, la vera linea guida di questo episodio di Agents of S.H.I.E.L.D è la riunione di Fitz e Simmons. Il momento tanto atteso è gestito dagli autori della Serie in maniera davvero esemplare, dal momento che si sviluppa attraverso tre incontri (a inizio, metà e fine episodio) che portano a un crescendo emotivo particolarmente riuscito.
Tre brevi contatti scanditi da un'incomunicabilità non più legata agli avvenimenti della passata stagione, ma a cause esterne di forza maggiore. Molto ben orchestrata è la scena in cui Fitz, con un bel monologo, apre il proprio cuore a Jemma, per poi accorgersi che questa è momentanemente incapace di udirlo. Gli showrunner decidono di far penare gli spettatori per poi premiarli con il definitivo incontro dei due scienziati durante il finale della puntata.
Rimanendo sempre ai piani alti della stazione, poi, ci vengono presentati due nuovi personaggi interessanti. Ponarian (Patrick Fabian), ricco mercante che, nonostante il poco spazio dedicatogli, credo possa ricoprire un ruolo futuro importante. E Faulnak (Samuel Roukin), fratello di Kasius, giunto in visita per godersi lo spettacolo fornito dalla "Distruttrice di Mondi".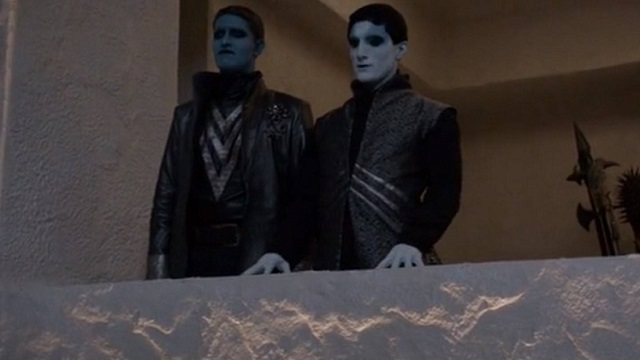 Dopo cinque episodi in cui ha spadroneggiato con tirannico cinismo, ecco che Kasius viene mostrato in una veste inedita. Il breve scambio tra i due fratelli, infatti, lo mostra sottomesso, quasi disprezzato, e desideroso di impressionare Faulnak – tanto da acconsentire a una richiesta "folle" come quella di schierare la sua protetta, Sinara (Florence Faivre), in uno scontro all'ultimo sangue con Daisy. La presenza di questo personaggio è poi fondamentale per aggiungere un nuovo tassello al puzzle rappresentato dal passato del tiranno – è stato il padre, per punizione, a relegarlo al ruolo di "guardiano" del Faro.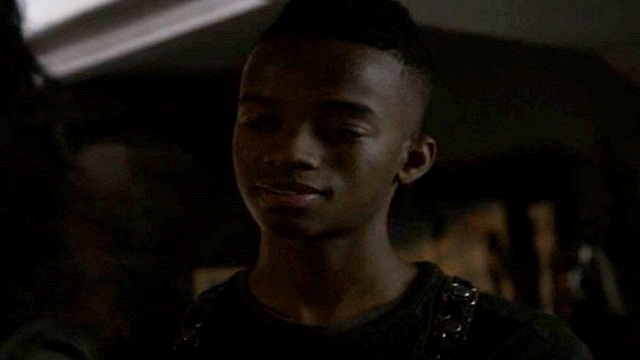 Come si diceva, Coulson e gli altri agenti sono invece intenti ad aiutare il giovane Flint scelto, suo malgrado, per essere sottoposto alla terrigenesi. Per quanto possa sembrare un riempitivo questa sotto-trama ci permette di approfondire ulteriormente i meccanismi con i quali i Kree gestiscono il "traffico di inumani", oltre a regalare alcuni eventi abbastanza rilevanti per il futuro.
In questo frangente acquista un po' di valore la presenza di Yo-Yo (Natalia Cordova-Buckley), fondamentale per aiutare il ragazzo ad accettare la propria condizione di Inumano e i nuovi poteri. Un po' sottotono è invece Mack (Henry Simmons), che nell'episodio fa il minimo indispensabile e appare poco incisivo.
Agents of S.H.I.E.L.D ci regala, dunque, una puntata ricca di azione e di avvenimenti importanti. Molto ben realizzati sono soprattutto l'incontro tra Fitz-Simmons e l'approfondimento della backstory di Kasius, che contribuisce a dare spessore a un nemico che finora era apparso solo come un piccolo tiranno annoiato. Culmine di tutto è poi un finale funambolico e molto ben realizzato.