"Everyday is a new box, boys. You open it, you take a look at what's inside. You're the one who determines if it's a fight or a coffin."
L'ambizione nasce da un sentimento genuino, da una spinta viscerale a mostrare di saper essere bravi in qualcosa. Non è solo vanità, è il suo step successivo. È un materiale composto da una struttura in continuo movimento e cambiamento. Si trasforma perennemente: sin da quando ci smuove a compiere i primi passi mossi verso quel qualcosa di inafferrabile, ci porta a ottenere il  premio.
E dopo? Bisogna trovare altro.
Il caso non può più essere fautore del destino delle nostre scommesse. Ci si rimbocca le maniche, si mostra la forza che risiede nelle abilità di cui sei padrone. E continui a sfondare quel muro di possibilità, mattone dopo mattone, provi al mondo che ce la fai. Anche da solo. Soprattutto da solo. Seppur da solo mai sei stato.
E quella tua superficialità attecchisce nelle tue relazioni: cominci a perdere le persone meno importanti. Lentamente il nero pervade tutto, fino a insinuarsi nel tuo nucleo più puro dei rapporti: la famiglia. Perdi qualcuno che ami. Continui a sfondare il muro. Ma non c'è più un muro, sbriciolatosi sotto le continue percosse, inarrestabili. Questa volta sotto i tuoi colpi si rompono crani, si impallinano polmoni e vengono tranciate gole.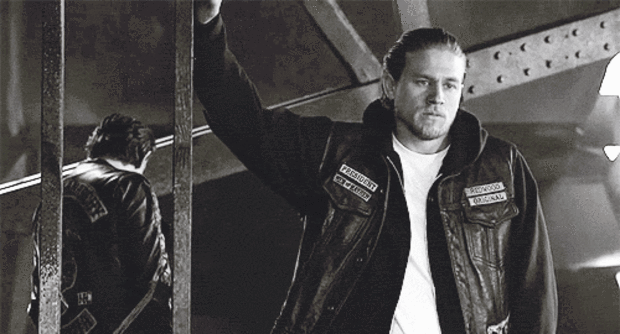 Non c'è più il nero dell'oscurità che ti inghiotte, tutto è rosso. Un cremisi vibrante, come la vita che avevi iniziato a costruirti in modo ingenuo. Quel barlume di ambizione che ti aveva mostrato di essere capace, è ora una fiamma eterna che arde e brucia, consuma e estingue ciò che ami. E quando l'ultimo briciolo di cenere fa cessare l'esistenza di connessioni, rimani solo.
A bruciare. Eternamente. Senza mai spegnerti.
Ed è questa la condanna: il perenne ardere senza mai trovar le calme acque della serenità. A quel punto ti chiedi se tutto ciò ne sia valsa la pena. Che domanda idiota: il no è ipocrisia. Il sì è meschinità. Perché la domanda non va posta alla fine, ma durante il cammino. Alla fine è troppo tardi per pensare, perché di pensieri non ce ne sono più. Rimangono solo le ombre delle azioni compiute, un destino tetro, un capolinea di teschi e ossa dove dover scendere.
Hai peccato, hai colpa, non avrai redenzione. Non su questa terra, non in questa vita. E quell'impeto che prima ti scaldava, ora brucia fredde lingue di rassegnazione. Una rassegnazione tetra, angusta, che non permette luce, solo ombra. E allora anneghi in quell'immensità di nero, con la mani rosso porpora e un cuore vitreo.
Ti sei lasciato andare Jax. Hai lasciato andare tutto, perché nulla era più sotto controllo. E hai estinto le radici del male, hai purificato quelle terre aride e metalliche, dove i fiumi non erano altro che sangue innocente e castigatore. È rimasta un'eredità da cui sperare una redenzione, che sai non essere sicura. Ma non importa, perché hai lasciato un foglio bianco da cui riniziare. Non hai chiuso il libro, hai solo voltato pagina. Le parole precedenti saranno ricordo di un'epoca da cui imparare, errori da non commettere nuovamente. La memoria sarà lo strumento di pace per i tuoi figli.
E nell'attimo in cui alzi le braccia al cielo, Tara ti accarezza una guancia. Gemma l'altra. Tuo padre è alle tue spalle e Clay ti guarda lontano, con aria di tristezza e rimorso. Al tuo fianco l'amico di sempre, Opie. E capisci che su questa terra non c'è più nulla. È ora di voltare pagina e chiudere il tuo libro.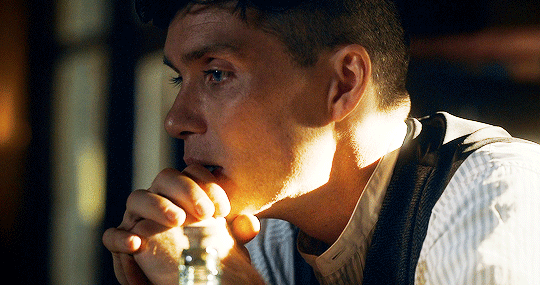 "My name is Thomas Shelby and today I'm gonna kill a man"
Maledetto sia il giorno in cui sei andato in guerra. Perché ti ha aperto un vuoto. Perché ti ha giustificato l'omicidio, ti ha dato un'arma in mano, ti ha dato speranza quando sei tornato a casa.
Ti ha aperto le porte dell'ambizione. E l'hai abbracciata, l'hai fatta tua. L'hai cresciuta contro tutto e tutti. Non ha ferito solo i tuoi nemici, ti ha portato via l'unico amore che poteva calmare i tuoi sensi. E ora ti trastulli in un dolce amaro ricordo di una notte senza fine. Di un gioiello blu zaffiro, di una maledizione mai scagliata, eppure mai dissolta. Occhi verdi si insinuano nei tuoi sogni. Morbidi capelli dorati che mai più accarezzerai. Quante volte hai alzato gli occhi al cielo per chiedere aiuto?
I baci di una bellezza russa non porteranno indietro il tuo amore o la tua esistenza, la tua materia ha lasciato l'involucro di carne e ossa. Non sarà neanche la dolcezza di una donna che conosci da una vita a riportarti in vita. Non esisti. Arranchi. Sei sul bordo, ma non molli. Non ancora. L'ambizione ti tira indietro, ti fa suo schiavo con ammaliamenti mascherati del viso dei tuoi figli. Figli che ami, ma non senti. Figli che esistono, che proteggi, ma che non curi. Come la tua famiglia.
Ti conoscono: loro lo sanno che non percepisci più niente di questa vita che non può essere chiamata tale. Sei perso nei vicoli di un ricordo, di un sogno morto, di una speranza che non avrà vita, finché tu vivrai. E ti accontenti? No, lo fai sembrare agli altri che ti accontenti. Ma dentro di te sai che hai perso la battaglia più importante e che non recupererai più, neanche diventando Re d'Inghilterra.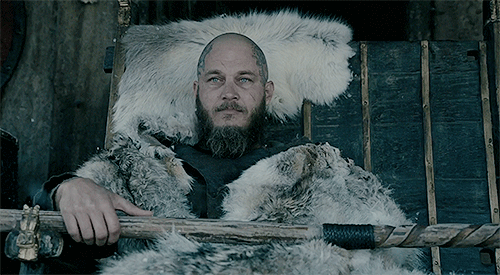 Oh Ragnar, sei o non sei l'esempio da non seguire? Eppure senza il tuo esempio, dove sarebbe il tuo popolo ora? Avevi una mente brillante, sagace, ma distratta. Avevi tutto, ma non riuscivi a vederlo. Che sia stata l'ambizione a velarti gli occhi, o la convinzione che il tuo destino non fosse creato dagli dei, e ti sei spinto oltre. Sempre. Non guardando ciò che lasciavi alle tue spalle: una donna, un amore, un popolo oltre mare in campo nemico, un trono pesante, un corona mai voluta.
Cercavi l'introvabile, scommettevi sull'inesistente, trovavi solo altre sfide. La tua ambizione finale era quella di non essere nessuno. Ma la tua ambizione ti è stata fatale, ha chiesto un pagamento, traguardo dopo traguardo, sempre più caro. Fino a toglierti il piacere stesso della scoperta, dell'emozione inebriante dell'esplorazione, dell'ignoto. Ed è proprio nelle braccia di quest'ultimo che ti sei buttato: hai accettato l'ignoto e lo hai attraversato sotto forma di una fossa di serpenti. Hai sfidato la tua stessa ambizione, fino a rinunciare a te stesso.
Pesante è la testa di chi indossa una corona.
Liberatoria è la spinta ambiziosa verso la conquista,
Ma amaro, e inevitabile, è il conto da saldare.