Dopo aver scomodato la Perfida Strega dell'Ovest e il quartetto delle Queens of Darkness formato da Malefica, Ursula e Crudelia De Mon, era il momento di tornare a parlare di villain con la V maiuscola. Allora perchè non andare a scomodare il Numero Uno dei cattivi,
il Re dell'Oltretomba, colui che più di tutti brama potere, morte e distruzione? Stiamo parlando di Ade come avrete capito, uno dei cattivi meglio riusciti e più amati all'interno della cinematografia Disney. Nonostante infatti il lungometraggio animato abbia come protagonista Hercules, è senza dubbio Ade il personaggio più affascinate ed interessante: malvagio e viscido ma anche ironico e sarcastico, spassoso e molto più divertente ed intelligente del borioso fratello Zeus. Un personaggio che come tanti altri ricalca il modello del fratello minore sempre bistrattato e messo in ombra ma senza dubbio più intelligente e capace, un cattivo alla Loki o alla Scar de Il Re Leone. Caratterizzazione del soggetto a parte, era solo questione di tempo prima che Edward Kitsis ed Adam Horowitz decidessero che era giunto il momento di inserire anche la mitologia greca all'interno di Once Upon A Time. Lo spunto nasce dal fatto che a seguito degli eventi della prima parte della 5° stagione, Emma&Co si trovano in procinto di imbattersi in una nuova missione di salvataggio, stavolta per salvare Capitan Uncino, e per farlo dovranno scendere niente di meno che nell'Oltretomba.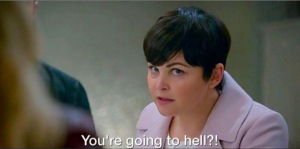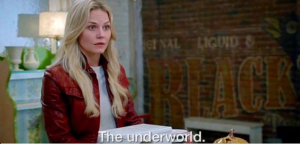 Come specificato dagli autori e dagli attori stessi nel corso di varie interviste rilasciate fino ad ora, questo fumoso e misterioso Regno Sotterraneo non sarà un antro infernale, ma piuttosto una specie di Limbo, un luogo di passaggio per le anime che hanno ancora affari in sospeso con i vivi. Dal promo dell'episodio 5×12 "Souls of the Departed", dalle dichiarazioni e da alcune foto rilasciate sappiamo che questo luogo misterioso avrà le sembianze e l'aspetto della stessa cittadina di Storybrooke e che ad abitarlo ci saranno sia facce nuove che vecchie conoscenze: in occasione del 100° episodio infatti torneranno alcuni personaggi che pensavamo di non rivedere mai più, come Cora la madre di Regina, o suo padre Henry, oppure ancora Peter Pan.
E' chiaro che si tratterà di una missione di salvataggio molto rischiosa e densa di sfide per i nostri protagonisti. Da quanto trapelato dal set sappiamo che faranno la loro comparsa anche i due personaggi protagonisti del film Hercules, ovvero lo stesso eroe invincibile Ercole e la bellissima Megara. Non sappiamo ancora bene quale sarà il loro ruolo, ma tutto ciò che sappiamo è che si tratterà delle loro versioni giovanili e che potrebbero trovarsi nell'Oltretomba a causa di circostanze che avranno a che fare anche con gli altri protagonisti della storia. Non è escluso quindi che possa trattarsi di una qualche vicenda legata al passato di qualcuno tipo Regina, Robin Hood o Mary Margaret, e quindi non mancheranno i soliti e sempre graditissimi flashback nella Foresta Incantata. 
Ciò che però incuriosisce molto è come sarà trattato l'aspetto della mitologia, quello strettamente storico. In Once Upon A Time abbiamo già visto il Vaso di Pandora, le Ali di Pegaso e il traghettatore di anime Caronte: sarà quindi interessante vedere come avranno strutturato ed elaborato l'intero contesto, se appariranno le Parche, oppure Tiresia, oppure ancora il Cane Cerbero. Ma più di tutto siamo curiosi di sapere quale ruolo giocherà il Dio Ade. Sarà un villain mosso da un qualche scopo maggiore, oppure un villain malvagio punto e basta? La sua storia si è intrecciata in passato o si intreccerà in futuro con quella dei nostri protagonisti? Avrà un piano malvagio o si divertirà solo a rendere difficile il passaggio della nostra combriccola nel Regno delle anime?
L'unica certezza che abbiamo è che per quanto riguarda la scelta dell'interprete non c'è proprio nulla di cui dubitare: un casting geniale per questo personaggio, che sarà interpretato dall'attore Greg Germann, già protagonista di Ally McBeal. Adam Horowitz, uno degli sceneggiatori ha rivelato: "Incontreremo la versione di Ade targata Once Upon A Time. Anche se siamo stati ispirati dalla mitologia e dal film Disney, come facciamo sempre, stiamo cercando di creare il nostro approccio al personaggio. Non vediamo l'ora che tutti vedano quello che Greg fa con il personaggio". Per ora però tutto ciò che abbiamo visto è l'anteprima del look che il Ade sfoggerà durante la messa in onda.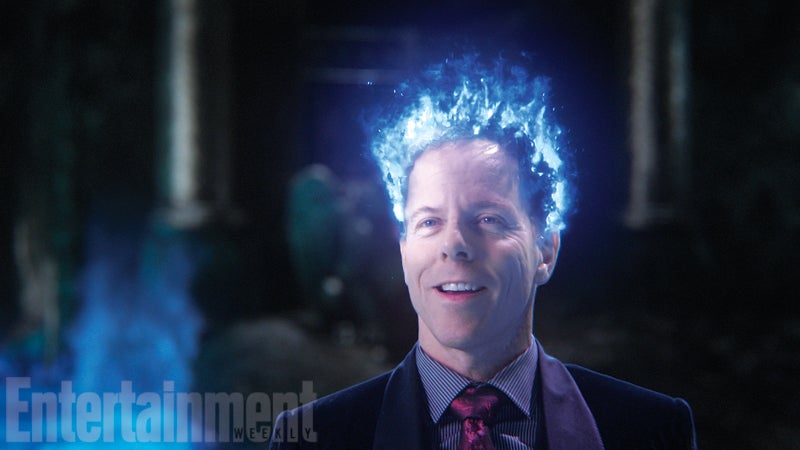 Once Upon A Time non ha mai brillato per l'accuratezza degli effetti digitali, però qui il risultato è leggermente disturbante: va bene che il personaggio in carne ed ossa deve ricordare quello animato, ma non era necessario prendere il dettaglio dei capelli blu fiammeggianti, un elemento che funziona alla grande nella versione animata ma che in quella live-action rischia di essere grottesca e ridicola. Avrebbero potuto adottare la strategia già messa in atto nella prima stagione, con la rielaborazione dei personaggi anche a livello estetico, come fu per il Genio della Lampada ad esempio. Nonostante però queste premesse non molto rassicuranti la curiosità per questa new entry non accenna affatto a diminuire.
—- SEGUE SPOILER DAL SET FUGGITE SCIOCCHI! —–
Da quanto trapelato dai set pare che il personaggio di Ade avrà molto a che fare con quello della sorella di Regina, Zelina, la Perfida Strega dell'Ovest: da alcuni scatti che circolano online le scene girate da entrambi li vedono molto molto vicini. Che Ade sia stato in qualche assurdo modo una vecchia fiamma di Zelina ed ora voglia unirsi a lei ed aiutarla nella sua vendetta? Un'ipotesi alquanto sorprendente. Oppure potrebbe avere un piano che coinvolge direttamente Uncino ed Emma. Considerando che stiamo parlando di mitologia, personalmente non mi stupirei se creassero un parallelismo tra Uncino ed Emma con Orfeo ed Euridice, la famosa leggenda greca dei due amanti separati per sempre dalla morte. Conoscendo Adam ed Eddy potrebbero benissimo esserne capaci. Oppure ancora Ade potrebbe rivestire il ruolo di una specie di David Jones infernale che ha imprigionato Uncino nel suo scrigno, in stile Pirati dei Caraibi. 
—- FINE SPOILER —–
Tutto può essere, le possibilità sono davvero molte, le teorie e le congetture si sprecano e si fanno sempre più fantasiose man mano che ci avviciniamo alla messa in onda della 5B. Ade debutterà nel 100° episodio della serie, in onda il 6 marzo.
Manca davvero poco e come Ade quest'attesa ci distrugge e bruciamo tutti di curiosità!