The Witcher, come molte altre serie tv, ha risentito molto della pandemia: le riprese erano appena ripartite dopo un caso di Covid che aveva interessato un membro della troupe e si sono nuovamente interrotte. Questa volta a causa di un incidente a Henry Cavill (qui l'attore racconta i suoi estenuanti allenamenti), l'interprete di Geralt di Rivia nella serie, che si è ferito durante le riprese di una scena particolarmente impegnativa.
L'attore si trovava agli Arborfield Studios, dove si è trasferita la troupe di The Witcher per girare alcune scene, e stava affrontando un percorso a ostacoli quando una caduta o qualche altro trauma gli hanno impedito di continuare ad allenarsi. Il Toronto Sun ha sentito una fonte interna alla troupe che ha dichiarato:
Il piano delle riprese è dovuto cambiare perché Henry Cavill non riesce a camminare correttamente. Nelle scene deve indossare armature pesanti e al momento non è in grado di farlo con il suo infortunio alla gamba.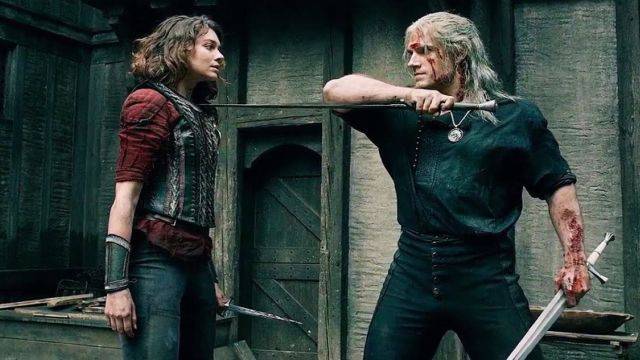 Non ci voleva decisamente questo nuovo intoppo alla lavorazione di The Witcher: ma d'altronde si tratta di una serie impegnativa per Henry Cavill dal punto di vista fisico e non può essere assolutamente compromesso. La fonte riferisce che l'attore non ha avuto necessità di chiamare un'ambulanza, quindi ci auguriamo che non sia niente di grave e che lo stop alle riprese sia un'eccesso di precauzione per consentirgli di riprendersi pienamente.
Per il momento non si sa molto altro, se non alcune fonti che riferiscono un "grande dolore" provato dall'attore: il che lo avvicina ancora di più al suo personaggio, Geralt di Rivia, di cui nella seconda stagione vedremo rappresentata la disabilità proprio a seguito di un incidente.
Sperando di avere presto la notizia della guarigione di Henry Cavill e della ripresa della lavorazione della seconda stagione di The Witcher, consoliamoci con un divertente video natalizio a tema rilasciato da Netflix.