BLACK MIRROR: UN EDITORE FA CAUSA A NETFLIX PER BANDERSNATCH
Chooseco LLC, editore di libri per bambini, ha presentato denuncia nel gennaio 2019 contro Netflix per la produzione di Black Mirror: Bandersnatch.
Choose Your Own Adventure è infatti un marchio utilizzato per una serie di libri che risale agli anni '80 e che ha vendendo più di 265 milioni di copie. Fox detiene le opzioni per le versioni cinematografiche e Chooseco sostiene che Netflix ha perseguito attivamente una licenza e ha creato Bandersnatch, che consente al pubblico di selezionare la direzione della trama.
Con la richiesta di danni che ammonta a 25 milioni di dollari, Chooseco LLC sostiene che gli spettatori di Bandersnatch sono stati confusi riguardo l'associazione con il famoso marchio, in particolare a causa del marketing intorno allo show e ad una scena in cui il personaggio principale afferma che il lavoro che sta svolgendo si basa sul libro Choose Your Own Adventure.
Netflix ha fatto appello al Primo Emendamento per difendersi ma un giudice federale ha dichiarato che il Primo Emendamento non potrà proteggerlo da una causa processuale.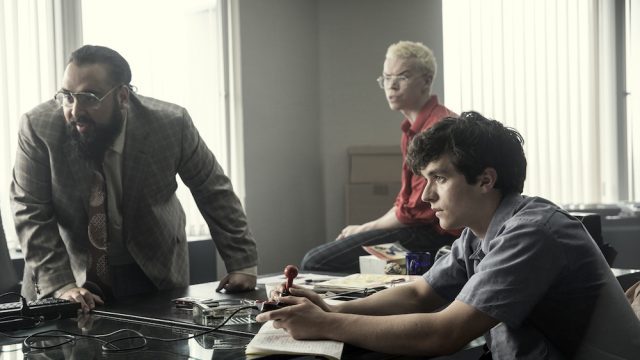 DOCTOR WHO: STIAMO PER DIRE ADDIO AI COMPANION DEL DOTTORE?
Gli ultimi due episodi della dodicesima stagione di Doctor Who, dal titolo Ascension of the Cybermen e The Timeless Children, saranno epici e mostreranno uno sconvolgimento nella storia del Dottore. Queste le parole di Chriss Chibnall, che ha aggiunto:
Ascension of the Cybermen è uno di quegli episodi in cui il Dottore e i suoi amici fuggono tutti da minacce diverse. E ci addentriamo nell'episodio successivo chiedendoci se mai riusciranno a rincontrarsi ancora.
I fan si sono dunque domandati se dovranno dire addio a uno o più companion. Ad esempio, nell'ultimo episodio Ryan ha iniziato a mostrare qualche dubbio sulle conseguenze che porta viaggiare con il Dottore. Ma potrebbe anche trattarsi di un addio traumatico, come è stato per l'ultima compagna della Dodicesima reincarnazione, Bill Potts (potete trovare qui maggiori informazioni).