La conclusione della dodicesima stagione di Doctor Who si sta avvicinando, e promette di essere un'esperienza incredibilmente emozionante. I titoli degli ultimi due episodi che costituiranno il finale, Ascension of the Cybermen e The Timeless Children, gridano ai quattro venti quali saranno i nemici che incontreremo e il mistero che verrà svelato.
Chris Chibnall, che poco tempo fa si era sbilanciato nel commentare una teoria dei fan riguardo un incredibile colpo di scena nella 12×05 di Doctor Who, non rivela invece nulla più di quel che possiamo già immaginare per conto nostro sui due episodi finali. Si diverte però a stuzzicare la nostra curiosità.
[The Timeless Children] è un finale grandioso ed emozionante, con tantissimi Cybermen. E dura ben 65 minuti. È sia epico che personale. Ed è sempre ciò che cerchi da un finale – il modo in cui storie monumentali e minacce all'universo hanno un impatto sulla sfera personale dei tuoi personaggi. Ed è decisamente quel che accade in questo episodio.

Ascension of the Cybermen è uno di quegli episodi in cui il Dottore e i suoi amici fuggono tutti da minacce diverse. E ci addentriamo nell'episodio successivo chiedendoci se mai riusciranno a rincontrarsi ancora.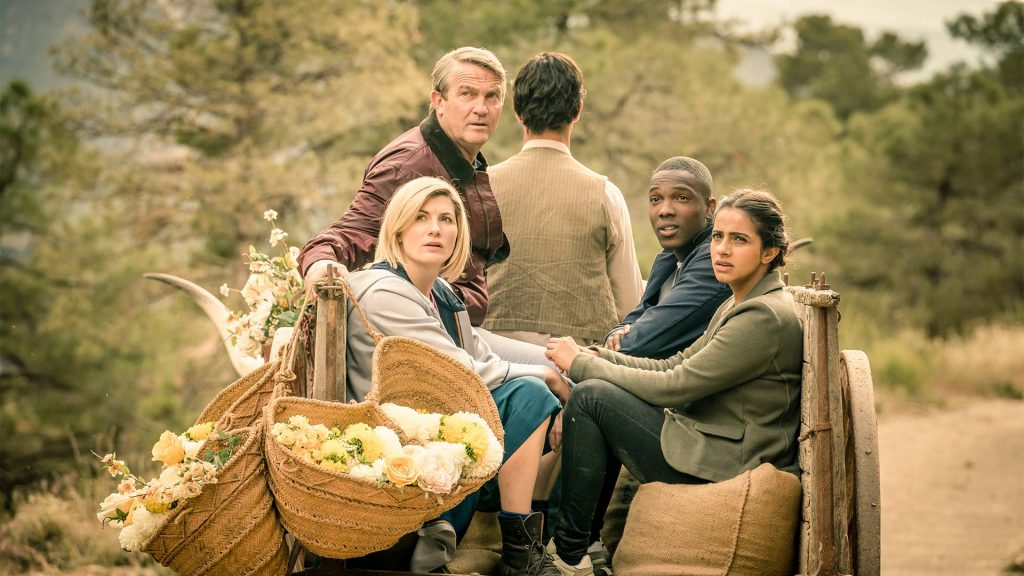 Da una parte Chibnall non ha effettivamente rivelato nulla, specialmente perché, almeno dalla descrizione che ha dato, è proprio ciò che ci aspetteremmo da un qualunque finale di stagione di Doctor Who. Eppure, l'allusione al pericolo che il Dottore e i suoi amici possano non rincontrarsi ci fa chiedere se ci sia la possibilità che dobbiamo dire addio ad almeno uno dei suoi companions.
Potrebbe essere una conseguenza di un qualche tragico evento del finale. Non sarebbe certo la prima volta (o la seconda, o la terza… Insomma, ci siamo capiti). Potrebbe però essere anche una scelta dei suoi companions. Nella 12×07 di Doctor Who vediamo i tre amici del Dottore fare i conti con le loro paure più grandi e i loro ricordi, che li spingono a riflettere sulle loro vite.
Ryan in particolare sembra iniziare ad avere dei ripensamenti sulla nuova vita che conduce, per quanto lo allontana dai suoi amici non solo fisicamente, ma anche a livello affettivo e nelle esperienze importanti della vita. Può darsi che uno o più di loro decidano di dire addio al Dottore per tornare alla normale vita di tutti i giorni?