L'attore britannico Tom Hiddleston si sta preparando a tornare nei panni di Loki, il personaggio che interpreta nel Marvel Cinematic Universe.
Le riprese sono attualmente in corso, e possiamo già dare uno sguardo alla serie con un video dal backstage che l'attore ha condiviso sul suo profilo Instagram.
L'attesa per la serie è lunga: l'arrivo è previsto nella primavera del 2021. I dettagli sulla trama sono al momento pochi; sappiamo che seguirà Loki dopo quanto è successo in Avengers: Endgame, in cui il dio degli inganni è riuscito a fuggire con il Tesseract (contenente una delle sei Gemme dell'Infinito, quella dello Spazio).
La serie ha come showrunner Michael Waldron, noto per essere stato autore di alcuni episodi di Rick & Morty e per aver collaborato alla sceneggiatura di Doctor Strange.
Tom Hiddleston non ha finora rivelato alcun dettaglio della trama, ma ha parlato dell'evoluzione di Loki con MTV News lo scorso agosto:
"Conosco il personaggio. Sento che il pubblico lo conosce. L'aspetto più eccitante è interpretarlo fedelmente, ma con nuove sfide, quindi dovrò cambiarlo in qualche modo. Ha abilità specifiche. Intelligenza, slealtà, la magia; lo vedremo scontrarsi con nemici formidabili, come non ne ha mai visti o conosciuti prima. Vorrei dirvi di più su quel che succede, ma non posso".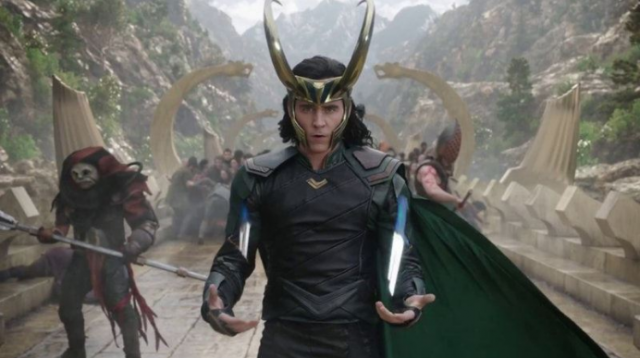 Loki sarà rilasciata sulla piattaforma streaming Disney+, che conterrà tutti i film, le serie e i contenuti creati dalla Casa di Topolino.
In Italia Disney+ arriverà il 24 marzo 2020. Nel catalogo siamo certi di trovare contenuti originali quali The Mandalorian, High School Musical: The Musical: The Series e Lilli e il Vagabondo.
In produzione ci sono altre serie sui supereroi: WandaVision parlerà di Scarlet (Elizabeth Olsen) e Visione (Paul Bettany), mentre The Falcon and the Winter Soldier avrà come protagonisti Sam Wilson (Anthony Mackie) e Bucky Barnes (Sebastian Stan).
Siete impazienti di vedere nuovamente Tom Hiddleston nei panni di Loki?