WandaVision (qui tutto ciò che sappiamo sulla serie) era sicuramente uno dei più grandi show di Disney+ programmati per il 2021, ma la compagnia ha annunciato in questi giorni che la serie Marvel sarà rilasciata, invece, nel 2020.
Disney ha rivelato la notizia, ma non c'è ancora una data precisa per l'uscita di WandaVision, rendendo poco chiaro se farà il suo debutto prima o dopo le altre serie Marvel che vedremo quest'anno sulla piattaforma sopracitata, come The Falcon and the Winter Soldier.
La Marvel precedentemente ha annunciato che gli eventi di WandaVision faranno riferimento a Doctor Strange in the Multiverse of Madness, cinecomic programmato per essere rilasciato il 7 maggio del 2021. La serie segue le vicende di Elizabeth Olsen nei panni di Scarlet Witch e Paul Bettany nel ruolo di Vision a seguito dei film sugli Avengers.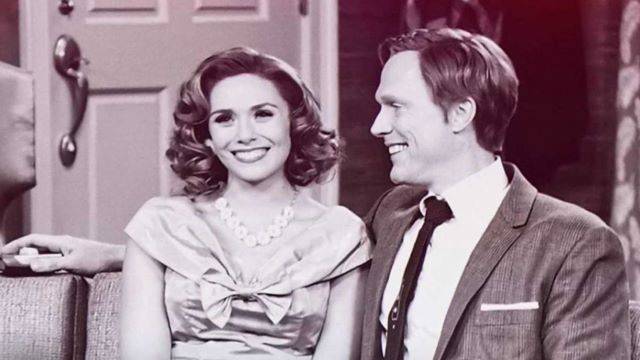 Ma non c'è solo questo nel futuro della piattaforma di streaming. Accanto a queste interessanti serie Marvel vedremo qualche grande progetto Disney+ programmato per il 2020 come ad esempio Monsters at Work, uno spin-off di Monster & Co., o il bramato ritorno di Lizzie McGuire, attesissimo soprattutto dai più grandi che con Hilary Duff (qui i dettagli sul suo recente matrimonio) ci sono cresciuti.
Disney+ ha messo insieme un teaser video in cui mostra alcuni dei titoli che arriveranno quest'anno sulla piattaforma.
Non hanno ancora provveduto ad annunciare le effettive date di rilascio, ma sicuramente ci sarà una seconda stagione di The Mandalorian che è stato il prodotto più visto dagli utenti della piattaforma. Chi non è riuscito a vedere il remake de Il Re Leone e Aladdin o l'ultimo capitolo di Toy Story al cinema lo scorso anno, potrà finalmente goderseli nella tranquillità di casa propria.
Ecco l'esplicativo teaser.
Inoltre gli iscritti potranno vedere la stagione finale di Star Wars: The Clone Wars (la serie animata) e l'ennesima serie sui Muppets intitolata Muppets Now. Non mancheranno gli original movies come Timmy Failure: Mistakes Were Made, Stargirl, The Phineas & Ferb Movie: Candace Against the Universe e Secret Society of Second Born Royals (La Società Segreta dei Secondogeniti Reali). Arriveranno le docuserie Rogue Trip e Becoming e la seconda stagione di High School Musical: The Musical: The Series.
Insomma, le proposte di Disney+ sono molto accattivanti e certamente metteranno in crisi gli iscritti ad altre piattaforme con una programmazione del genere.