Interpretare Negan in The Walking Dead ha permesso a Jeffrey Dean Morgan di acquisire maggiore fama: il suo lavoro nella Serie Tv della AMC è stato fortemente apprezzato dal pubblico. Ma, come purtroppo spesso accade, molti fan fanno fatica a capire quali sono i limiti nel rapporto tra attore e fan.
Esasperato dalle continue incursioni nella sua privacy, Jeffrey Dean Morgan ha infatti scritto un messaggio su Twitter ai propri fan. Nel tweet chiede loro di smettere di andare a casa sua e li avvisa che sono stati ripresi e registrati dal sistema di sorveglianza.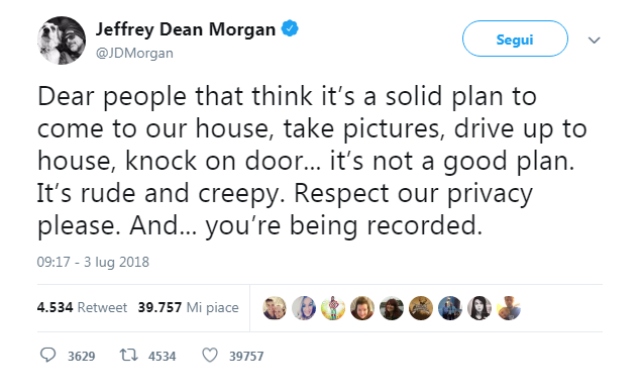 "Care persone che pensate che venire a casa nostra, fare foto, guidare verso l'ingresso, bussare alla porta sia un buon piano… non è un buon piano. E' maleducato e inquietante. Rispettate la nostra privacy per favore. E poi… siete stati ripresi".
L'attore di The Walking Dead è sposato con l'attrice Hilarie Burton, con cui ha due figli. Morgan si è sempre dimostrato disponibile con i fan, ma nei luoghi e nei tempi appropriati.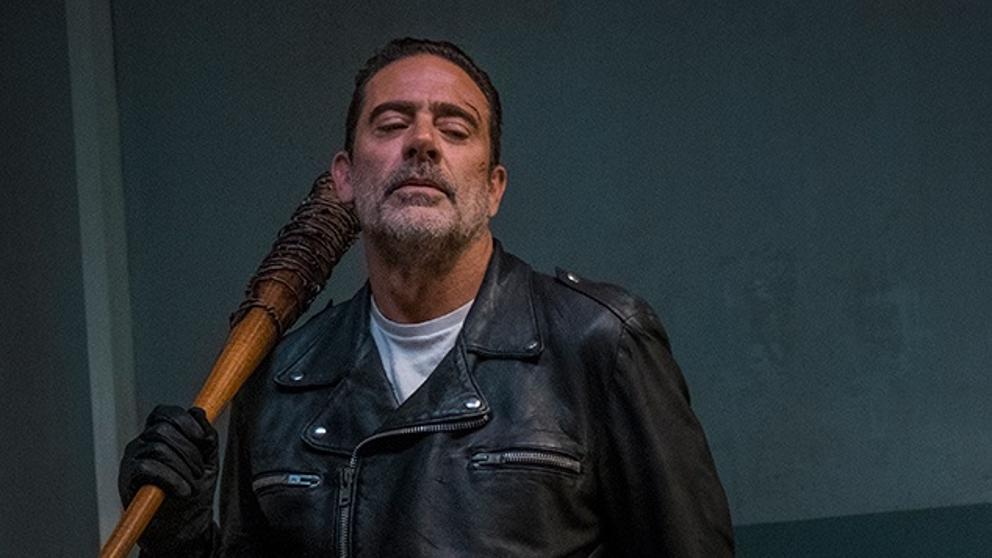 Quello di Jeffrey Dean Morgan non è purtroppo un caso isolato. Ogni personaggio famoso che acquisisce un notevole successo si ritrova a essere vittima dei fan.
Nell'era dei social network, le incursioni nella privacy si sono anche amplificate, così come gli insulti e le polemiche, che spesso inducono le star a chiudere i loro account social. Recentemente è successo anche ai ragazzini di Stranger Things, Finn Wolfhard (accusato di non essersi fermato a salutare i fan) e Millie Bobby Brown, indotta a cancellare Twitter a causa di meme omofobici.
Jeffrey Dean Morgan tornerà nei panni di Negan nella nona stagione di The Walking Dead, che riprenderà la messa in onda nell'ottobre 2018. Dal set è anche giunta la prima immagine ufficiale di Negan.
Nel frattempo speriamo che l'attore possa gustarsi un po' di tranquillità a casa sua.