Le accuse che hanno portato Kevin Spacey a fare coming-out hanno dato vita a diverse (brutte) conseguenze. Dopo la cancellazione di House of Cards, Serie Tv che vedeva protagonista Kevin Spacey nei panni di Frank Underwood, Netflix ha deciso di non produrre più contenuti con il coinvolgimento dell'attore (ne abbiamo parlato in questo articolo!). House of Cards si chiuderà quindi con la sesta stagione e senza Kevin Spacey.
La produzione della sesta stagione di House of Cards è attualmente in pausa, tuttavia non si sa ancora come il personaggio di Frank Underwood verrà eliminato dal piccolo schermo. La prima soluzione che viene in mente è quella di farlo morire. Esiste però un modo per liberarsi del personaggio senza togliergli la vita? Alcuni fan hanno pensato a un rimedio alternativo: sostituire Kevin Spacey con un altro attore!
Avete mai immaginato Frank Underwood con un altro volto? Ma soprattutto, riuscireste a farlo?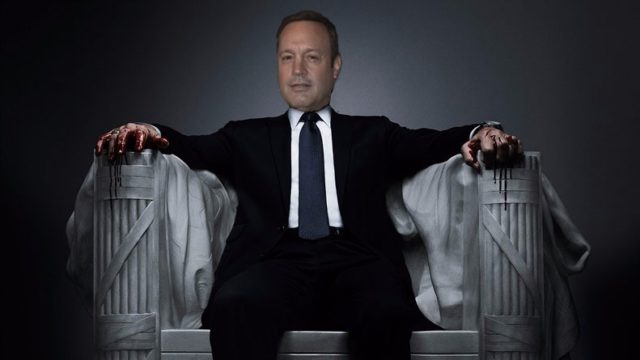 Su Change.org molti fan stanno portando avanti una petizione, proponendo a Netflix di sostituire Kevin Spacey con Kevin James per il ruolo di Frank Underwood. Questa soluzione ha già raccolto oltre 35.000 firme! A creare l'iniziativa è stato Robbie Pyma, che ha commentato:
Perdere una Serie Tv eccellente è difficile, a prescindere da tutto. Con queste difficoltà nasce però la possibilità di farla diventare uno dei prodotti più belli di sempre.
I fan che sostengono questa iniziativa sono infatti convinti che House of Cards finirebbe in modo convincente con l'interpretazione di Kevin James. Questa petizione probabilmente non influirà sulle scelte di Netflix, che non ha ancora rilasciato dichiarazioni ufficiali in merito. L'ipotesi più probabile rimane quella dell'uccisione di Frank Underwood. Robin Wright (Claire Underwood), qualora le ultime puntate riuscissero a vedere la luce, diventerebbe protagonista assoluta della Serie.