House of Cards, la prima Serie Tv originale di Netflix, tornerà ufficialmente nell'autunno 2018 con gli otto episodi della nuova stagione.
Dopo aver rilasciato un teaser a marzo, Netflix ci regala ancora una breve anticipazione della sesta stagione di House of Cards.
Nel breve rilasciato sui social network in occasione del Giorno dell'Indipendenza degli Stati Uniti (il 4 luglio) una fiera Claire Underwood afferma di essere anche lei libera:
A message from the President of the United States. pic.twitter.com/yx0P3qyHfW

— House of Cards (@HouseofCards) 4 luglio 2018
"Buon Giorno dell'Indipendenza. A me".
Il piccolo teaser ci introduce al nuovo ruolo di Claire: quello di Presidente degli Stati Uniti. Alla fine della quinta stagione vediamo infatti la donna girarsi verso la telecamera e dichiarare: "è il mio turno". L'indipendenza non è intesa solo come patriottismo americano, ma anche come 'indipendenza da Frank', che non vedremo più nella sesta stagione.
In seguito agli scandali che hanno travolto l'attore nel novembre 2017, Netflix ha infatti deciso di licenziare Kevin Spacey e di continuare con House of Cards – con la sesta e ultima stagione – senza di lui. L'attore è stato accusato di molestie sessuali da parte di diverse persone, tra cui alcuni membri dello staff della Serie Tv.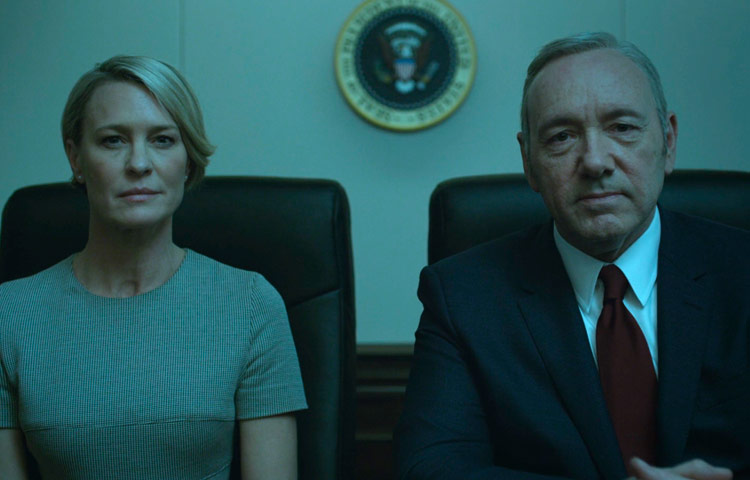 Insieme a Robin Wright, interprete di Claire, ritroveremo Michael Kelly (Doug), Jayne Atkinson (Catherine), Boris McGiver (Tom) e Derek Cecil (Seth). Anche gli attori Patricia Clarkson (Jane) e Campbell Scott (Mark), presenti nella quinta stagione, torneranno nella sesta. Nei nuovi episodi rivedremo anche Constance Zimmer (che ha interpretato la giornalista Janine Skorsky nella prima, seconda e quarta stagione).
Nel cast entrano Diane Lane (Unfaithful – L'amore infedele, L'uomo d'acciaio) e Greg Kinnear (The Kennedys), ma i loro ruoli sono ancora top-secret. Si sa solo che i due attori interpreteranno due fratelli. Una nuova aggiunta è anche Cody Fern (che ha lavorato in American Crime Story: l'assassinio di Gianni Versace). 
Siete pronti a vedere Claire Underwood all'opera come Presidente?