Una nuova miniserie drama arriverà su Sky Atlantic e Showtime nel 2017. Guerrilla, sei episodi riguardantei una coppia di attivisti politici, ambientata in uno dei contesti più scottanti di tutta la storia del Regno Unito.
Guerrilla viene descritta come una storia d'amore in uno sfondo politico. Una coppia di attivisti deve fare i conti con i cambiamenti che avverranno all'interno della propria relazione e con i dubbi sui propri valori dopo aver liberato un prigioniero politico e formato una cellula radicale e segreta nella Londra degli anni Settanta. Il loro obbiettivo diventa il Black Power Desk, un'unità di contro-intelligence dedita all'annientamento di ogni forma di attivismo dei neri.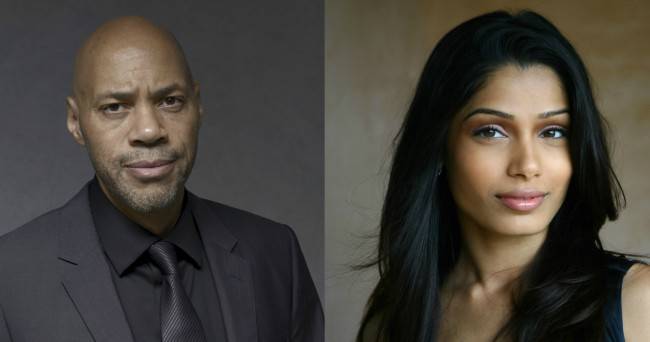 La serie è scritta da John Ridley, autore di American Crime, che dirigerà tre episodi, mentre per i restanti la regia sarà di Sam Miller. Misan Sagay, che ha lavorato al film La ragazza nel dipinto (Belle), a sua volta è coinvolta nel progetto come scrittrice. Nel cast sono stati per ora annunciati Idris Elba (Luther, The Wire) e Freida Pinto (vista nel film The Millionaire). Sia Ridley sia Elba saranno anche produttori esecutivi, assieme a Patrick Spence e Katie Swinden per Fifty Fathoms, Tracy Underwood per ABC Signature e Michael McDonald per Stearns Castle. Le riprese inizieranno a fine estate a Londra.
La direttrice dei programmi drama di Sky, Anne Mensah, ha affermato che raramente una serie riesce a combinare perfettamente l'aspetto personale e quello politico, e in questo Guerrilla ci è riuscito bene. "Guerrilla presenta personaggi di cui il pubblico s'innamorerà, ma anche una parte della storia dei neri britanici poche volte trattata in modo così coraggioso e complesso." Idris Elba ha rivelato di covare da tempo il desiderio di collaborare con John Ridley. "Il lavoro di John in questo progetto è di grande livello per come ha costruito personaggi e trama. Gli spettatori potranno godere di un grande serie." Ridley si è dichiarato colpito dalla passione di Idris Elba nel voler portare alla luce questa storia, condividendone l'impegno di mostrare personaggi di colore complessi e di carattere.