La febbre per Game of Thrones ha contagiato decine di milioni di fan in tutto il mondo, nel corso degli anni. Tra loro anche molte personalità illustri, anche nel mondo della scrittura. Uno dei fan famosi di Game of Thrones più sfegatati è nientemeno che il Re del terrore, Stephen King. Lo scrittore americano non ha mai nascosto la sua passione per la saga fantasy più amata del momento, anche nella sua versione seriale.
Stephen King, a sua volta autore di un ciclo di libri di genere fantasy (anche se decisamente diversi dalle Cronache), La torre nera, vedrà la sua opera a breve trasformata in una serie tv. Amazon si è infatti detta interessata a portare avanti il progetto, nonostante il flop del film omonimo.
Chissà se Martin diventerà a sua volta fan del Re? Ma torniamo alla passione di Stephen King per Game of Thrones. Di recente il Re ha usato Twitter per fare ciò che i fan di tutto il mondo, da settimane, continuano ossessivamente a fare: speculare sul finale. Ovviamente le speculazioni di Stephen King hanno più visibilità di quelle di un qualunque fan, ma non per questo la sua teoria è inverosimile.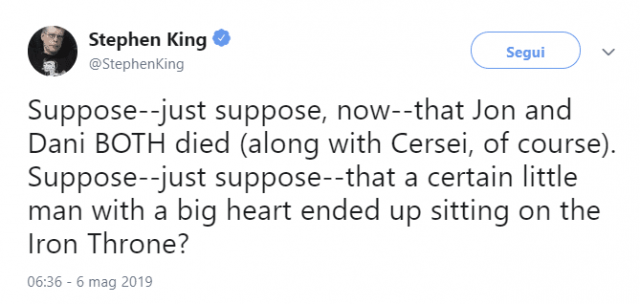 In realtà, King dà voce a numerosi fan di Game of Thrones, che prevedono una sconfitta totale della coppia Dany/Jon, e l'ascesa al trono di colui che durante tutte le stagioni ha dimostrato di avere il fegato per regnare, Tyrion Lannister. Secondo King, i due Targaryen verranno uccisi, insieme al villain conclamato dello show, Cersei. A questo punto, l'unico in grado di curare gli interessi dei Sette Regni sarebbe proprio Tyrion, definito "un piccolo uomo con un grande cuore".
In un altro tweet King gela i fan di Sansa Stark, prevedendo che la giovane lupa non avrà un futuro all'interno di Game of Thrones. King non crede nel personaggio rivelazione di queste puntate, dunque.
Vedremo chi la spunterà, alla fine!