È l'alba di un nuovo giorno a Westeros. Il sole si erge alto nel cielo dissipando le ombre di un passato ormai sfocato, quasi impercettibile. Game of Thrones si è spogliata delle sue antiche vesti per indossare nuove stoffe. Gli antichi empori vengono riforniti di nuovi prodotti e, in un ciclo di eterna evoluzione, ogni cosa muta, diviene altro, con aspetti e aromi differenti. I personaggi dello show non ne sono esenti e, come un serpente che cambia pelle, evolvono.
Tra i tanti, non poteva certo mancare Tyrion Lannister, il nano più intelligente e strategico di Westeros, nonché uno dei personaggi più amati dal pubblico. Tyrion Lannister nasce e cresce come un emarginato reale. Un figlio mai accettato, una maledizione che pende sulle teste di ogni membro della sua casata. Sua madre è morta per metterlo al mondo e, come se non bastasse, è nato storpio.
L'odio e il rancore sono i sentimenti che pilotano le azioni dei familiari nei suoi confronti. In un certo qual modo sono le stesse che dirigono Tyrion, una triste accettazione della sua condizione che riflette il disamore e lo sdegno di tutti, in particolar modo del padre, Tywin Lannister. Nonostante ciò è un membro della famiglia, e viene trattato come tale, con tutti i benefici, anche economici, che ne conseguono.
Per le prime quattro stagioni Tyrion ci appare come un uomo estremamente intelligente, saggio e attento osservatore.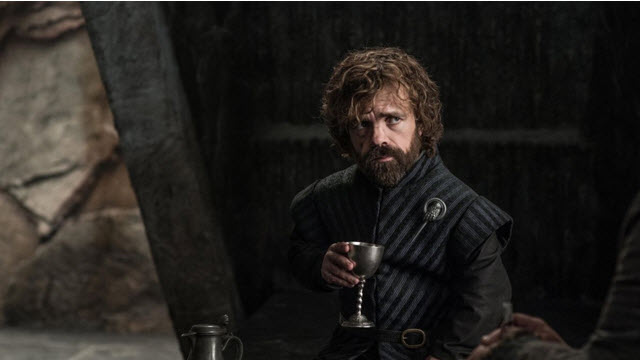 Il suo animo è pervaso dal desiderio di conoscenza del mondo. Non c'è cattiveria né brama di potere in lui, tutte caratteristiche invece molto marcate nella sorella e nel padre. Il suo impegno sarà rivolto solo ed esclusivamente a essere finalmente amato e accettato, risaltando come meglio può le sue doti, in ambito politico e anche militare. Tuttavia, come in ogni realtà umana, il bene e il male sono due relative facce della stessa medaglia. Per analizzare a dovere questi due volti, contestualizzati alla vita di Tyrion, è doveroso partire dalla premessa: la battaglia delle Acque Nere.
Prima di allora il ruolo del nostro piccolo protagonista, sebbene estremamente importante, non smuoveva grandi correnti d'acqua. Tuttavia, parlando di acque e proprio grazie al suo ingegno e all'utilizzo dell'altofuoco (vi ricorda una particolare arma del mondo classico?), la flotta di Stannis viene sconfitta e i Lannister consolidano il loro potere sul Trono di Spade. Tyrion ne guadagna una cicatrice in pieno volto, causata dal mancato assassinio a opera del nipote Joffrey e ben poco riconoscimento, sia in famiglia che al di fuori, per i quali la vittoria è vista come opera esclusiva del padre.
Questo evento si può considerare, anche se non ancora nella sua forma definitiva, una piccola scintilla per l'evoluzione del personaggio.
Il primo step in grado di trasformare il bruco in bozzolo. Gli eventi successivi sono stati il consolidamento, più o meno conseguente e diretto, di questa prima fase. Dopo il rifiuto di avere in dono Castel Granito e il matrimonio forzato con Sansa Stark accade l'inevitabile: Joffrey Baratheon viene assassinato e la colpa non poteva che ricadere sul nostro ormai Maestro di Conio.
Nel processo contro la sua persona che lo vede condannato a morte, preceduto dal drammatico scontro in singolar tenzone tra Oberyn e la Montagna, Tyrion regala uno dei momenti più belli e energicamente forti di tutta la serie tv. La scintilla si trasforma in divampante fuoco, i suoi occhi sono ora saturi di travolgente ira e il destino delle casata Lannister in Game of Thrones cambia per sempre.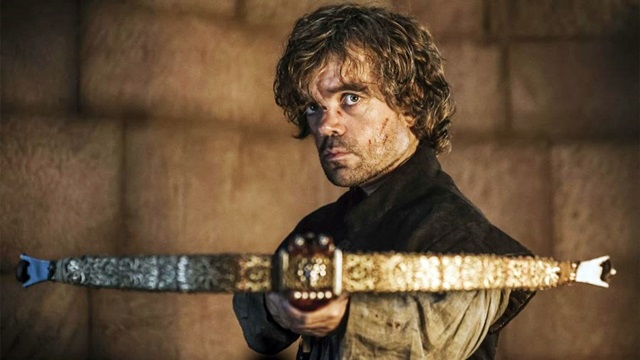 Tramite tale processo il bozzolo si schiude e ne esce una farfalla, o sarebbe meglio dire un drago, violento e spietato. Un drago che in un colpo solo uccide Shae e suo padre Tywin, regalando a uno dei personaggi più carismatici della casata una morte pietosa e miserabile, certo non degna di un nobiluomo. Una morte che sconvolgerà tutta la casata reale e in particolare il fratello Jaime, l'unico davvero legato al nano.
Parlando di Jaime Lannister, sicuramente si sarà chiesto chi fosse in realtà suo fratello. Medesimo interrogativo del pubblico da casa. La realtà è che la risposta assoluta non esiste e risiede in una griglia infinita di colori, al di fuori del bianco e nero, opposti ed estremi. Tyrion è diventato ciò che doveva diventare o semplicemente lo è sempre stato. In tal senso i dispiaceri della vita hanno edificato quella parte nascosta e necessaria, in grado di sopravvivere in una giungla popolata da bestie feroci e affamate.
L'odio genera odio e il risentimento si trasforma in un'arma senza eguali.
Trasforma un piccolo uomo in un drago sputa fuoco, il quale non ha timore di avvicinarsi e tendere la mano ad un drago vero, un animale leggendario che lo osserva con rispetto e ammirazione. Ed è proprio di leggenda che voglio parlare per Tyrion Lannister. Il leggendario riscatto di un uomo che ha tutto, ma in realtà non ha nulla. Il potere, lo sfarzo, le donne e i soldi, sono solo l'effimera espressione di una realtà fragile. Una realtà in cui nessuno si cura di lui e ogni persona che incrocia il suo sguardo, tra quei freddi corridoi reali, lo vorrebbe morto. Da reietto della sua famiglia diventa primo cavaliere del nemico mortale dei Lannister. L'unica donna che mina pericolosamente il loro dominio ad Approdo del Re, Daenerys Targaryen.
Leggenda in tal senso è anche il rapporto tra Tyrion e la regina dei Draghi. L'unico tra i suoi accoliti che si pronuncia apertamente contro le sue decisioni. Dall'ultima stagione potremmo intuire che l'idillio democratico tra i due potrebbe avere vita breve.
Le storie della vita ci insegnano che la riconoscenza arriva dai luoghi e dalle persone più impensabili. Eppure il destino è oscuro per ognuno di noi, anche in Game of Thrones, anche per Tyrion Lannister. Le più temibili tra le ombre contro cui dovrà combattere sono se stesso e il suo cuore, il quale è in grado di far mutare ogni avvenimento. La famiglia crea dei legami di sangue, di conseguenza le sue radici sono solide e invisibili. Radici difficilissime da spezzare.
Riuscirà Tyrion Lannister ad abbattere questo vincolo? Non ci resta che aspettare Aprile e vederci l'ultima stagione di Game of Thrones per scoprirlo.