La data di uscita di Game of Thrones è, in assoluto, la cosa che tutti noi fan aspettiamo di più da mesi. I giornali di tutto il mondo sono in fibrillazione da settimane, da quando è stato annunciato ufficialmente che l'ottava stagione di Game of Thrones sarebbe uscita questo aprile. Tutti vogliono accaparrarsi la notizia in anteprima.
Babbo Natale non ci ha portato in dono la notizia di quando uscirà l'ottava stagione, il 2019 si è aperto ufficialmente e noi ancora ignoriamo l'agognata data.
Ma l'attesa ha ufficialmente una fine. Ogni risposta ci sarà data molto, molto presto.
HBO ha infatti annunciato che rivelerà ufficialmente la data di rilascio dell'ottava e ultima stagione di Game of Thrones domenica 13 gennaio. Prima della messa in onda di True Detective, infatti, HBO rivelerà l'attesissima data di rilascio dell'ultima stagione della serie.
HBO ha divulgato la notizia tramite Twitter, simulando una conversazione tra un impiegato del network, che cerca di scoprire la data di rilascio di Game of Thrones, e il suo capo, che vuole tenere (comprensibilmente) nascosta la notizia.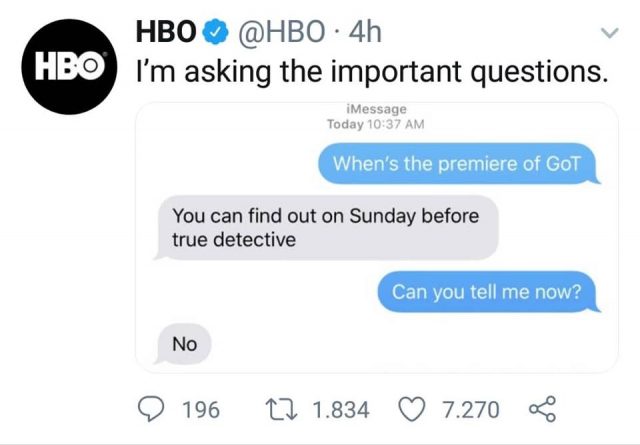 HBO ci aveva già scioccato rilasciando, durante la cerimonia dei Golden Globe, un breve spot pubblicitario in cui si vedeva l'arrivo di Daenerys a Grande Inverno, accolta da un Jon con la facci innamoratissima e una Sansa come al solito imperturbabile, che pronunciava una frase ambigua.
Pare, dalle parole del trailer, che Sansa stia cedendo Grande Inverno alla regina dei draghi. Il web si è naturalmente lasciato andare a innumerevoli speculazioni e teorie. Come reagiranno i vassalli di Jon alla notizia? Si riaprirà una faida nella famiglia Stark?
Presto sapremo tutto, probabilmente anche grazie a un nuovo e, si spera, più corposo trailer.
Non resta che aspettare domenica, sintonizzarsi a tarda notte sui canali HBO, e attendere la notizia dell'anno!