# #
Maggio… il mese più odiato da tutti gli appassionati di Serie Tv. Primo, perché è il mese in cui le emittenti televisive tirano le somme di tutti i propri show e decidono quale rinnovare e quale cancellare (possiamo comprendere la vostra tristezza se la vostra Serie Tv preferita è stata cancellata); e secondo, perché la maggior parte degli show vanno in vacanza e ritornano in autunno (vi siamo vicini nel dolore anche per questo).
L'annuncio delle Serie Tv cancellate e rinnovate ormai è stato fatto (per maggiori info riguardo ai rinnovi leggete qui; mentre l'elenco di tutti gli show cancellati lo trovate qui, e per leggere questo articolo prendete dei fazzoletti). È quindi tempo di pensare al calendario della prossima stagione seriale 2017/2018.
# #
ABC, FOX, CBS, NBC e The CW hanno messo le carte in tavola, rivelando la messa in onda di tutte le loro rispettive Serie Tv (per quanto riguarda la ABC il calendario completo lo potete trovare qui: state attenti la ABC ha fatto qualche piccolo cambiamento nel proprio palinsesto!). Con largo anticipo avete quindi tutto il tempo per organizzarvi, spostare appuntamenti ed impegni vari, per non mancare la visione delle vostre Serie Tv preferite.
Il sito TvLine ha stilato per tutti i telefilm addicted il calendario settimanale della prossima stagione seriale 2017/2018, suddividendolo per giorno della settimana, fascia oraria e per network. In rosso sono state evidenziate le nuove Serie Tv, tra le quali Young Sheldon (il nuovo show spin-off di The Big Bang Theory), The Good Doctor (con Freddie Highmore, direttamente dal Bates Motel, nel ruolo del protagonista), Alex, Inc. (con Zack Braff, ex medico del Sacro Cuore di Scrubs) e le due attesissime serie targate Marvel The Gifted ed Inhumans.
Ecco il calendario!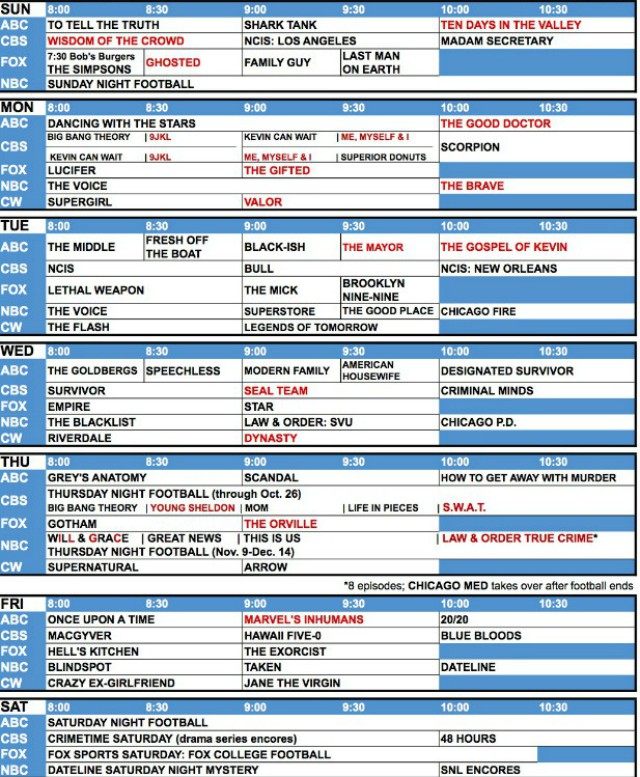 # #
Quindi avete ancora quattro mesi a disposizione per organizzarvi seriamente.
La vita sociale può aspettare, le Serie Tv no!