In Game of Thrones li abbiamo visti nei ruoli rispettivamente Peter Dinklage aka Tyrion Lannister e Charles Dance aka Tywin Lannister. Nella Serie Tv di punta della HBO recitano i ruoli di padre e figlio, ma nella realtà i due attori hanno intrapreso un progetto con Atrium Tv per diventare produttori di una Serie Tv: Quasimodo. Atrium Tv è stata fondata da Howard Stringer (ex presidente Sony) e da Jeremy Fox.
Nata nel mese di Aprile, si sta già dando da fare in una serie di progetti come Quasimodo, che vanta come produttore Frank Doelger e come produttori esecutivi  Charles Dance e Peter Dinklage. La Serie Tv Quasimodo è ambientata nella Parigi del 15° secolo. I fatti prendono spunto dal romanzo di Victor Hugo: Notre-Dame de Paris.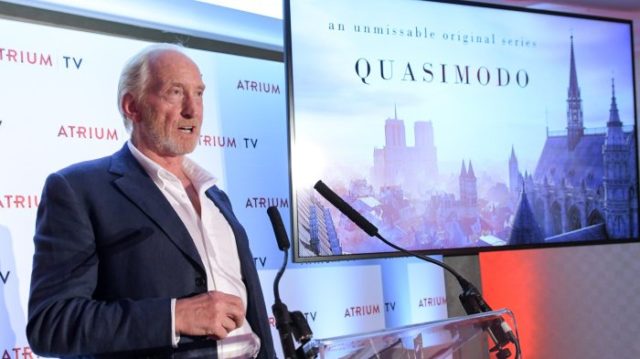 Altri progetti ambiziosi che ha in mente sono: Perfect People, prende spunto dall'omonimo libro di Peter James. Stiamo parlando di una Serie Tv thriller che basa le sue vicende sull'ingegneria genetica e le relative conseguenze. Adi Hasak sarà lo showrunner.
State Of Decay, che molti di voi conosceranno come gioco per Xbox di Microsoft. La Serie Tv si basa proprio sul videogioco e quindi sugli zombie. E' stata presentata da Stephen McPherson che ne sarà lo showrunner.
La prima stagione di Jerusalem, porta il pubblico direttamente nel 1000 aC. Racconta la storia di Re Davide, un Re che cercherà in tutti i modi di riunire un paese diviso. Questa prima stagione mandata in onda da Atrium Tv è stata scritta da Russell Rothberg.
Ai nuovi titoli si uniscono i progetti già annunciati: One Giant Leap e Fandorin. Howard Stringer, fondatore di Atrium Tv, e Charles Dance sono stati a Cannes per parlare ai membri di Atrium delle Serie Tv in produzione. Durante un'intervista Stringer si è dichiarato entusiasta su questi nuovi progetti:
A partire dal primo giorno siamo stati attenti a fornire ai nostri membri grandi storie, fornite da talenti eccezionali. Sono lieto di poter dire che abbiamo raccolto alcuni dei principali operatori TelCos e OTT in tutto il mondo e insieme a tali luminari provenienti dai mondi di scrittura e produzione: la nostra prima riunione è stata davvero quella di un club esclusivo.