# #
Alexis Bledel è tornata l'anno scorso a interpretare Rory Gilmore, personaggio che le ha dato la fama. La sua è però una brillante carriera che va ben oltre Una Mamma per Amica.
# #
L'attrice ha ottenuto recentemente una parte importante in una nuova miniserie del servizio streaming Hulu. L'attrice farà parte del cast di The Handmaid's Tale.
La nuova serie con Alexis Bledel, The Handmaid's Tale, è basata sul libro omonimo (Il racconto dell'ancella, in Italia) della scrittrice Margaret Atwood.
Il romanzo è ambientato in un futuro prossimo, nella distopica e totalitaria Gilead. A capo della società c'è un regime fondamentalista religioso che tratta le donne come proprietà statale.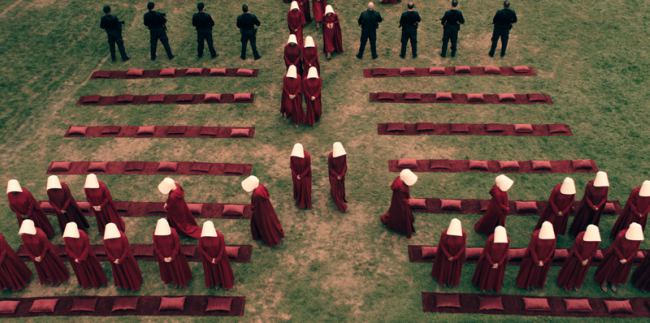 La protagonista è Offred, una delle poche donne fertili rimaste, ancella nella casa del Comandante. Per questo è costretta alla servitù sessuale nel tentativo di ripopolare un mondo devastato da guerre e inquinamento. Il suo scopo è la sopravvivenza, ma anche il ritrovamento della figlia che le hanno portato via.
# #
Alexis Bledel interpreterà Ofglen, un'altra delle ancelle. All'inizio, Ofglen sembra una pia e devota seguace del regime, ma si rivelerà essere coraggiosa e sovversiva. Introdurrà Offred all'esistenza di un movimento clandestino di resistenza al regime.
Nel cast troviamo altri attori noti. La protagonista Offred sarà interpretata da Elisabeth Moss (Mad Men). Joseph Fiennes (American Horror Story: Asylum) sarà il Comandante Fred Waterford, uno dei fondatori del regime. Yvonne Strahovski (Chuck) interpreterà la moglie Serena Joy Waterford, influente figura pubblica che sostiene i valori di Gilead. Samira Wiley (Orange is the New Black) e Madeline Brewer (Hemlock Grove) saranno rispettivamente Moira e Janine, altre ancelle. Max Minghella (The Mindy Project) interpreterà Nick, factotum del Comandante ma segretamente sovversivo. Infine, Ann Down (The Leftlovers) interpreterà Zia Lydia, insegnante e aguzzina nella scuola di addestramento per ancelle.
La serie è creata e prodotta Bruce Miller (E.R. – Medici in prima linea), mentre Reed Morano (Looking) dirigerà gli episodi. La casa di produzione MGM Television produce la serie. The Handmaid's Tale avrà dieci episodi e andrà in onda su Hulu il 26 aprile.