Jessica Day, o semplicemente Jess, è il personaggio quirky, bizzarro, per eccellenza.
Giovane insegnante delle elementari alla soglia dei 30 anni, si trova a convivere con tre coinquilini uomini, uno più strambo dell'altro.
Lei, dopotutto, non è da meno. Con i suoi occhiali da vista e la sua frangetta, elementi che la contraddistinguono, è una calamita per situazioni assurde, perché lei per prima è assolutamente fuori di testa. Ma la cosa più bella di Jess è che non ha alcun timore nell'essere completamente se stessa, non importa quanto strana e goffa possa apparire.
Considerata la sua vivace personalità, ci siamo domandati come quest'ultima potrebbe influenzare le scelte di Jess in fatto di televisione. Quali serie TV guarderebbe?
Sappiamo già che ama le commedie, e che in passato ha scritto fan fiction su Nancy Drew, la detective protagonista di una serie di romanzi gialli di cui esistono film e una serie TV, che immaginiamo Jess abbia guardato.
#1 – Glee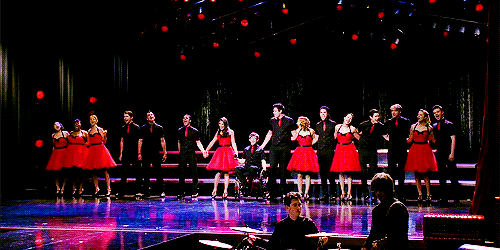 Una peculiarità di Jess è il perpetuo canto: al posto di parlare, Jess canta. Canticchia, intona interi discorsi.
Detto questo, è assodato che sarebbe una fan sfegatata di Glee, visto che i ragazzi del McKinley hanno la sua stessa abitudine di prorompere in performance musicali appena ne hanno la possibilità, esattamente come lei.
Inoltre la visione prolungata di Glee la darebbe certamente molte più motivazioni per abbandonare definitivamente la parola a favore del canto.
#2 – Parks and Recreation
Dove la trovi un'altra come Jess? In Parks and Rec, ovvio. Leslie Knope, l'ambiziosa politica che parte dal rivoluzionare la piccola cittadina di Pawnee e scala la vetta fino a Washington.
Leslie è iperattiva, creativa e dall'entusiasmo indistruttibile, proprio come Jess, che è sempre positiva, nel bene o nel male.
Anche Leslie possiede una sfilza di strambe abitudini, esordisce con affermazioni al limite dell'incredibile.
Come la protagonista di New Girl, Leslie è contornata da una varietà mai noiosa di personaggi e le situazioni che si creano sono sempre esilaranti.
Sicuramente Jess non si lascerebbe scappare una serie del genere.
#3 – My Name is Earl
Jess è una paladina della giustizia, sempre dalla parte della moralità e crede fermamente nel Karma.
Earl, un fannullone sbandato che dopo essere stato vittima di un incidente riflette su tutto ciò che di sbagliato ha fatto nella vita e stila una lista per cercare di porvi rimedio.
Poiché Jess è ligia al dovere – pensiamo solo alla serietà con cui affronta tutti i suoi incarichi e soprattutto la sua chiamata a fare parte della giuria popolare -, sappiamo benissimo con che passione seguirebbe il percorso di redenzione di Earl, e anche la delusione con cui arriverebbe al brusco finale che ha avuto la serie: è stata infatti cancellata senza una degna conclusione.
Ps. In Raising Hope, dello stesso creatore, la vicenda di Earl viene conclusa quando al TG viene annunciato il completamento della sua lista.