Mr. Robot, una delle serie tv più rivoluzionarie che siano mai state realizzate, sta per giungere alla fine con l'ultimo imperdibile atto. Elliot ne ha fatta di strada da quella prima stagione a dir proprio sconvolgente. In particolare nel nono episodio c'è uno degli incontri più belli e attesi di tutto Mr. Robot. Tyrell Wellick, dopo essere stato mollato dalla moglie e licenziato dalla Evil Corp, va da Elliot. Quest'ultimo non se la passa benissimo. A pezzi, distrutto, confuso, stravolto, vorrebbe mollare tutto. Ma Tyrell si fa raccontare tutto il piano di Elliot, di come vuole annientare una volta per tutte la Evil Corp.
Tyrell avrebbe dovuto essere la sua nemesi e invece Elliot ha trovato in lui un alleato. Due geni, due follie a confronto, che si uniscono per portare a temine lo stesso piano. L'episodio finisce nella sala giochi vecchia e abbandonata che un tempo era sede della Fsociety. Lì Tyrell acconsente a partecipare al piano, forse per vendetta, e Elliot si ricorda perché ha iniziato:
I don't know. I wanted to save the world.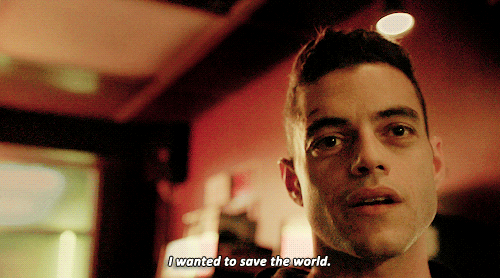 Elliot sogna da sempre di salvare il mondo. Lo aveva detto subito nel pilot di Mr. Robot:
A volte sogno di salvare il mondo. Di salvare tutti dalla mano invisibile, quella che ci marchia con un tesserino da impiegati. Quella che ci obbliga a lavorare per loro… Quella che ci controlla ogni giorno, senza che ce ne rendiamo conto […].
Con tutto quello che è successo nel corso della prima stagione di Mr. Robot Elliot aveva perso le speranze. Quell'incontro con Tyrell ha mosso qualcosa dentro di lui e così ha ritrovato la forza di portare a termine ciò che ha iniziato. Ma da che cosa deve essere salvato il mondo?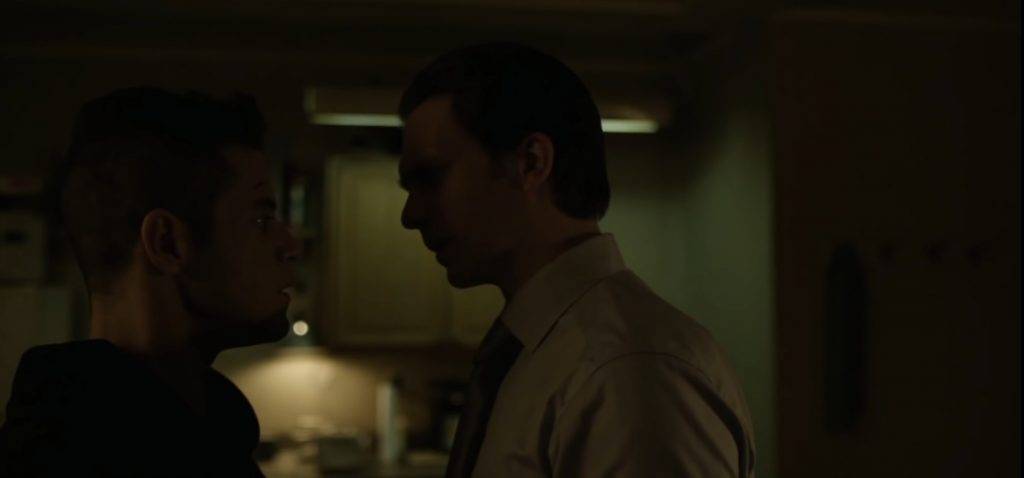 La società di Mr. Robot è dominata dal capitalismo. C'è quell'un per cento dell'un per cento della popolazione che gioca a fare Dio senza chiedere il permesso. C'è quel 90% della ricchezza mondiale in mano a una sola azienda: la Evil Corp. E la battaglia che Elliot intraprende contro questa corporazione non guarda in faccia nessuno. Gideon, l'amministratore della Allsafe, è un brav'uomo perché ha a cuore solo il benessere dei suoi dipendenti, ma lavora per l'azienda identificata come il Male assoluto. Quindi va combattuto, in una guerra senza compromessi dove anche i buoni cadranno.
È una società senza morale, senza valori, e completamente dominata dal Dio Denaro. Lo dimostra lo stesso Tyrell all'inizio di Mr. Robot. In particolare, nella terza puntata, il glaciale vice-capo informatico della Evil Corp paga un barbone per picchiarlo. Il motivo? Aveva avuto una brutta giornata al lavoro e voleva sfogarsi. I soldi possono comprare tutto e non ci sono freni per chi ne ha tonnellate da spendere.
Ecco perché per Elliot è importante abbattere il sistema del credito e distruggere il capitalismo. Così si può redistribuire il denaro e creare una società basata sull'equità e l'uguaglianza.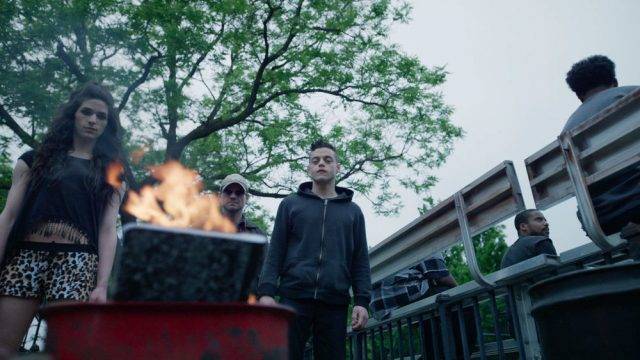 Ma non è solo il mondo che deve essere salvato. Le persone stesse hanno contribuito a rendere la società la loro prigione. Vittime del sistema capitalistico ma carnefici perché seguono il mercato. Creano un loro alter ego virtuale, immedesimandosi talmente tanto in quella figura digitale che si convincono di essere proprio così. Ma dietro quei sorrisi sui social si nasconde molto altro. Elliot odia i social network perché è proprio da lì che estrae le informazioni che vuole avere e sempre lì scopre truffatori, adulteri e criminali. I social non sono i surrogati della realtà: sono solo modi per acquisire informazioni e, di conseguenza, potere. Questo è quello che Elliot – e Mr. Robot – cerca di farci capire.
E quell'immagine virtuale, insieme alle apparenze della società dei consumi, offusca ed erode l'identità di una persona dall'interno fino a distruggerla completamente. Ormai siamo identificati con quello che mangiamo, con i nostri vestiti o con i programmi che guardiamo e non con quello che siamo sul serio.
Il vero non va più di moda o come dice Elliot: il vero coraggio è imparare a essere sinceri con se stessi.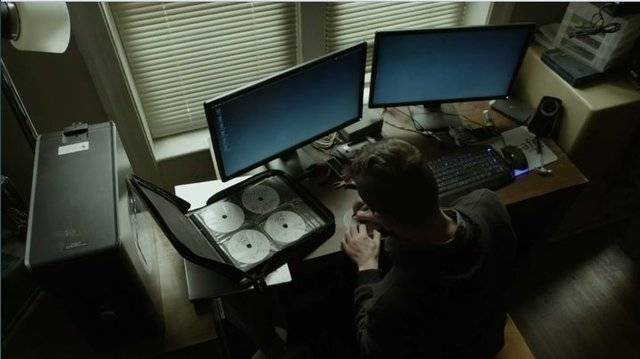 In questo mondo che sta andando alla deriva, è proprio un ragazzo sociopatico, paranoico, drogato e vittima di allucinazioni a diventare un eroe.
Però non è un eroe tradizionale. Non indossa un mantello. La sua uniforme sono una felpa e delle occhiaie profonde, che mostrano il suo dramma interiore. Elliot è un ingegnere di giorno e un hacker giustiziere di notte e queste due personalità lottano tra di loro quotidianamente. Non ha superpoteri. Grazie alle sue abilità, riesce a mettere a nudo i segreti delle persone, smascherando criminali di ogni tipo. Non cerca soldi, fama o gloria. Mette a disposizione le sue conoscenze per un bene più grande: la giustizia. È, in poche parole, il Robin Hood dei nostri tempi.
Come tutti gli eroi, Elliot è solo. I suoi compagni di vita sono un pesce, un cane e la sua morfina. Gli unici affetti umani sono Angela, la sua amica d'infanzia, Darlene, sua sorella, e Krista, la sua psicologa. Il protagonista di Mr. Robot è un genio ma ha forti problemi di socializzazione. Non si fida delle persone perché in pubblico sembrano sempre educati e gentili ma dietro quelle maschere si celano degli autentici mostri di pura malvagità. Elliot lo sa e sta distante da loro.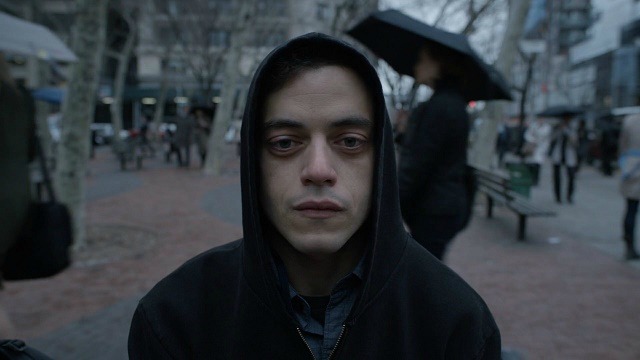 Elliot non è perfetto. Oltre ai suoi numerosi problemi, commette tanti errori, ha tanti dubbi e si mette continuamente in discussione, ponendosi domande di cui le persone hanno paura. Non abbiamo bisogno di eroi perfetti ma di persone che fanno la cosa giusta nonostante tutto, che affrontano i criminali e difendono quello in cui credono a testa alta. Il protagonista di Mr. Robot ha capito più di tutti che c'è qualcosa di profondamente sbagliato nelle persone e nella società. È un mondo in cui "la gente confida negli errori altrui per manipolarsi a vicenda e usarsi a vicenda… e anche per relazionarsi", dove la nostra vita è totalmente controllata da qualcos'altro.
Elliot è il prescelto perché non sta in silenzio, lui agisce e si carica il peso del mondo sulle spalle. Ma è profondamente ordinario. Se lui è riuscito a fare qualcosa di buono nel mondo pur essendo quello che è, non dovremmo forse prendere esempio da lui?