Tra le tante curiosità relative a Modern Family ce n'è una che ha colpito diversi fan, soprattutto i più attenti. Questi hanno infatti notato che i personaggi interpretati da Ed O'Neill nei diversi programmi e film hanno una cosa in comune: la lettura dello stesso giornale. Ciò vale anche per la comedy in questione, in cui l'attore interpreta Jay Pritchett.
Sembra quindi che Ed O'Neill stia leggendo lo stesso giornale da 30 anni, con le medesime notizie e immagini. Quale motivazione si nasconde dietro questo fatto?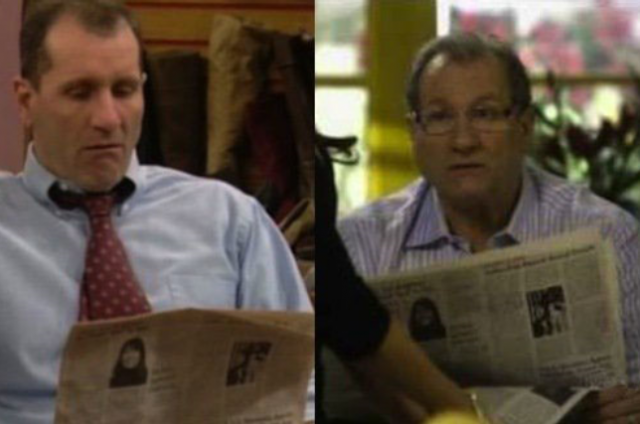 Queste immagini ritraggono O'Neill intento a leggere un quotidiano in due serie tv diverse: Married With Children e Modern Family. Come si può notare, il giornale è lo stesso.
Questa curiosità ha una sua spiegazione. Questo oggetto di scena è stato creato da una compagnia specializzata nel settore. È subito evidente come per una casa di produzione sia più conveniente utilizzare un oggetto di scena finto e simulato, piuttosto che contrattare i diritti con un quotidiano reale per utilizzarne le versioni aggiornate nel corso degli episodi. Come riportato dal magazine Looper questo giornale è stato utilizzato per diversi programmi, da Married With Children a Modern Family, da No Country For Old Men a Lucky Louie.
Da una discussione su Reddit si sottolinea inoltre quanto sia importante per un'emittente trasmettere un programma in modo lecito, senza perciò correre alcun rischio in merito a possibili denunce. Quindi, qualsiasi oggetto di scena utilizzato deve rispettare determinate regole per far sì che possa essere utilizzato legalmente e in modo sicuro sul piccolo schermo.
Per motivi legali e indubbiamente anche economici vediamo quindi Ed O'Neill leggere lo stesso giornale da circa 30 anni. Chissà, forse dopo il finale di Modern Family ritroveremo questo quotidiano anche in un altro programma.