Le emozioni trasmesse dal racconto di Ted agli spettatori durante How I Met Your Mother sono molteplici. La serie ha fatto innamorare il suo pubblico grazie alla comicità, oltre che agli argomenti trattati.
Tra tutte le stagioni e gli episodi, ce n'è uno in particolare che ha colpito gli spettatori come un fulmine a ciel sereno: la tempesta perfetta.
Nel primo episodio dell'ottava stagione il matrimonio tra Klaus e Victoria salta e gli eventi portano a un emozionante discorso tra l'uomo e Ted (che abbiamo analizzato al meglio qui) sulla differenza tra il vero amore e ciò che gli si avvicina, il tutto alla stazione di Farhampton.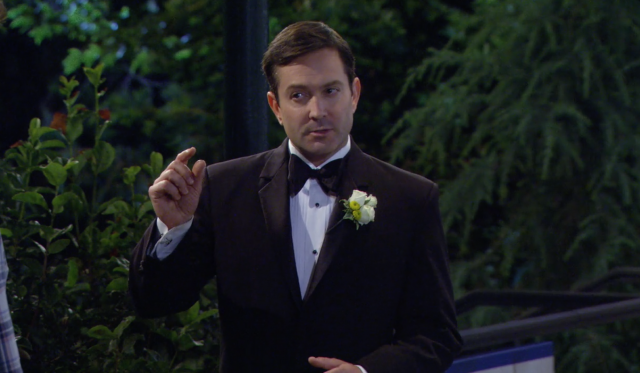 Ma non è del discorso tra i due che parleremo, bensì del flash forward al quale porta. Klaus afferma che prima o poi anche Ted incontrerà il suo Lebenslangerschicksalsschatz: il regalo del destino di tutta una vita.
Il Ted narratore ci dice che ai tempi era completamente all'oscuro del luogo e del momento in cui avrebbe incontrato il suo "regalo del destino". Il "quando" era ancora lontano, ma ironicamente il "dove"…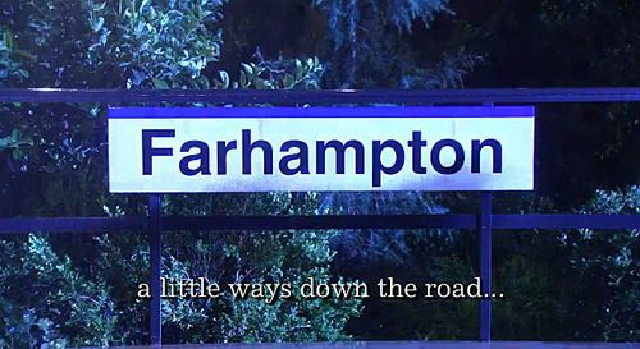 …era proprio quel luogo. In un cambio di scena rapido e sferzante passiamo a un flash forward durante una tempesta alla stazione di Farhampton. I lampi e la pioggia sono accompagnati, in sottofondo, da The Funeral della Band of Horses (e non è l'unica canzone memorabile della serie, trovate le altre qui). Una canzone che è un urlo, un grido verso quello a cui si andrà incontro nel finale, non solo per il testo, ma anche per il titolo. I brividi percorrono il corpo dello spettatore nel momento in cui si rende conto di cosa stia accadendo.
Un taxi si ferma davanti alla stazione, e una donna con una chitarra si incammina sotto un ombrello giallo verso il treno mentre Ted è seduto su una panchina. La madre è lì, a pochi passi dal futuro marito, e la scena rende tutto alla perfezione.
Ted troverà il suo Lebenslangerschicksalsschatz, ne abbiamo l'ennesima conferma. E il "come" accade è incredibile.
In poco meno di 60 secondi lo spettatore si trova travolto da un mix di emozioni completamente contrastanti rispetto a un istante prima. La canzone scelta da How I Met Your Mother scoppia di rabbia nel momento in cui parte la tempesta, le note salgono d' intensità, i fulmini accompagnano il ritmo del basso in sottofondo, e la regia è a livelli incredibili. Un primo piano sulle gambe della donna, seguito da un allargamento di campo che ne mostra il corpo, ma non il viso.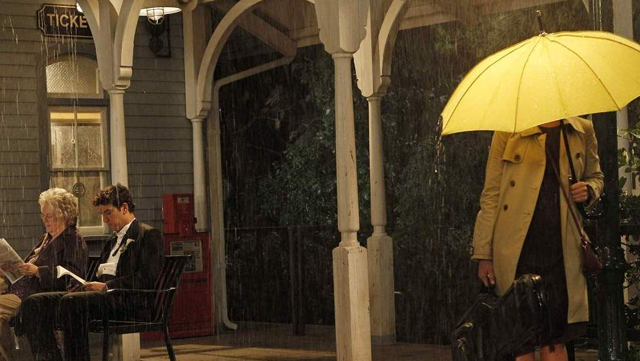 In un perfetto parallelismo, la testa di Ted china sul libro non si accorge del viso della donna che diventerà l'amore della sua vita, esattamente come lo spettatore rimane cieco rispetto al volto della ragazza a causa dell'ombrello giallo. Ma invece di sentire l'ennesima sensazione di incontro mancato, questa volta accade qualcosa di diverso. Lo spettatore realizza che è quello il momento. Che lì tutto convergerà. Le emozioni della scena si amplificano quando tutto ciò viene realizzato.
La serie fa capire che l'amore tra Ted e Tracy li farà trovare anche durante una tempesta. In un momento in cui la gente userebbe un ombrello solo per ripararsi, loro lo useranno per riconoscersi. Sotto una pioggia che molte volte rappresenta la tristezza e la depressione, i due troveranno chi illuminerà la loro vita.
La tempesta di How I Met Your Mother è uno dei momenti più profondi, emozionanti e riusciti nella storia delle serie tv. È la tempesta perfetta grazie alla cui pioggia nascerà e crescerà il loro amore. Ma questa è un'altra storia, ed è meglio sia Ted a raccontarvela.