Nel 1975 per la prima volta il mondo ascoltava Love of My Life: scritta da Freddie Mercury per Mary Austin, amica e compagna di sempre. La canzone descrive un amore che va al di là del tempo, un sentimento che lega due persone in maniera così forte, così resistente da durare per tutta una vita. Sono amori più unici che rari, quasi difficili da comprendere o quantomeno da rappresentare. I Queen hanno saputo immortalare una grande storia di amore e di amicizia per sempre nel tempo. Le parole della canzone sembrano adatte per raccontare un'altra storia. Una storia difficile, complicata, ma non per questo meno bella. Sto parlando di una delle coppie più famose delle serie tv: Ted e Robin di How I Met Your Mother.
Attraverso Love of My Life, ripercorriamo la storia di un grande amore.
Fin dall'inizio sembra un favola, come quelle a cui eravamo abituati ad ascoltare da bambini. Un uomo e una donna incrociano gli sguardi ed è amore a prima vista. How I Met Your Mother inizia proprio così, in quel pub irlandese, il MacLaren's, che diventerà un luogo simbolo all'interno dell'intera vicenda. Ted vede per la prima volta Robin, in mezzo a così tanti volti, e immediatamente qualcosa scatta. Per lui è subito amore, anche per lei qualcosa succede.
Apparentemente si potrebbe pensare che da questo momento in poi sia tutto in discesa, che l'ordine sia già stato stabilito. Ma la vita è capace di rendere reali anche le cose più assurde, più impensabili, più ironiche. Ted, un'inguaribile romantico alla ricerca della ragazza perfetta, si innamora di Robin, che non crede nell'amore a lungo termine, nella famiglia, nell'avere figli.
Love of my life, you've hurt me
You've broken my heart and now you leave me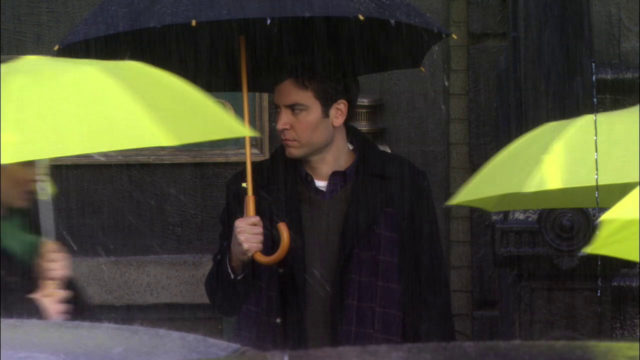 Fin dall'inizio questa storia porta con sé un esito drammatico. Come possono due persone volersi così bene, ma allo stesso tempo desiderare cose così diverse l'uno dall'altra? Non ci si può nascondere in eterno. Tra Ted e Robin è un prendi e fuggi dove il tempismo è sempre mancato. Entrambi sono continuamente così distanti, ma anche così vicini. Nonostante ciò, Ted non ha mai smesso di lottare per lei. Perché era più forte di lui, al di là di ogni ragionamento o logica, anche se ciò implica una grande sofferenza. Anche se molte volte lei se ne è andata.
Love of my life, don't leave me
You've stolen my love, you now desert me
Love of my life, can't you see?

Ci sono amori totali, completi ma non perfetti e How I Met Your Mother ce li mostra tutti. A volte hanno bisogno di un attimo, come uno sguardo veloce in un pub irlandese. A volte ci vuole di più, ci vogliono anni, ci vuole la vita.
Bring it back, bring it back
Sono legami indistruttibili, inspiegabili, imprevedibili. È un sentimento spiazzante, annichilente, da lasciare senza fiato. Una forza interiore che continua a spingerti a cercare quell'altra persona, a volerla, a raggiungerla con qualsiasi mezzo a tua disposizione. Anche se tu stai per sposarti e poi sei stato abbandonato all'altare. Oppure quando lei, bellissima nel suo abito bianco, ti aveva chiesto in lacrime di scappare insieme. Perché le avevi trovato quel ciondolo a cui tanto teneva, le avevi mostrato che c'eri sempre, che ti importava. Ma le avevi detto di no.
Don't take it away from me
Because you don't know
What it means to me
Eri disposto a illuminare tutto il vicinato solamente per renderla felice il giorno di Natale, o dare la benedizione per il matrimonio fra lei e il tuo migliore amico. E Robin ti ha donato il regalo più grande che potesse farti: la sua essenza nel momento più felice della tua vita. Dandoti la possibilità di iniziare davvero da capo, senza ripensamenti.
Può una vita essere abbastanza per un amore così? Come si può interrompere quella connessione, quell'istinto che ti spinge a scegliere proprio quella persona, quegli occhi all'interno di quel pub irlandese, dove ormai ci sono solamente volti offuscati, sbiaditi?
Può davvero essere l'amore di una vita quando si mette di mezzo il destino? Nonostante i difetti, le differenze, i dolori e le strade separate. Oppure quando nonostante tutto l'impegno che ci metti sembra di tornare punto a capo?
You will remember
When this is blown over
Everything's all by the way
Ci sono amori completi, perfetti. Fatti apposta per essere raccontati, perché alla fine forse How I Met Your Mother è proprio questo: una fiaba che deve essere narrata e ascoltata. Quando senti che non c'è nient'altro che potrebbe essere più perfetto di così. Tua moglie Tracy, che usa come te i guanti da guida, ama i combattimenti con i robot e suona il basso, proprio come piaceva a te. Ma basta questo per renderlo l'amore di una vita?
Ci sono invece amori imperfetti, spezzati, stancanti. Sono così sbagliati, che ritornano sempre, perennemente. Ed è come se fosse la prima volta. Ritornano, perché non se ne sono mai andati del tutto. Come lei, Robin, che si è tirata in disparte sapendo che la donna perfetta per te, tu l'avevi già sposata. Lei ti ha dato tutto quello che Robin non poteva ne voleva darti, la famiglia, la stabilità.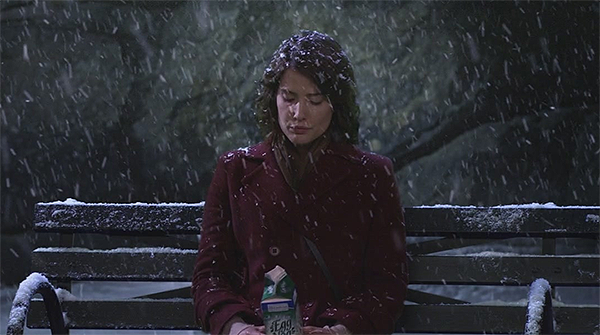 Non importa ciò che accade, a volte per curarci dai colpi che infligge la vita è necessario recuperare i pezzi rimasti e ripartire da lì. Anche se il risultato non è perfetto, anche se non è come lo abbiamo pensato.
When I grow older
I will be there at your side to remind you
How I still love you 
È un processo lungo, talmente tanto che a volte può davvero volerci una vita per completarlo. E proprio per questo, capisco il motivo per cui dopo tanti anni, ormai grande, nel finale sei tornato sotto la sua finestra con il corno blu, come quando avevi organizzato tre feste per incontrare una ragazza sconosciuta. Sei fatto così, non lo puoi evitare.
Perché hai avuto fede in un amore che è rimasto, nonostante fosse nato per caso, in quel pub irlandese. 
Oh, hurry back, hurry back
Don't take it away from me
Because you don't know what it means to me
Love of my life