Gotham è una Serie Tv a cui penso sempre con un sorriso sulle labbra, per un paio di motivi. First of all, rappresenta il mio esordio come autore su Hall of Series, essendo stata infatti la prima ad aver avuto dalla sorte il malaugurato destino di ricevere una recensione scritta di miei polpastrelli.
Anzi, una doppia recensione, visto che parlai dei 5 personaggi che te l'avrebbero fatta amare e i 5 personaggi che, al contrario, te l'avrebbero scherzosamente fatta stare in posti poco decorosi (questi ultimi, nel tempo, sono riuscito a rivalutarli).
Al di là delle autopromozioni, il vero nucleo centrale del mio amore per Gotham sarà sempre e solo lui: Batman. È da quando ho ricordi di supereroi (e ormai si viaggia per il quarto di secolo) che l'Uomo Pipistrello è in cima alla mia Hit Parade. Di più, per quanto mi riguarda è l'unico in classifica.
È più forte di me. Non riesco a rimanere ammaliato dai suoi colleghi.
Il mito del Cavaliere Oscuro affascina, intriga, trascina. Sarà per la malinconia di fondo che lo avvolge meglio del mantello, per la tragedia delle sue origini o per il suo non essere un buono nel vero senso del termine, fatto sta che Batman piace quasi a tutti.
Per diversi anni, addirittura, anche la procura di Milano si è interessata morbosamente alle avventure notturne del Cavaliere. Ma questa è un'altra storia.
Si parlava della Serie Tv, non di Batman. Bruce Wayne è il figlio prediletto, ma Gotham è la madre. Una genitrice un po' sadica, lo concedo, ma che ha trasmesso all'erede tutta la propria essenza.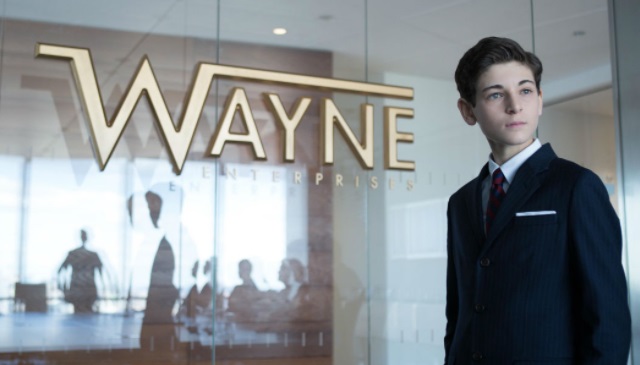 Lo ha fatto bene (a tempi alterni) sul grande schermo, ma c'è riuscita anche su quelli più piccoli? Secondo me sì, e a distanza di quasi due anni da quel debutto, ritorno ad elencare perché sarebbero delle ore ben spese.
8 MOTIVI PER AMARE GOTHAM
IL BENE E IL MALE HANNO CONFINI?
L'ho accennato nell'introduzione. Mai come in questo caso, protagonista e città sono stretti in un legame di sangue. È come se i vicoli bui, i tombini fumanti, i palazzoni grigi e il cielo plumbeo di Gotham si fossero incarnati in Batman.
Il pipistrello li ha assorbiti, interiorizzati, fatte suoi. Usa l'oscurità (morale e fisica) a suo vantaggio.
A Gotham non c'è giorno o notte, solo un'interminabile penombra dove sguazzano cattivoni dal cuore tenero e buoni che sanno perfettamente quando è il momento di scendere a patti.
Prendete il Pinguino, senza scrupoli ma legato alla madre in un rapporto che verrebbe osservato con disgusto anche da mamma canguro e dal suo piccolo. Oppure Gordon, che sarebbe la faccia pulita della GCPD e che non resiste mezza puntata senza infrangere una qualche legge. E non sempre si può applicare la storiella del fine che giustifica i mezzi…