# #
Attenzione: evitate la lettura se non volete imbattervi in spoiler sulla storyline di Tywin Lannister
Le guerre sono la costante. Non c'è vita senza guerra. Gli uomini si sono combattuti da sempre. Romani, greci, barbari, crociati, inglesi, francesi, cinesi, americani. Non è mai cambiato nulla se non lo schieramento e e motivazioni che guidano queste sanguinose danze. La storia è piena di guerre che i soldati hanno combattuto per le decisioni dei grandi, spesso senza scelta, sempre senza scampo. Banale ma mai troppo ripetitivo dire che ognuno di noi vive una guerra continua con se stesso e con gli altri e che vincere questi scontri non è cosa da tutti. Un maestro dell'arte della guerra non può che essere il pater familias di una delle casate che non solo hanno fatto la storia di Game of Thrones ma che hanno una capacità militare e di pensiero che ben pochi hanno la possibilità ed il diritto di vantare: Tywin Lannister.
# #
"And who are you, the proud Lord said,
that I must bow so low?
Only a cat of a different coat,
that's all the truth I know.

In a coat of gold or a coat of red,
a lion still has claws,
And mine are long and sharp, my Lord,
as long and sharp as yours.

And so he spoke, and so he spoke,
that Lord of Castamere,
But now the rains weep o'er his hall,
with no one there to hear.
Yes, now the rains weep o'er his hall,
and not a soul to hear."
Pochi versi bastano a testimoniare la grandezza di una casata la cui arguzia, il cui potere e la cui capacità strategica viene spesso scambiata per cattiveria ed arroganza. Pochi versi che hanno scritto con feroce solennità le sorti di coloro che si sono messi contro un Lannister, contro un Lannister con la L maiuscola come Tywin (come ci viene spiegato più approfonditamente qui). Il patriarca della famiglia rappresenta quello che un leone è veramente, rappresenta quello che l'intera famiglia dovrebbe portare avanti nei secoli. Onore, potere, decisione, ambizione. Sono questi i valori che Tywin trasuda dalla sua pelle, che si percepiscono tangibili dalle sue parole. Lui è un vero Lannister e da un vero Lannister c'è solo da imparare.
# #
Nel corso delle stagioni abbiamo imparato a conoscere Tywin e ad apprezzarlo grazie all'eccezionale interpretazione di Charles Dance che non solo ha dato un'aura di eleganza superba al personaggio, ma ha saputo tradurre in parole e immagini quello che un vero Re dovrebbe essere. Tywin è stato per molto tempo il vero padrone dei Sette Regni. Sedersi su un trono non fa di una persona il governante effettivo e questo lo sappiamo bene. Tywin era il Primo Cavaliere del Re Folle, prativamente gestiva sotto banco il regno di Robert e faceva finta di fare da Primo Cavaliere per i poveri nipoti.
Penso che una parte di lui sia ancora negli affari dei Sette Regni visto l'amore, la devozione, l'attenzione che Cersei ha sempre riposto nelle sue parole. Spesso infatti le viene detto che per quanto sia una bella Lady con i capelli dorati a parlare, quelle che escono dalla sua bocca sono le parole del suo vecchio padre, ma chissà se sarebbe fiero di tutto quello che ha fatto finora…

A Tywin l'unica cosa che interessava era la famiglia. Così lo conosciamo, mentre scuoia un animale rimboccandosi le maniche, facendo un lavoro basso e sporco per ottenere quello che è suo di diritto, e parlando al primogenito della loro famiglia: è il nome quello che resta, tutti noi non contiamo niente, l'unica cosa che possiamo fare è rendere sempre più grande la famiglia di cui si fa parte. Visse una vita per questo e forse è per questo che prese di mira Tyrion dal primo momento in cui respirò, perché gli tolse una parte di quella famiglia che amava tanto proteggere, ed è per questo che non ha mai voluto credere alle voci sui suoi due figli gemelli, pur sapendo dentro di sé come stavano le cose.
Durante le stagioni abbiamo visto Tywin educare la sua progenie secondo questo paradigma, impartendo importanti lezioni su quanto questo sia il valore che riecheggerà nell'eternità. Quando si parla di Tywin e di amore per la famiglia però non si parla di quell'amore che fa tornare un uomo a casa la sera prima per abbracciare i propri figli e leggergli la favola della buona notte. Quel tipo di amore lui lo ha avuto solo per una persona, sua moglie Joanna che, quando morì, si dice abbia portato con sé questa sua parte per sempre. L'amore per la famiglia di cui sto parlando è quell'amore che lo porta spesso a compiere atti che non vanno bene né ai suoi figli né a volte a lui stesso e che probabilmente l'ha portato anche alla sua morte (una fra le più tragiche della storia).
Atti che contribuiscono sempre e comunque al suo disegno strategico per muovere la pedina dei leoni nel gioco del trono. Un esempio lo si ha quando i Tyrell arrivano a palazzo e si insinuano con le loro risorse sempre di più negli affari del Regno. Tyrion e Cersei vengono convocati dal padre per delle comunicazioni importanti. La prima è che Tyrion dovrà sposare Sansa, non ritenuta più abbastanza importante da darla in sposa a Joffrey né così inutile da ucciderla. Cersei ne è compiaciuta ma ben presto riceve la notizia che anche lei dovrà risposarsi con il giovane Loras Tyrell.
In un primo momento l'orgoglio, tipico del suo carattere e di quello della sua famiglia, la spinge a opporsi ma anche lei davanti a Tywin non è altro che una docile fanciulla con sogni troppo grandi per una donna e quando lo implora di non farle fare una cosa del genere un'altra volta, il padre risponde con una negazione solenne e definitiva.
Avrebbe potuto risparmiare un ulteriore matrimonio alla sua unica figlia femmina? Ovviamente no, perchè la posizione dei Lannister andava difesa e preservata. Tywin quindi doveva giocare le sue carte per far sì che venisse mantenuto un equilibrio che alla lunga gli avrebbe fatto guadagnare dei punti importanti. Un altro esempio si ha quando nomina Tyrion Primo Cavaliere in sua assenza. Per Tywin, Tyrion è solo un mostro che gli ha portato via l'amore della sua vita ma sa anche che è l'unico Lannister che potrà portare avanti il nome della famiglia e quindi è costretto a scendere a patti con se stesso e condividere con lui quella che effettivamente è la gestione del Regno.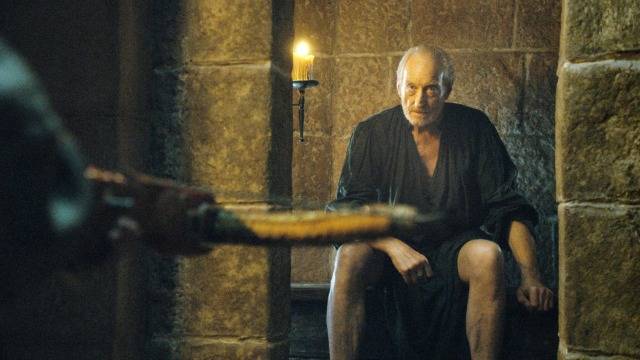 Si può considerare Tywin un vero e proprio maestro delle armi. La guerra non si combatte solo in campo, soprattutto quando si parla di Game of Thrones. La guerra si combatte a tavolino, la guerra si combatte ogni giorno nella propria testa e Tywin ha sempre un modo per vincere le sue. Prima di tutto una delle sue più grandi doti è la pazienza. Tywin ci insegna a non avere mai fretta di attaccare ma a decidere le proprie mosse attentamente, facendo un passo alla volta per poi arrivare a un sorprendente fine ultimo. Basta pensare alle Nozze Rosse che sebbene siano stati uno dei momenti più tragici della Serie, erano state in qualche modo premeditate da Tywin molto tempo prima.
Un'altra sua capacità straordinaria che gli permette di gestire i conflitti in maniera sempre vincente è sempre una cosa che non ha a che fare né con spade né con lance. Tywin ha un potere enorme e non deriva solo dai soldi. La sua capacità di decidere e di avere sempre l'ultima parola deriva dal fatto che tutti lo rispettano, tutti rispettano ciò che dice e ciò che fa. Lui si è conquistato il rispetto, lui si è conquistato il potere tenendo sempre alto il nome di cui va tanto fiero.
Analizzando i dialoghi e le azioni di Tywin risulta evidente come anche il suo naturale atteggiamento sia quello tipico di un leader: sa attirare l'attenzione su di se quando vuole, sa gestire la conversazione fino a farla finire nel esatto punto in cui vuole farla terminare, sa gestire i tempi e soprattutto i silenzi. Tutte queste doti fanno sì che grandi oratori come Tyrion ammutoliscano davanti all'imponenza del padre.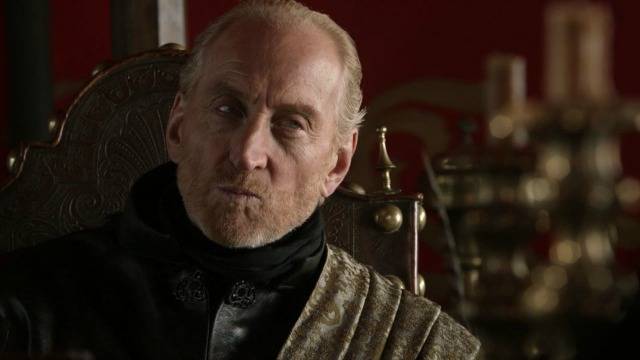 Da quando Tywin se ne è andato, le cose sono ben diverse. Al trono abbiamo una figlia che ha sempre aspirato all'approvazione del padre, che ha sempre voluto essere il suo erede e che se lo fosse stato avrebbe fatto di tutto per onorare ogni parola uscita dalla sua bocca a differenza dei suoi due fratelli, uno troppo ingenuo, l'altro considerato troppo indegno. I Lannister hanno perso il pezzo da 90 che ha giocato a fare il Re con la faccia di chi gli stava intorno.
Tuttavia almeno un erede è rimasto. Si dice che, sebbene Cersei e Jamie siano dei Lannister, solo Tyrion è il vero figlio di Tywin. Frase molto ambigua tenendo conto delle tante teorie che si celano dietro i libri e lo show, ma allo stesso tempo molto importante per lo svolgimento attuale della storia.
Per quanto i gemelli abbiano ricevuto volutamente tutti gli insegnamenti del padre, quello che li ha imparati di più è proprio il figlio storpio, il figlio che non sarebbe mai dovuto nascere, il figlio che sarebbe dovuto morire se non avesse ucciso prima lui il padre. Tyrion non avrà l'altezza, l'aspetto, l'eleganza, l'esperienza di Tywin ma di certo sa ragionare come lui. Conosce i suoi nemici e sa quali sono i loro punti deboli proprio come il padre, ed è l'unico leone che si sa distinguere davvero dal branco di pecore.
Un grande stratega, un uomo che sapeva prendersi quello che voleva, un padre da cui prendere esempio, un personaggio conscio delle esigenze degli altri, dei loro punti di forza, dei punti di debolezza, dei cavilli a cui aggrapparsi per distruggerli completamente, un giocatore che aveva grandi carte e che anche nelle difficoltà le ha sapute giocare con intelligenza, ambizione e concentrazione. Game of Thrones non sarà mai lo stesso senza un personaggio come Tywin che ad oggi avrebbe avuto un ruolo cruciale e avrebbe saputo ribaltare le sorti di tutte le casate se non anche degli estranei. Lo ricordiamo quindi con questo articolo che non basta a descriverne la grandezza, il cuore, l'intelligenza di un leone che dietro di sé non ha lasciato debiti.