La storia di Tyrion Lannister è un esempio di riscatto sociale, ed individuale, dal sapore vittorioso. Sin dalla sua nascita, il più giovane della casata Lannister ha combattuto la sua diversità in un mondo in cui il potere opprime i più deboli, emarginandoli.
Un peso che porterà con sé per tutta la vita e che imparerà ad abbracciare man mano che andrà avanti con il suo cammino, senza permettere alla sua bruttezza di fermarlo. È stato deriso ed emarginato da tutti, accettato dal padre solo in nome della casata di famiglia.
Un destino beffardo lo ha portato ad essere odiato dalla sorella Cersei, che lo incolpa della morte prematura della madre, sviluppando un carattere rancoroso che più avanti la porterà ad additarlo come assassino del figlio Joffrey, senza batter ciglio.
Al contrario del fratello Jaime, che lo ha sempre protetto e rispettato. Questa avversa vita familiare lo porterà ad affogare il suo male interiore nel vino e nelle donne, seguendo una vita completamente opposta a quella di un povero martire emarginato.
A palazzo stringe amicizia con il mercenario Bronn, che lo salverà dal processo ingiusto a Nido d'Aquila, e l'eunuco Varys.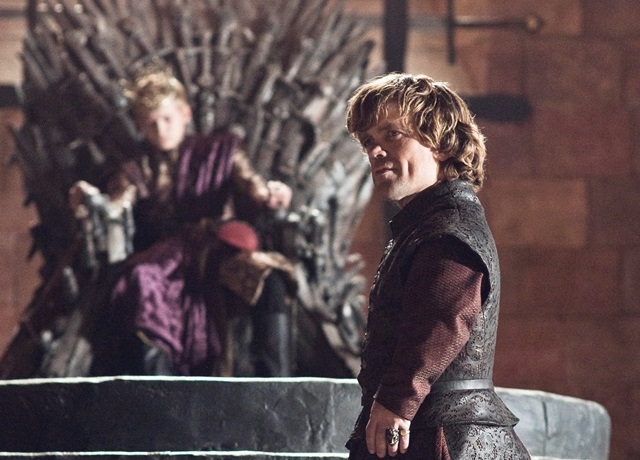 "La mia mente è la mia arma.
Come arma, mio fratello ha la spada e re Robert la mazza da combattimento.
Io ho la mente, e per continuare ad essere un'arma valida, la mente ha bisogno dei libri quanto una spada ha bisogno della pietra per affilarla.
Per questo, Jon Snow, io leggo così tanto."
Ne La Battaglia delle Acque Nere quando le forze di Stannis attaccano Approdo del Re, Tyrion ha la brillante idea di chiudere le navi nella baia e farne avanzare soltanto una dei Lannister da far esplodere con l'altofuoco. Quando il comandante delle truppe si ritira, il re si rinchiude nelle mure interne del castello e la guardia reale è in confusione. L'unico che riesce a prendere in mano la situazione è proprio il piccolo folletto, colui che nessuno avrebbe mai seguito. Facendo  passare l'esercito nelle gallerie segrete, riesce ad arrivare alle spalle delle truppe di Stannis sorprendendolo.
Purtroppo però ci rimette il naso. Al suo risveglio nessuno ringraziamento lo attende per aver salvato Approdo del Re, anzi da qui innanzi il suo cammino subirà una brusca discesa. Verrà declassato dal re-nipote Joffrey a Maestro del Conio, costretto a un matrimonio forzato e mai consumato, fino ad arrivare all'accusa dell'assassinio del re matto.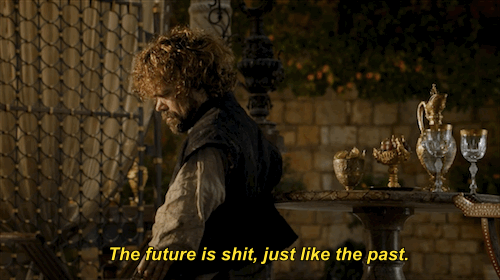 Nell'episodio del processo (The Laws of Gods and Men) dà prova della sua gigantesca forza sprigionando epicità da tutti i pori: il tradimento di Shae, la prostituta con cui spesso condivideva le sue notti, lo porta a rompere tutte le catene sociali che lo legavano ad Approdo del Re e segna una svolta radicale alla sua storia, cambiando per sempre le carte in tavola.
La sua colpevolezza di essere un nano lo porta ad essere visto come un mostro ammazza re, ma sopratutto lo porta a sperare di poter esserlo. La sua intelligenza e la sua consapevolezza di valere molto più di quello che gli altri vedono superficialmente in lui, lo hanno portato ad un destino molto più luminoso di quanto egli stesso avrebbe mai immaginato.
Dopo aver accettato che Oberyn Martell gli facesse da campione contro Gregor Clegane per il processo a singolar tenzone e aver assistito alla sua morte, il folletto si rassegna all'inesorabile scesa della scure sulla sua testa.
Ma Jaime, aiutato da Varys, lo libera e lo lascia scappare, non sapendo però che si servirà di quest'opportunità per prima chiudere dei conti in sospeso. Userà la crudeltà necessaria per uccidere la prostituta, che ai suoi occhi non è mai stata, ed il padre, diventando così un Lannister come i suoi fratelli.
Una prova di incredibile capacità di scindere Bene e Male e scegliere quale usare all'occorrenza: forse è questo il lato oscuro del Folletto, una padronanza di se e del proprio intelletto tale da poter scegliere il Male senza esserne scalfito. 
Eppure nei libri l'anima oscura di Tyrion esce allo scoperto.
Si trasforma da mera cattiveria ad impetuosa furia omicida
La sera  della sua fuga il folletto ricopre di insulti suo fratello, colui che l'ha liberato e che improvvisamente gli rivela un segreto scottante.
La donna che lo aveva amato anni prima, la contadina Tysha, non era in realtà una prostituta come il padre gli aveva raccontato, ma Jaime aveva taciuto. Aveva portato via quel sentimento sincero che il nano aveva provato forse per la prima e unica volta nella sua vita.
Quel sentimento ormai spazzato via dalla genesi di tutti i suoi mali: Lord Tiwyn Lannister. Sullo schermo non vedremo mai questo prosciugamento di umanità in Tyrion, quest'anima nera svelata da una stretta di mano fraterna.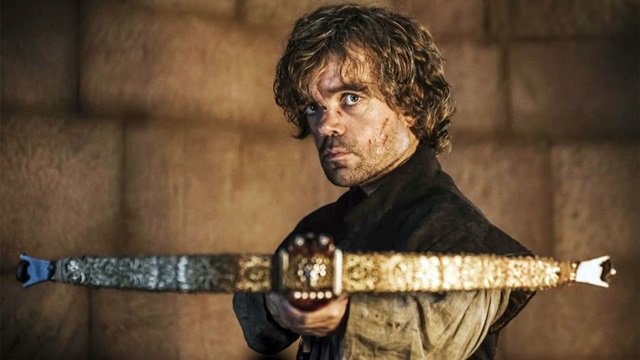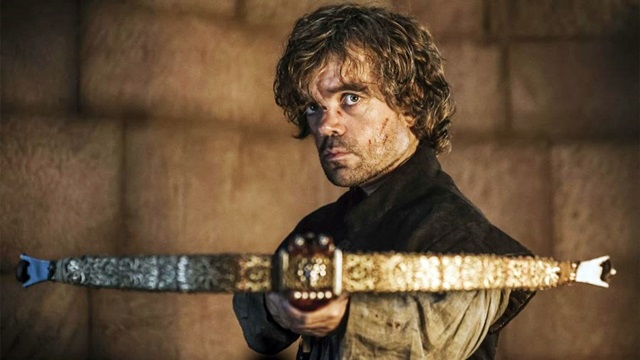 Fuggirà dalla città che non lo ha mai amato in compagnia dell'eunuco Varys fino ad approdare alla corte della regina Daenerys Targaryen. Affascinato dal coraggio di quest'ultima e dalla sua determinazione di conquistare il trono di spade, decide di dedicarsi alla sua causa e di consigliare una khaleesi in ascesa.
Dopo una vita passata nell'ombra, dove l'unico modo di costruirsi una via d'uscita era leggere per affinare la sua intelligenza, Tyrion trova finalmente il giusto posto che gli spetta. Esser nominato consigliere e successivamente Primo Cavaliere della Regina è l'apice del suo percorso, un giusto premio per tutte le peripezie affrontate in precedenza.
Ma non finisce qui. Una teoria che circola tra i fan della saga vedrebbe non due Targaryen ricongiungersi, bensì tre e si pensa che l'ultimo sia proprio il piccolo Lannister. Non sarebbe una brutta scena vedere sul trono di spade ergersi tre dei personaggi più emarginati e più denigrati dare uno scacco matto a tutti coloro che li volevano morti già dalla prima stagione.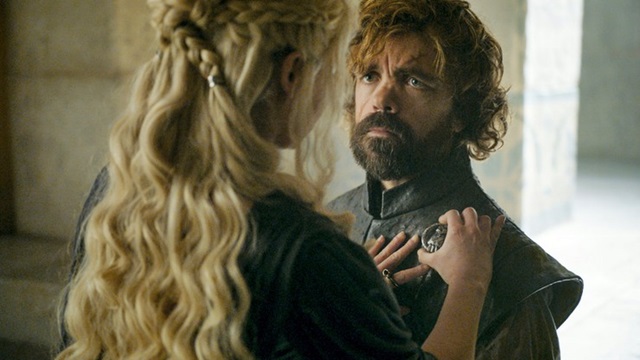 Il cammino di Tyrion Lannister si erge in equilibrio tra il bene e il male, non toccando mai totalmente uno di essi ma servendosi di quello che richiede la situazione. Nonostante ciò, egli non perde la sua umanità, il senno e non cede alla crudeltà liberatoria, come sua sorella Cersei, ed è forse questo l'aspetto che lo rende uno dei personaggi più amati dagli spettatori.
Non solo per le grandi doti recitative di Peter Dinklage, ma per la sublime caratterizzazione del personaggio e per l'evoluzione del suo lato "migliore": la sua acuta intelligenza.
Frutto di un costante lavoro, questa sua qualità riesce a distoglierlo dal suo fardello e a non lasciarsi illudere facilmente, oltre che a salvarlo molteplici volte. Tyrion sa in cosa risiede il potere, ma sa anche che non potrebbe mai rivestirsi di una tale carica che nessuno gli riconoscerebbe mai legittimamente.
Una personale consapevolezza di se stesso che speriamo un giorno cambi, affinché possa finalmente riprendersi per diritto tutto ciò che gli è stato precluso per il suo essere diverso dagli altri.