Manca meno di un mese alla resa dei conti, ancora poche settimane e sarà l'inizio della fine. Stiamo parlando ovviamente dell'ultima e attesissima stagione di Game of Thrones e di ciò che ci aspetta. Le certezze sono poche. La serie tv nata dalla mente di George R. R. Martin ci ha abituati a continui colpi di scena. Morti improvvise, tradimenti inaspettati e amori fulminei ci hanno accompagnati lungo le sette stagioni di Game of Thrones e per l'ultima non sappiamo più cosa aspettarci. Sicuramente sarà epica, sarà la chiusura di un cerchio immenso e bellissimo. Cosa succederà davvero? Ci sono mille teorie e speculazioni, ma nessuno sa la verità. Alcuni si basano sui trailer per scovare dettagli ed è proprio di questi che vogliamo parlarvi: di quei pochi minuti che sono incredibilmente efficaci.
Oggi parleremo dei trailer di Game of Thrones e della loro efficacia
Quanti sono rimasti di ghiaccio (no, non è un modo di dire a caso) per il trailer di Game of Thrones che vedeva protagonista la famiglia Stark e le loro statue funerarie (qui parliamo di un FOLLE teoria che li lega agli Estranei)? Dopo l'uscita di quella manciata di secondi tutto il pubblico è andato fuori di testa. Una psicosi incontrollabile e incontrollata, teorie su teorie. "La statua di Jon lo raffigura più vecchio rispetto al presente, quelle di Arya e Sansa invece sembrano attuali", "La piuma che cade e il pavimento che si gela: che Bran sia il Re della Notte?" e ancora, "Perché manca proprio Bran anche se pure lui è uno Stark?". Solo alcune delle decine di domande che hanno alimentato l'hype e l'agitazione dei fan di Game of Thrones. E questo perché? Perché sono incredibilmente bravi a creare i trailer.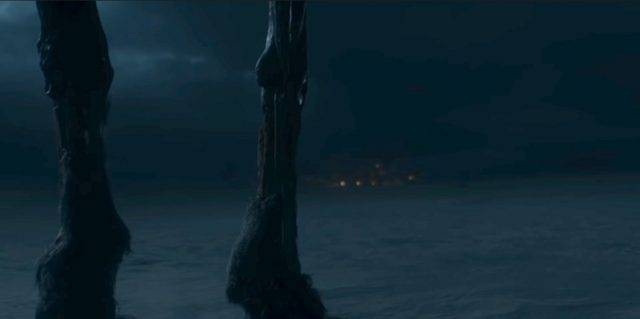 Già dalle prime stagioni questi erano incredibilmente efficaci, ma basta concentrarsi sugli ultimi usciti per capire che chi realizza questi brevi filmati sa il fatto suo. Gli autori si comportano come i protagonisti di una delle più famose fiabe dei fratelli Grimm: Hansel e Gretel. Sembra assurdo citare una favoletta per bambini ma è proprio questo quello che fanno: lasciano briciole di Game of Thrones. Sta a noi ritrovare la strada. Noi che siamo come le cornacchie che fanno perdere i due bambini, noi che mangiamo quei pezzi di pane lasciati da loro. A perdersi nel bosco delle congetture però non sono gli autori/Hansel e Gretel, ma noi poveri uccellacci.
Noi che per aver assaggiato così poco abbiamo comunque un'indigestione a causa della perfezione del trailer/briciola.
Osserviamo attentamente l'ultima mini-produzione uscita pochi giorni fa. Questa ci immerge subito nell'universo Game of Thrones. Ci inquieta con Arya, ci galvanizza con Jon e Daenerys che salgono sui draghi, ci fa vedere qualche flash della battaglia. La genialità sta proprio qui, nel farci vedere e non vedere al tempo stesso, nel fissare le regole in contraddizione. In un famoso monologo del film L'avvocato del diavolo, Al Pacino ci descrive le norme che Dio ci impone: "Guarda, ma non toccare. Tocca, ma non gustare. Gusta, ma non inghiottire. E mentre tu saltelli da un piede all'altro lui che cosa fa? Se ne sta li a sbellicarsi dalle matte risate". E così fanno gli autori dei trailer di Game of Thrones, se la ridono per tutte le teorie formulate e sotto sotto ci prendono anche in giro.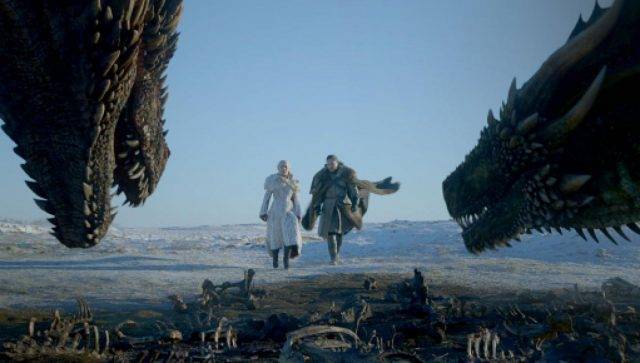 Forse vi stiamo confondendo, forse siamo confusi anche noi. Le serie tv sono il nostro pane (sempre per rimanere in tema) quotidiano, abbiamo venduto l'anima al diavolo per il binge watching. La verità però è che quello che ci fa provare Game of Thrones, anche se criticata, odiata da alcuni, banalizzata da altri, è inspiegabile. Non resta che aspettare l'inizio della fine, o magari chissà, un nuovo trailer, nuove emozioni, nuove briciole da guardare, toccare, gustare e non inghiottire. E noi, ancora una volta come le cornacchie, torneremo a mangiare e a viaggiare con la fantasia.
Grazie davvero Game of Thrones.