Questo pezzo contiene spoiler sull'ottava stagione di Game of Thrones
Sandor Clegane, in arte il Mastino, è un uomo sarcastico, burbero, brutale. Bullizzato fin da piccolo da suo fratello, il suo odio per Gregor è cresciuto così tanto che si è esteso anche al mondo e a tutti i suoi abitanti. È imponente, fa paura, anche nell'aspetto. Non ha mai voluto essere chiamato cavaliere, eppure lo è stato molto di più di chi si vantava di quel titolo.
Non è altro che un uomo che voleva essere buono ma che ha realizzato che nel mondo di Game of Thrones non c'è posto per i buoni. Per quelle due/tre persone che ama farebbe veramente di tutto. Lo dimostra nel suo rapporto con le sorelle Stark. Le ha sempre protette, non perché doveva, ma perché voleva.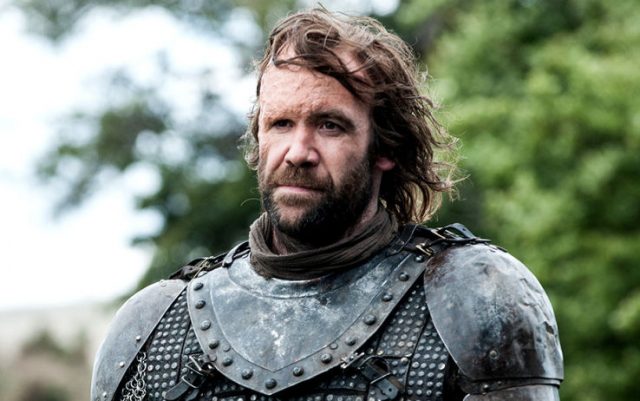 Il Mastino ha visto in prima fila il tormento a cui Sansa Stark è stata sottoposta. Vedere quella ragazzina venire tormentata ha risvegliato in lui un sentimento di protezione e ha cercato sempre di aiutarla. La blocca quando tenta di spingere Joffrey giù dal ponte dopo aver visto la testa mozzata di Ned. Le pulisce il sangue dal viso, lasciandole il suo fazzoletto. Un gesto semplice ma potente.
Nella seconda stagione di Game of Thrones, Joffrey sta picchiando, umiliando e spogliando Sansa per le colpe di suo fratello. Tyrion ferma questo tormento e ordina di coprire la povera ragazza. Sandor si leva il mantello e lo adagia dolcemente sulle spalle di Sansa.
Durante la ribellione della folla a King's Landing, stava per essere brutalmente stuprata quando Sandor arrivò. Sapeva che Sansa mancava senza che nessuno glielo dicesse. Nonostante veda quest'uomo sfregiato sventrare degli uomini di fronte a lei, afferra la sua mano perché sa che lui non le farebbe mai del male.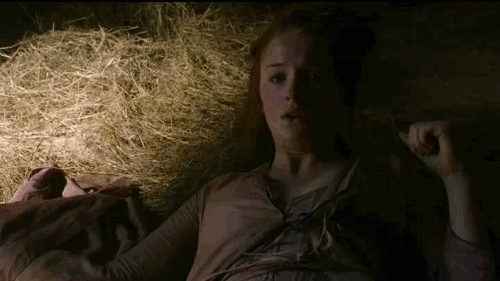 Sansa non è ancora pronta a vedere il Mastino come il suo eroe ma è una delle poche persone che riesce a capire chi sia veramente quest'uomo volgare dal volto danneggiato e a guadagnarsi il suo affetto.
Non è un caso che, in Blackwater, prima di scappare dalla battaglia torni da lei. Prova a convincerla a venire via con lui ma Sansa pensa di essere al sicuro nella capitale. Prima di andarsene le dà un'ultima importante lezione:
"Look at me! […] The world is built by killers… so you better get used to looking at them."
Sandor cerca più volte di dire qualcosa a Sansa ma non è bravo con le parole come altri personaggi di Game of Thrones. È duro ma lo fa per il suo bene. Sansa era idealista e innocente. L'avrebbero mangiata viva, così cercò di darle una dose di realtà ogni volta che poteva. La chiama Little Bird per farle capire che è solo un uccellino indifeso, impotente, chiuso in una gabbia, addestrata a cantare le canzoni che le sono state insegnate.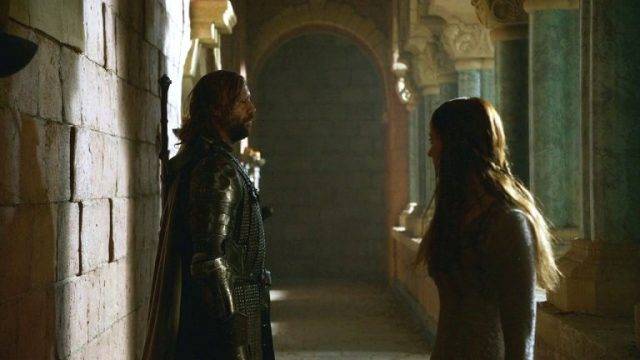 Ora non è più quel Little Bird che aveva conosciuto. Non è più la donzella in pericolo che aspetta che un cavaliere la salvi. È una leader astuta e saggia.
I due si rincontrano dopo la vittoria contro gli Estranei. Adesso Sansa non solo riesce a guardare il Mastino negli occhi ma pone anche la sua mano su quella dell'uomo.
None of it would have happened if you'd left King's Landing with me. No Littlefinger, no Ramsay, none of it.
Il Mastino rimpiange di non averla trascinata via con la forza da King's Landing. Sansa però è consapevole che senza tutto quello che le è successo sarebbe rimasta un piccolo uccellino per sempre. Ha interiorizzato ogni lezione appresa lungo il suo percorso, compresa quella del Mastino, che le ha fatto capire che esistono persone buone che assomigliano a Sandor e persone malvagie avvolte in bei pacchetti, come Ditocorto.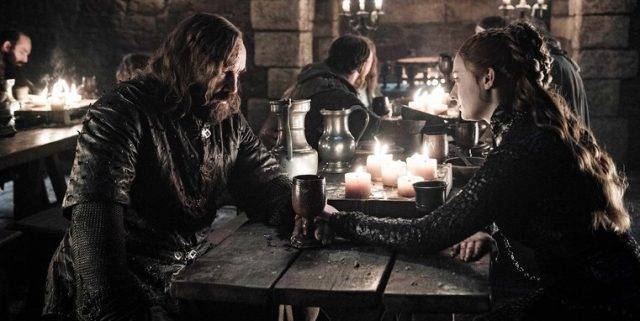 Il rapporto con Arya è un po' più complicato. La piccola Stark odiava profondamente il Mastino per aver ucciso il suo amico Mycah. Faceva parte della sua lista e provò anche a ucciderlo nel sonno, inutilmente. Nonostante questo, non c'è una vera e propria tensione omicida tra i due. Le frecciatine non mancano, rendendo i due un leggendario duo di Game of Thrones.
Il Mastino tenta più volte di portare Arya dai suoi familiari in cambio di denaro. Quando arriva dai Frey per consegnarla a Robb sono in corso le Nozze Rosse. Sandor sapeva quello che stava succedendo. È passato dal percorso invaso dal fuoco pur di non far vedere ad Arya il corpo del fratello e la testa mozzata del suo metalupo. Lei lo abbraccia perché, nonostante l'odio, le ha salvato la vita. È la sua unica fonte di conforto, il suo protettore.
Nella quarta stagione di Game of Thrones continua il loro iconico viaggio. Durante questo percorso il Mastino le insegna, a suo modo, come sopravvivere in questo mondo. Da ostaggio la piccola Stark diventa un'allieva e quasi una figlia per lui. Al suo fianco lei ha imparato ad agire al momento giusto e a cogliere i vantaggi che le si presentano. Mette in pratica quello che ha imparato quando il Mastino viene sconfitto da Brienne. Sandor vuole che Arya lo uccida e le ricorda tutte le cose orribili che ha fatto. Ma lei non le aveva dimenticate. Lo deruba e lo lascia lì, ferito e impotente, abbandonandolo al suo destino.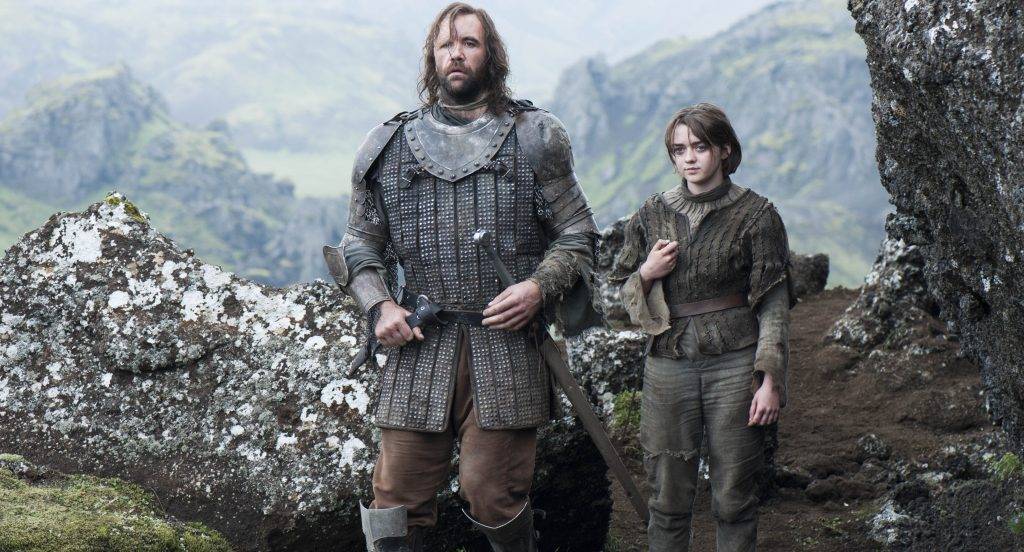 I due si rincontrano a Winterfell nell'ottava stagione di Game of Thrones. Inizialmente lui sembra arrabbiato con Arya ma poi, nel corso della battaglia con gli Estranei, vederla in pericolo gli fa dimenticare la sua paura del fuoco. In quel momento ha in mente solo una cosa: proteggere Arya. Si rispettano molto, morirebbero per proteggersi a vicenda e trovano piacere nella compagnia dell'altro. Ecco perché Arya decide di fare il viaggio per King's Landing con lui.
In una Fortezza Rossa ormai pericolante, il Mastino capisce che ormai per lui non ci sono più speranze. Ma non vuole che questo sia il destino di Arya. Di fronte alla sua morte imminente, spinge la ragazza ad abbracciare la vita. Non vuole che Arya percorra il suo stesso cammino, che la vendetta e l'odio la consumino perché può finire solo in un modo. Cinge dolcemente la testa di Arya come se fosse suo padre, risvegliando la sua umanità, piangendo per la perdita della propria, e la convince a non gettare via la sua vita perché Cersei sarebbe morta comunque.
"Doesn't matter, she's dead. Look at me! You want to be like me?"

"You come with me, you die here."
Quel "look at me" che per Sansa non aveva funzionato ha effetti su Arya. Per la prima volta lo chiama per nome e lo ringrazia. Grazie al Mastino chiude i conti con il dio della morte, scegliendo la vita.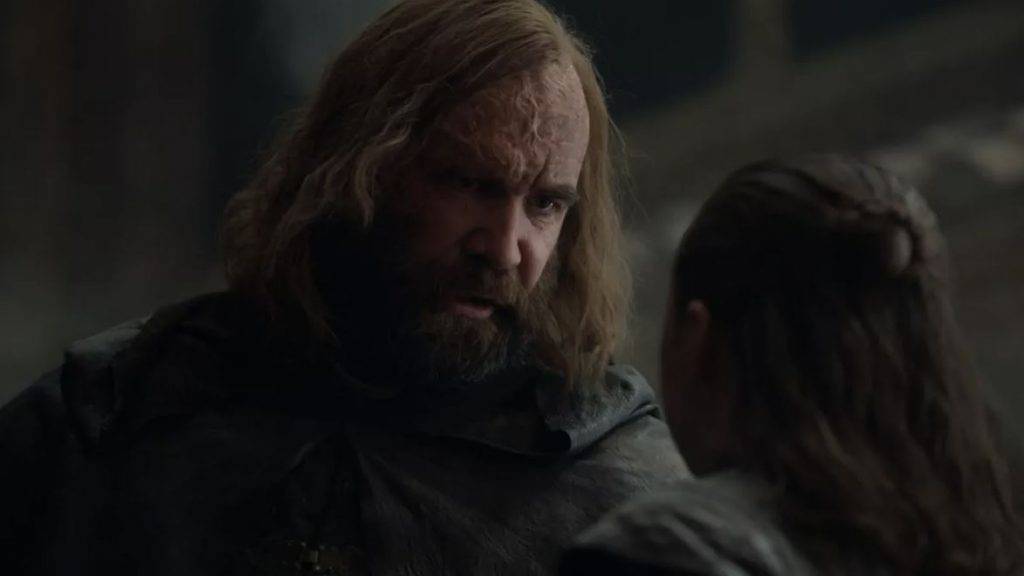 Il Mastino perde la sua vita nello scontro epico con la Montagna. Il fuoco li ha divisi e il fuoco li ha riuniti. Riposa in pace Sandor Clagane, protettore degli Stark, uno dei pochi degni di essere chiamato cavaliere e uno dei migliori personaggi di Game of Thrones!