"La mia pelle è diventata porcellana, avorio, acciaio."
Con questa breve frase si potrebbe riassumere la storia di chi l'ha pronunciata. A far uscire queste parole dalla sua bocca è una ragazza dai capelli ramati, gli occhi azzurri e gli zigomi alti. È bellissima, dietro questa bellezza porta con sé sofferenze, drammi e violenze che l'hanno fatta crescere. Parliamo di Sansa Stark e soprattutto della sua incredibile storia in Game of Thrones. La storia di chi si è rialzata una volta in più di quante sia caduta. Le vicende che hanno portato alla trasformazione della ragazza da Principessa allo sbando a vera Regina. Gli episodi che l'hanno trasformata, cambiata e fatta crescere. Le peripezie che hanno permesso alla ragazza di diventare quello che è oggi nell'universo di Game of Thrones, e quello che sarà a partire dal 14 aprile, quando inizierà la fine di tutto.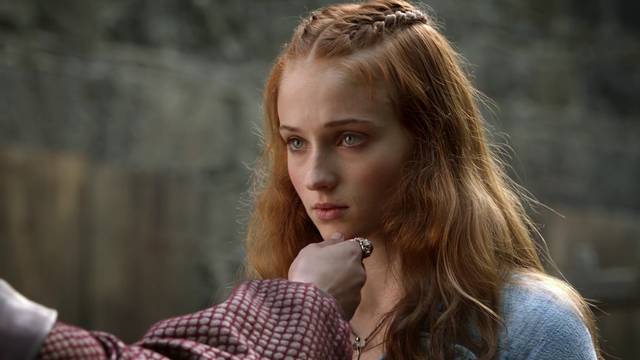 La prima Sansa, Principessa fatta di porcellana nel mondo infernale di Game of Thrones.
Le prime immagini di Game of Thrones in cui appare Sansa la dipingono come una nobile ragazzina, a volte viziata, che impara dalle tate di Grande Inverno (qui parliamo di una FOLLE teoria che lega gli Stark agli Estranei) l'arte del cucito e delle buone maniere. La ragazza sogna quello che sognano tutte le principesse: sposare un principe, vivere in amore i giorni insieme e diventare Re e Regina. Individua subito Joffrey come candidato perfetto. Biondo, accattivante e coraggioso. Presto però si renderà conto che il vero volto del figlio di Cersei è un altro. Le illusioni della giovane Stark inizieranno a incrinarsi con l'uccisione forzata di Lady, il suo metalupo, e crolleranno totalmente nel momento in cui sarà giustiziato suo padre. La ragazza è ancora troppo fragile e immatura in quel mondo di squali che è Game of Thrones.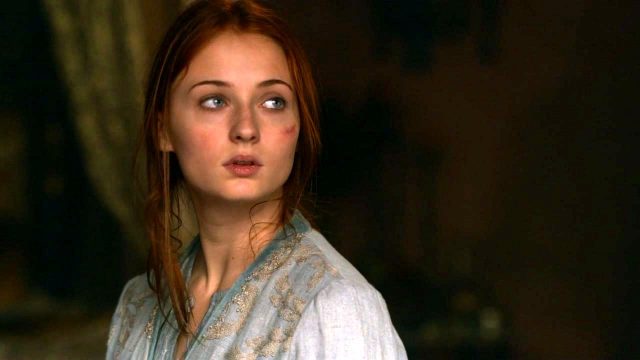 Dopo la morte di Ned, Sansa inizia a capire che per sopravvivere in un ambiente del genere deve iniziare ad adattarsi e ad apprendere dai migliori. La ragazza dai capelli ramati deve imparare a dire il falso, a manipolare, a saper sopportare e ad avere una volontà forte. E dove assimilare tutto questo se non ad Approdo del Re? Cersei, Varys, Lord Baelish e Olenna Tyrell sono solo alcuni insegnanti che Sansa ha spiato e osservato per carpirne i segreti e le caratteristiche. Per crescere e fortificarsi. In modo da abbandonare quella brutta e fragile pelle di porcellana.
Per iniziare a mutare, a diventare luminosa e resistente, come l'avorio.
Sansa capisce che per sopravvivere deve ingoiare bocconi amari. Uno di questi è il matrimonio con Tyrion. La giovane ragazza che sognava il principe azzurro non esiste più, Sansa sa che per non fare la fine di suo padre deve resistere. Il matrimonio col nano si dimostrerà un altro momento di crescita per lei. Sansa conoscerà il vero aspetto di Tyrion, capendo che lui è forse l'unico Lannister buono. Da tutta la vicenda Sansa imparerà a non giudicare dalle apparenze. Imparerà anche che la ruota gira, soprattutto vedendo morire avvelenato Joffrey. Sansa fugge con Ditocorto e per lei inizia una nuova fase. Un nuovo cambiamento di stato. L'avorio inizia a indurirsi e a cambiare colore.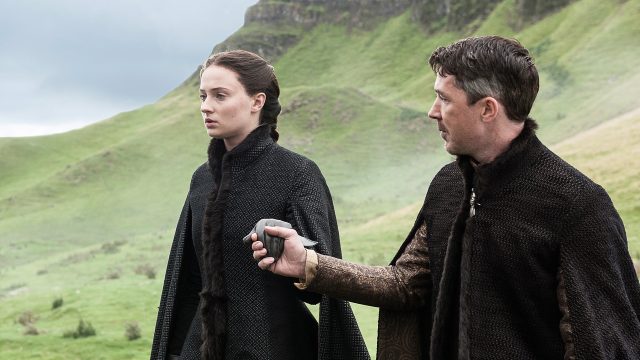 Sansa impara a muoversi nell'universo di Game of Thrones e arriva insieme a Baelish da sua zia Lysa. Attraverso la gelosia provata dalla donna nei confronti di Sansa, Ditocorto riesce a impadronirsi del castello e dei Cavalieri della Valle. Sansa, sebbene consapevole che l'uomo ha ucciso sua zia, non reagisce come avrebbe reagito anni prima, ma capisce che ha bisogno di Baelish e sta al gioco. La ragazza dalla pelle di porcellana non avrebbe mai fatto ciò, quella con l'avorio che si sta trasformando in materiale ancora più duro e resistente. Ma nel momento in cui sembra che Sansa possa crescere ancora, la luce di Game of Thrones si sposta su altri personaggi e lei rimane al buio, insieme a Ramsay Bolton.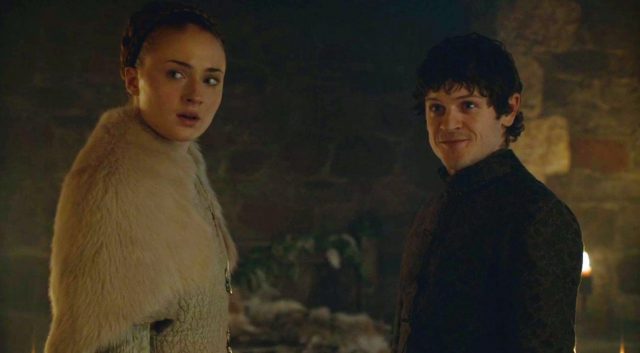 Pesante è il capo di chi porta la corona in Game of Thrones
Le principesse e le regine hanno molte responsabilità, Sansa sembra essere torturata da questa continua presenza di uomini folli al suo fianco. Prima Joffrey, ora Ramsay. Quello che passa la giovane Stark nel periodo in cui torna a casa a Grande Inverno è terribile. All'inizio pensa di essere tornata dove ha vissuto nei suoi primi anni di vita, ma quello che trova veramente è il caos e la violenza. L'unico rimasuglio di quel che è stato per lei quel castello è un Theon Geyjoy totalmente assoggettato a Ramsay. Sansa dopo essere stata violentata, abusata e ferita decide di prendere in mano la sua vita. In questo momento ricomincia il mutamento. Affronta Theon, tira fuori il suo coraggio e riescono insieme a scappare da Grande Inverno e da Ramsay.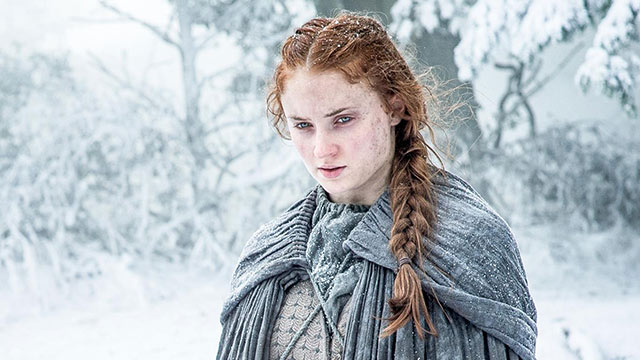 Dopo la fuga Sansa ricomincia a crescere, a trasformarsi. Si riunisce con Jon e questo è il primo momento in cui torna davvero a essere felice da quando è partita per Approdo del Re nella prima stagione di Game of Thrones. Sansa ha lottato per sopravvivere in tutte le stagioni di Game of Thrones, per questo rivedere qualcuno di familiare la rende colma di gioia. Ma le difficoltà non sono terminate per lei, dovrà superare l'ultima, quella più difficile. Dovrà vedersela con il più grande manovratore nel Gioco del Trono, con chi è stata fino ad ora un maestro per lei: Lord Baelish.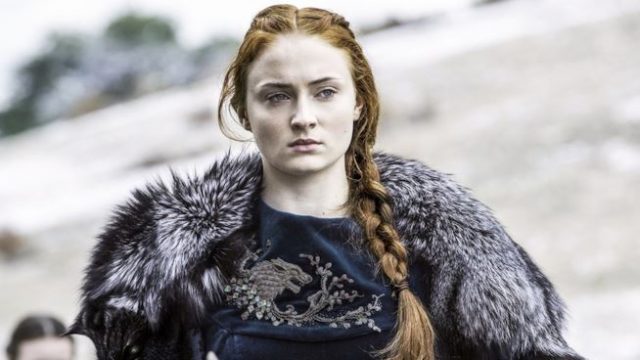 Sansa: da Principessa di porcellana a Lady di ferro
È in questo momento che si compie la trasformazione finale per la nostra ragazza dai capelli ramati. Mostrando tutta la sua abilità politica e diplomatica accorre in soccorso di Jon nella violenta Battaglia dei Bastardi e insieme riconquistano Grande Inverno e sconfiggono i Bolton. Tutto questo grazie alla sua calma, grazie alla doppia faccia che usa con Lord Baelish per riuscire a far mobilitare i Cavalieri della Valle e volgere a suo favore lo scontro. Tra le cose che ha imparato nei suoi anni di peregrinazione tra Nord e Sud Sansa ha conosciuto un sentimento: la vendetta. Per questo si reca nelle prigioni dove è rinchiuso Ramsay Bolton e dopo un lungo discorso si vendica delle sevizie subite facendolo sbranare dai suoi stessi cani.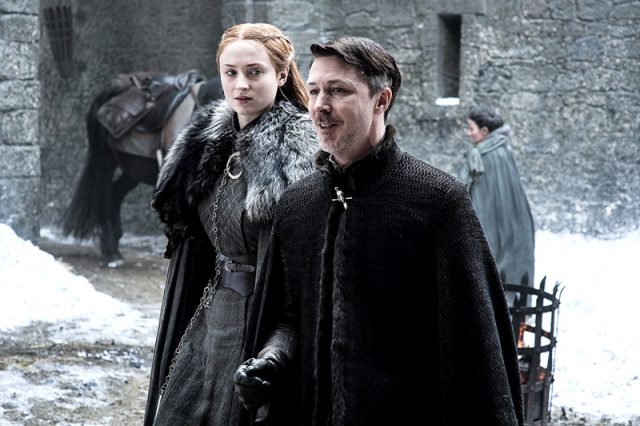 Ora arriva il momento più importante per Sansa. Jon viene incoronato Re del Nord, ma è subito costretto a partire. Il fratellastro le lascia le redini di Grande Inverno. Intanto sia Arya che Bran sono tornati, si aggira per le vie innevate del castello anche Lord Baelish. Questo prova in tutti i modi a mettere contro le due sorelle Stark e, a un certo momento, crede di esserci riuscito. Sansa chiama a processo Arya nella sala grande di Winterfell, Baelish sorride soddisfatto per essere riuscito anche stavolta a mettere zizzania tra familiari. La realtà però è un'altra. Le due sorelle hanno sempre recitato una parte e quello a essere sotto processo è proprio Ditocorto, che verrà ucciso da Arya stessa.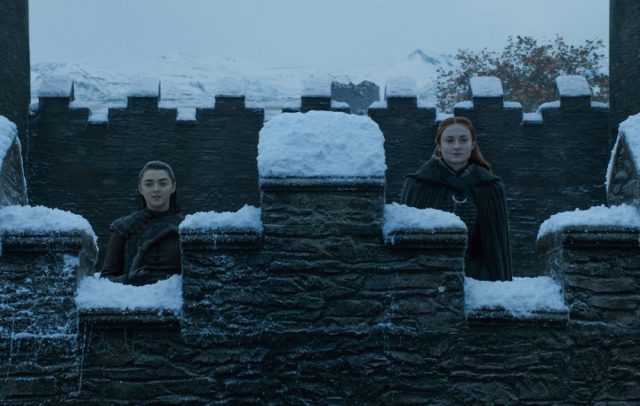 Sansa si è trasformata finalmente in una Lady, in una vera Regina.
Sansa "impara lentamente, ma impara", citandola testualmente. In queste sette lunghe stagioni la ragazza non ha fatto altro che imparare, resistere, cadere e rialzarsi. Tutto questo l'ha resa ciò che è oggi: Una Regina dalla pelle di acciaio. I brutti ricordi sono lontani, la porcellana e l'avorio pure. Davanti a Sansa c'è il futuro, c'è l'ultima stagione di Game of Thrones, c'è l'incontro con Daenerys e gli Estranei. Cosa le riserverà il futuro?