Il Re della Notte è uno dei personaggi più misteriosi di Game of Thrones. Nel corso delle stagioni è stato soggetto di diverse speculazioni da parte dei fan che di continuo hanno tentato di rispondere alla domanda: chi è il Re della Notte e qual è il suo vero obiettivo?
Gli showrunner di Game of Thrones hanno finalmente parlato del motivo per cui è stato creato il Re della Notte: quali sono le sue origini e quali i suoi obiettivi?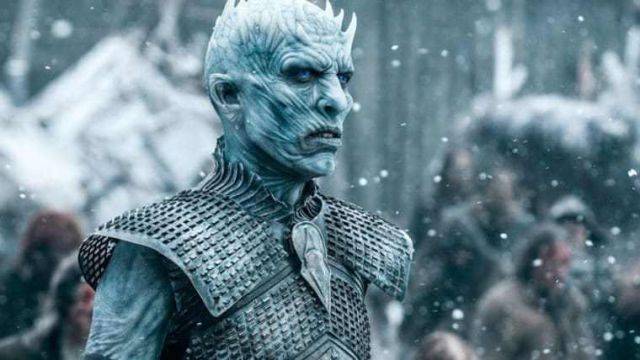 Entertainment Weekly ha intervistato gli showrunner di Game of Thrones. La prima domanda che è stata loro posta è relativa a ciò che ha ispirato la creazione del personaggio per la serie, visto che nei libri di George R.R. Martin è assente. Ecco la risposta:
Crearlo è stato abbastanza logico visto che siamo tornati indietro nel tempo, abbiamo scritto la preistoria di quello che vediamo nella serie. Abbiamo visto cosa fanno gli Estranei, come portano avanti la loro stirpe e come hanno generato le creature. Indietro nel tempo vedi cosa hanno fatto e quindi ti chiedi: "Che cosa ha creato gli Estranei?". Abbiamo sempre apprezzato l'idea che gli Estranei non siano il male primordiale che esiste sin dall'inizio dei tempi, ma piuttosto che abbiano una storia. E questa non è qualcosa di leggendario, mitologico e permanente. Hanno una causa storica che è comprensibile così come le guerre che vediamo sullo schermo. Questo perché sono il risultato di persone, di esseri viventi, con motivazioni che siamo in grado di comprendere.
Queste prime parole confermano quindi la natura e le origini degli Estranei. Per essere fedeli a questa idea, i due showrunner avevano bisogno di una persona di riferimento e l'hanno trovata in quello che poi è diventato il Re della Notte.
Relativamente alla motivazione che lo spinge a marciare verso Westeros, gli showrunner hanno dichiarato:
Non credo che sia cattivo, penso piuttosto a lui come alla Morte. Ed è questo ciò che lui vuole. Per tutti noi. Per questo motivo è stato creato ed è anche ciò a cui aspira.
Una volta chiarite le origini e le motivazioni del Re della Notte, i due showrunner hanno confermato che una delle domande a cui devono rispondere più spesso è: perché il Re della Notte non parla mai? E la risposta è la seguente:
Che cosa dovrebbe dire? Tutto ciò che direbbe lo renderebbe solo più vulnerabile.